Will inflation fall below 5%?
This week's inflation forecast suggests we could be heading for a drop below 5%. While it will still fall short of the Bank's 2% target, savings could for the first time in almost 15 years beat inflation - but only if you act now, says Kalpana Fitzpatrick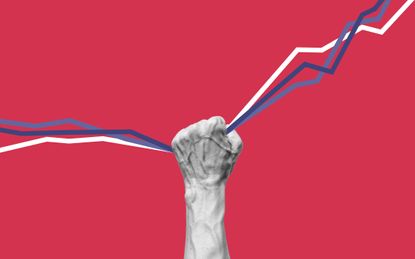 (Image credit: Getty Images)
Inflation is expected to dip below 5% this week - down to 4.8% for October from 6.7% in September.
The Monetary Policy Report last week said it could hit 4.8%, and remain at more or less that level for the rest of 2023 following lower petrol and food inflation.
If the figures are as expected when released tomorrow (15 November), the government will have achieved its ambition of halving inflation, yet it will still be above the Bank's 2% target.
Subscribe to MoneyWeek
Subscribe to MoneyWeek today and get your first six magazine issues absolutely FREE
Get 6 issues free
Sign up to Money Morning
Don't miss the latest investment and personal finances news, market analysis, plus money-saving tips with our free twice-daily newsletter
Don't miss the latest investment and personal finances news, market analysis, plus money-saving tips with our free twice-daily newsletter
While this means prices of goods and services may not rise as fast, it also means that we could for the first time since the financial crisis in 2008 be looking at inflation busting rates on savings accounts.
In November 2008, inflation hit 3.8% while rates were at 3%. In March 2009, interest rates fell to 0.5% while inflation floated at 2.8%.
While inflation peaked to 9.6% In October last year - almost hitting the highs seen in 1990 - interest rates have taken time to rise.
Amid the interest rate hikes we've seen over the last two years, savings accounts have become a talking point, but only to a certain point as most people are still losing value over the long term on cash unless their interest rates on their savings beats inflation.
But assuming inflation does drop as expected, could these accounts be worth another look and should investing still form a key part of growing your wealth?
What accounts will give me the inflation busting returns?
Best one year fixed accounts
For more and the latest rates, see MoneyWeek's article on the top fixed savings accounts.
Best easy access accounts
If you need easy access to your money, then these easy access accounts could also beat inflation.
For more and the latest rates, see MoneyWeek's article on the top easy access savings accounts.
Why do I need to act fast?
If inflation is pushed down for October, there will be less pressure on the Bank of England to continue with further base rate hikes. And in fact, we have already seen this happening as the bank has kept rates frozen at 5.25% for the last two months.
If you are looking to secure some top rates, you may want to act fast as a pause in rate hikes could mean we have reached the peak of the best deals when it comes to savings.
We have already seen several 6%+ rates disappear from the market in last few weeks which include: NS&I 6.2%, Union Bank of India 6.11%, Habib Bank 6.03%, IVH Bank 6% Ford Money 6.05% and Kent Reliance 6.06%
And today (14 November), NS&I also slashed the rate on its green bonds from 5.7% to 3.95%, suggesting rate hikes may have peaked.
The best you can now get for fixed savings is 5.9% via Metro Bank.
While we do not know what interest rates will do, Huw Pill, chief economist of the Bank of England, said it was essential interest rates stayed as they are to help control inflation. Meanwhile, Governor Andrew Bailey has said it is too early to talk about cuts.
So, it looks like we could be stuck with the rate as it is for some time yet there are no guarantees. Anything from oil, price spike or wage increases could well trigger a rate hike.A weak economy could also see cuts.
Anyone looking to make the most of their savings, should think about bagging the rates now.
Kalpana is an award-winning journalist with extensive experience in financial journalism. She is also the author of Invest Now: The Simple Guide to Boosting Your Finances (Heligo) and children's money book Get to Know Money (DK Books).
Her work includes writing for a number of media outlets, from national papers, magazines to books.
She has written for national papers and well-known women's lifestyle and luxury titles. She was finance editor for Cosmopolitan, Good Housekeeping, Red and Prima.
She started her career at the Financial Times group, covering pensions and investments.
As a money expert, Kalpana is a regular guest on TV and radio – appearances include BBC One's Morning Live, ITV's Eat Well, Save Well, Sky News and more. She was also the resident money expert for the BBC Money 101 podcast .
Kalpana writes a monthly money column for Ideal Home and a weekly one for Woman magazine, alongside a monthly 'Ask Kalpana' column for Woman magazine.
Kalpana also often speaks at events. She is passionate about helping people be better with their money; her particular passion is to educate more people about getting started with investing the right way and promoting financial education.