Rail strikes and the summer of discontent – who's to blame?
The rail workers are all out and look likely to continue through the summer. Comrades in other unions are joining the strikers. Who is to blame?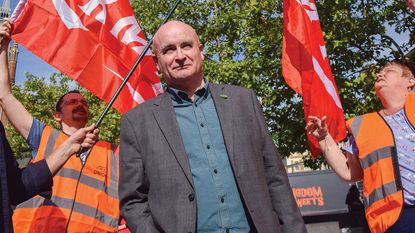 (Image credit: © Vuk Valcic / Alamy)
What's the strike about?
Same as most strikes: pay and conditions. The RMT rail union wants a 7.1% pay rise (two points below May's inflation rate, but reflecting where retail price inflation (RPI) was in December, when the talks began). They also want no compulsory redundancies (there are plans to close large numbers of ticket offices as more tickets are bought online).
Network Rail, which is facing a budget freeze, says any wage increase has to come through cost savings and productivity – a position aligned with the Treasury's message elsewhere in the public sector. It also wants 1,800 job cuts and to modernise working practices.
RMT boss Mick Lynch, who has the overwhelming backing of the 40,000 railway workers, warned that strikes could continue on and off for the rest of the year if there's no deal. But compared with the heady days of the 1970s the union's wishlist is "tame", says The Economist. "The most militant union in Britain hints that it would accept a deal that kept wages flat after inflation."
Subscribe to MoneyWeek
Subscribe to MoneyWeek today and get your first six magazine issues absolutely FREE
Get 6 issues free
Sign up to Money Morning
Don't miss the latest investment and personal finances news, market analysis, plus money-saving tips with our free twice-daily newsletter
Don't miss the latest investment and personal finances news, market analysis, plus money-saving tips with our free twice-daily newsletter
By comparison, in a 1972 dispute, when inflation was about 7%, miners demanded a 25% rise – and got it.
Do the strikers have a case?
The RMT has a reputation for intransigence, though Lynch argues that all its opposition to modernisation is simply about protecting workers' existing terms.
It's hard to work up much annoyance with the rail unions, says Peter Hitchens in the Daily Mail, given that most of the disruption and chaos I've experienced over years of rail travel "has been organised by the rail companies or the government, not by RMT or Aslef militants". A few days of strikes scarcely compares in "malice, damage or stupidity to the militant, fanatical anti-rail policies followed by Tory and Labour governments for decades".
And if you think railway workers are greedy, I suggest you look "at the fortunes made by privatised railway companies, while they make the system worse".
Does the public support it?
For now, the polls suggest it does, says Jeremy Warner in The Daily Telegraph. There is "little sign of gratitude" for the £16bn plus of taxpayers' money spent bailing out the railways during the pandemic, in a de facto nationalisation.
Meanwhile, Grant Shapps, the transport secretary, is doing himself no favours by seeming to revel in the confrontation with rail workers – all the "better to distract from the government's growing catalogue of policy blunders". And his talk of drafting in agency workers was "fatuous" bluster.
But even if you have some sympathy with the strikers, Mick Lynch will soon lose the public if the strikes continue, and ultimately a deal must be done, says Alistair Osborne in The Times.
At root, the dispute is about whether the post-pandemic railways – with passenger numbers still 25% down – can be put on a financially stable footing. If they can't, there will definitely be fewer jobs for RMT members.
Will the strike work?
To judge by the RMT's record of success in boosting pay and protecting conditions, the strike may well help the union achieve its goals.
It is "easy to paint the RMT as antiquated and, at times, insane", says The Economist. It is impossible, however, to argue that the union is ineffective. While other unions (like Unite) mistook size for power, the RMT has remained separate, more agile and better-organised, and relentlessly focused on its members' interests.
Will they succeed this time? It's too early to say, says Stephen Bush in the Financial Times. But either way the strike is a " very big moment in the life of the UK". Either it will result in a settlement "that will make the UK government's inflation strategy harder to deliver", or we will discover that in the age of "working from home", the impact of a blunt-tool rail strike isn't what it was.
Will the unrest spread?
There are certainly more strikes to come. Barristers will walk out from next Monday, stopping criminal trials in courts. Wage disputes have halted rubbish collections in some parts of the country, while others have seen late postal deliveries. Teachers and doctors are threatening to strike if the government doesn't meet their pay demands.
"But the country is not heading back to the 1970s," says The Guardian. The number of days lost to strikes remains tiny compared with the endemic industrial strife of 50 years ago, and only 24% of workers are union members – half as many as then, and mostly in the public sector.
Can the government handle this?
One bright spot, says The Times, is that our "economically illiterate" prime minister has at least given up his bizarre fantasy – trotted out until a few months ago – that soaring wages were a "post-Brexit benefit".
He now needs to get a grip on inflation – or face a "summer of discontent". Alas, it is embarrassingly clear, says The Daily Telegraph, that the Johnson government has no real plan to revive economic growth or to bring down inflation, despite Britain already lagging behind much of the G7, and it is unwilling to do anything practical to stop the unions from bringing the country to a halt.
Instead, the Conservatives have been busy framing the strikes as a "sort of sneak preview of what will happen on Labour's watch", says Henry Hill on CapX. This distraction tactic is doomed to failure. "Blaming one's problems on the preceding Labour government, as the Coalition did, is one thing; blaming them on the next one strains credulity."
The Tories look like "bystanders", complaining about strikers – and much else – but failing to take action. If it carries on that way, voters will give them the same answer they gave Ted Heath's Tories in 1974. Who governs Britain? "Not you"
Simon Wilson's first career was in book publishing, as an economics editor at Routledge, and as a publisher of non-fiction at Random House, specialising in popular business and management books. While there, he published Customers.com, a bestselling classic of the early days of e-commerce, and The Money or Your Life: Reuniting Work and Joy, an inspirational book that helped inspire its publisher towards a post-corporate, portfolio life.
Since 2001, he has been a writer for MoneyWeek, a financial copywriter, and a long-time contributing editor at The Week. Simon also works as an actor and corporate trainer; current and past clients include investment banks, the Bank of England, the UK government, several Magic Circle law firms and all of the Big Four accountancy firms. He has a degree in languages (German and Spanish) and social and political sciences from the University of Cambridge.