Britain's post-Brexit trade chaos
The government has yet again postponed introducing post-Brexit checks on EU imports. Why has it done this, and does it matter?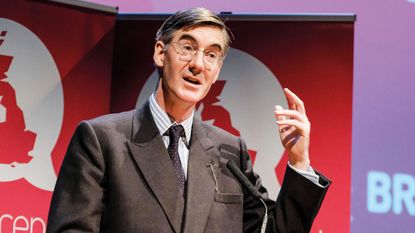 (Image credit: © JEP News / Alamy)
Last week the government announced that it was yet again choosing to delay the introduction of post-Brexit checks on EU food and animal imports into the UK over fears that such checks would disrupt supply chains and add to rising inflation. It would be "wrong to impose new administrative burdens and risk disruption at ports" at a time of higher costs due to the war in Ukraine and rising energy prices, it said. The checks have been delayed until at least the end of 2023, and may now never happen at all.
The move means that UK agricultural and food exporters will now face an unenviable "triple whammy", says the BBC's economics editor Faisal Islam – namely "marathon length haulage queues in Kent, dozens of pages of red tape for sales in Europe, and no equivalent restrictions on competition from abroad for the UK market".
But the move is good news for UK importers such as wholesalers and supermarkets. "One-way free trade is enormously beneficial," insists the minister for Brexit opportunities, Jacob Rees-Mogg.
Subscribe to MoneyWeek
Subscribe to MoneyWeek today and get your first six magazine issues absolutely FREE
Get 6 issues free
Sign up to Money Morning
Don't miss the latest investment and personal finances news, market analysis, plus money-saving tips with our free twice-daily newsletter
Don't miss the latest investment and personal finances news, market analysis, plus money-saving tips with our free twice-daily newsletter
Exactly what checks are we talking about?
The new regulations due to come into force in two months' time were (a) a new rule requiring sanitary and phytosanitary (SPS) checks on EU imports to be carried out at a border control post, rather than at their destination; (b) a requirement for safety and security declarations on EU imports; (c) a requirement for further health certification and SPS checks for EU imports; and (d) a range of prohibitions and restrictions on the import of chilled meats from the EU.
Checks on meat were due to start on 1 July and on dairy on 1 September, with all remaining goods including fish and composite foods to be checked from 1 November. The starting date for checks on live animals had not yet been announced. Now, though, none of this will happen – saving British businesses "up to £1bn in annual costs", the government claims.
Is this "taking back control"?
Not exactly. It amounts to outsourcing responsibility to the EU for maintaining high standards for the goods and animals entering the UK – so it's similar, in practice, to the arrangements before Brexit. That's been the direction of travel ever since the UK finally left the bloc at the end of January 2020 – in what government critics would see as failing to "take back control", but which supporters would see as a pragmatic response to the pandemic.
In June 2020, the government pushed back by six months its plans for a post-Brexit regime of import checks, scheduled to start from January 2021, due to fears that the pandemic had compounded the threat of border chaos. In March 2021, it then pushed them back again to January 2022, saying it wanted to help importing businesses recover from the pandemic. Then in September 2021 it delayed the checks yet again to mid-2022, in response to supply-chain worries.
So this is the fourth delay?
Yes, but this one looks very much like a permanent shift in policy – and could well mean that wide-ranging and laborious physical checks on food imports from the EU might never be introduced at all. Instead, the government says it is "accelerating our transformative programme to digitise Britain's borders, harnessing new technologies and data to reduce friction and costs for businesses and consumers".
More details on are due in a "target operating model" to be published this autumn, with the end of 2023 – some three years since the end of the Brexit transition period – the brought-forward target date for the introduction of a new import controls regime. This high-tech solution will apply to all imports, not just those from the EU, and according to the government's spin it will "deliver on our promise to create the world's best border on our shores".
So is this good news?
It got a broadly positive welcome from trade groups such as the Food and Drink Federation, which welcomed the new clarity around the government's intentions. But port operators are furious, having just spent more than £100m on border control posts in readiness for the July deadline that they now fear will be "highly bespoke white elephants". Operators are now reportedly considering legal action for compensation from a government that has already chipped in (or wasted) a further £200m in subsidising the same unused infrastructure.
Farmers are furious, too, at the continued advantage the UK is handing to its EU competitors. The National Farmers' Union president, Minette Batters, said import controls were crucial "to the nation's biosecurity, animal health and food safety". And she called the government's decision "astounding" and "unacceptable" – a blow to all British food producers obliged to "meet stringent controls to export their own products abroad, all while being left at a continued competitive disadvantage to our EU competitors".
James Russell of the British Veterinary Association said the decision "flies in the face" of ministers' commitment to protect animal and human health.
What are the politics of this?
Privately, ministers plan to use the move to put pressure on the EU to reform the Northern Ireland Protocol, says Oliver Wright in The Times. The government's argument is that if the UK is not imposing food checks on goods entering from the EU, then "there is little justification for a hardline approach to the border in the Irish Sea".
Meanwhile, the wider post-Brexit collapse in UK trade remains the great elephant in the room of British politics, says David Smith in The Sunday Times. The volume of exports of goods and services last year was the lowest since 2014, while exports of goods have collapsed to levels last seen in 2010, when the "economy was recovering, bleary-eyed, from the financial crisis".
UK exports fell last year to 15.7% below the pre-pandemic levels (at the end of 2019), while France's exports grew by 9.2% and Germany's were up 9.9%.
Simon Wilson's first career was in book publishing, as an economics editor at Routledge, and as a publisher of non-fiction at Random House, specialising in popular business and management books. While there, he published Customers.com, a bestselling classic of the early days of e-commerce, and The Money or Your Life: Reuniting Work and Joy, an inspirational book that helped inspire its publisher towards a post-corporate, portfolio life.
Since 2001, he has been a writer for MoneyWeek, a financial copywriter, and a long-time contributing editor at The Week. Simon also works as an actor and corporate trainer; current and past clients include investment banks, the Bank of England, the UK government, several Magic Circle law firms and all of the Big Four accountancy firms. He has a degree in languages (German and Spanish) and social and political sciences from the University of Cambridge.