Spare us these desperate measures
Struggling firms are trying to reinvent themselves. Some are going to have to get much more radical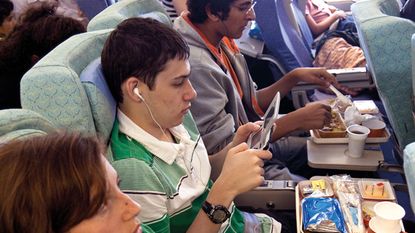 (Image credit: People on a plane ©)
Just about every company has had to tweak, adjust, or reimagine its business during lockdown. It is easier for some than others. Newspapers have pushed digital subscriptions as print sales collapse, and publishers are putting more effort into e-books as bookshops close. Supermarkets are beefing up home delivery as fewer of us venture out to their shops. Retailers have focused on online sales; restaurants and even pubs have started selling takeaways; a few hotels have been renting out rooms to home workers who need some peace and quiet away from their families or flat-mates.
The results have been mixed, at best. But most have managed to replace at least a percentage of the revenues they have lost. Using some imagination, and improvising, they have managed to create new products or new kinds of services, at lightning speed, and in many cases might well have come up with ideas that will endure. Free markets are good at adapting to change, as we have seen in real time over the last few months.
A few modest proposals
And yet, in truth, not all the new ideas are equally good. Let's take just a few examples from this month. Singapore Airlines is planning to launch "flights to nowhere". You climb onto an A350, circle around for three hours, and then land back where you started. It is designed, apparently, for people who are missing flying. In a similar vein, an Israeli airline catering company, with lots of spare manufacturing capacity, has come up with the bright idea of selling its meals for home delivery. Pret A Manger is making a big play of its new subscription service that offers way more coffee than is probably good for your heart for a fixed monthly fee (five cups a day for £20).
Subscribe to MoneyWeek
Subscribe to MoneyWeek today and get your first six magazine issues absolutely FREE
Get 6 issues free
Sign up to Money Morning
Don't miss the latest investment and personal finances news, market analysis, plus money-saving tips with our free twice-daily newsletter
Don't miss the latest investment and personal finances news, market analysis, plus money-saving tips with our free twice-daily newsletter
If this trend catches on there is no end to the possibilities. Perhaps we could have virtual airports (security guards come to your house, make you queue for hours, frisk you and then take away your water). Or online commuter trains (you stay at home and stand in a dark cupboard for three hours while a series of confusing "delays" are announced). Or perhaps a digital JD Wetherspoon experience (a bike brings round some cheap fizzy beer, then someone jogs you and you spill it down your shirt). There might be real demand for all of these.
Or perhaps not. There is not any real point in a "flight to nowhere". It was the getting somewhere that made flying worth all the bother, expense and hassle. Airline meals might have become slightly better over the years, but it is hard to imagine anyone would choose one if they weren't 30,000 feet in the sky with no other options. As for Pret coffee, even leaving aside the issue of whether anyone could possibly want five of them a day, there just isn't much point when you don't go to the office anymore. The kettle in the kitchen is a far better alternative.
Two better options than reinvention
It is easy to make fun, but there are two serious points. The first is that while some businesses can pivot, reimagine and reinvent themselves, and do so brilliantly despite the pandemic, not all of them are going to be able to do so. Airlines are simply going to be far smaller companies. There will, for the foreseeable future at least, be less business for the carriers, and for the suppliers that feed the industry. Likewise, while working from home will fade after a while – and for lots of people already has – we may well not go back to the office in the way we used to. There will be less demand for coffee shops and sandwich chains. It might be better to simply accept that – and work on running a much smaller business effectively instead.
Next, if businesses have to reinvent themselves, they need to be more radical. There may be no point trying to recreate an existing product or service for an economy in lockdown. It would be better to take the premises, staff, and cash on the balance sheet, and come up with something completely new. It might work, or it might not. But most would stand a far greater chance of success than some of the more desperate attempts at reinvention launched over the last few weeks – and would save shareholders a lot of money along the way.
Matthew Lynn is a columnist for Bloomberg, and writes weekly commentary syndicated in papers such as the Daily Telegraph, Die Welt, the Sydney Morning Herald, the South China Morning Post and the Miami Herald. He is also an associate editor of Spectator Business, and a regular contributor to The Spectator. Before that, he worked for the business section of the Sunday Times for ten years.
He has written books on finance and financial topics, including Bust: Greece, The Euro and The Sovereign Debt Crisis and The Long Depression: The Slump of 2008 to 2031. Matthew is also the author of the Death Force series of military thrillers and the founder of Lume Books, an independent publisher.