Why the UK should be gunning for a trade deal Down Under
It might seem a minor matter compared with Brexit, but a trade agreement with Australia is a big deal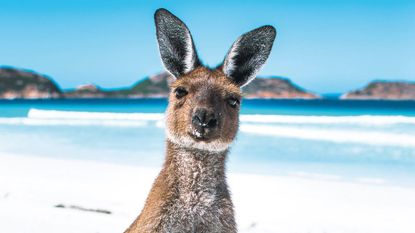 (Image credit: A kangaroo on abeach © Alamy)
It is only the 14th largest economy in the world. It is almost 10,000 miles away. And it mainly specialises in mining, with some sheep farming on the side. As official talks start, many will dismiss a trade deal with Australia as nothing more than a minor side-show of interest only to a few swivel-eyed Brexiteers intent on recreating the Empire. That is a mistake.
A gateway to the East
It's not hard to understand why leaders on both sides were so keen to get the talks started. Australia doesn't have a trade deal with the EU – it is negotiating one at the same time – and while we were inside that trade bloc Australia's exporters faced tariffs and often quotas, especially on agricultural goods, when they were selling into the UK. All of a sudden, its companies will have a huge new market. Of course, Australia has done just fine without that. Until this year, it had witnessed the longest recorded economic expansion ever. It is a rich country. But a deal with what was historically one of its most significant partners will help it to grow faster.
For Britain, by contrast, it might seem like a minor matter compared with the deal we hope to strike with the EU. After all, the EU is the largest economic bloc in the world, with a combined GDP more than 15 times the size of Australia's. Yet the Australian deal matters a lot and arguably even more than an EU one. Here's why.
Subscribe to MoneyWeek
Subscribe to MoneyWeek today and get your first six magazine issues absolutely FREE
Get 6 issues free
Sign up to Money Morning
Don't miss the latest investment and personal finances news, market analysis, plus money-saving tips with our free twice-daily newsletter
Don't miss the latest investment and personal finances news, market analysis, plus money-saving tips with our free twice-daily newsletter
Firstly, Australia can be a gateway to the far faster growing Pacific for British firms. True, the Australian economy is not especially large, and New Zealand is just a rounding error in global output. But both countries are a part of a Pacific economy that is booming. Over the course of this century, Asia will be the world's fastest growing bloc, followed by North America, with Europe some way behind. Regardless of what policies are pursued, demographics make that a certainty. Europe's population is declining and its output will fall with it. A UK-Australia deal will help plug British companies into that market. The UK has already applied to join the Trans-Pacific Partnership that will link countries such as Canada and Australia with Singapore, Japan and Vietnam among a ring of fast-growing Asian states. That is a potentially a huge market – and a deal with Australia is a great starting point.
Next, in a global trading economy based increasingly on digital services, language and culture matter far more than proximity. The internet doesn't have transport costs, so it doesn't matter whether the customer is ten thousand or one just one mile away. There is a huge English-speaking world into which we can sell e-books, music, design and consulting services, legal advice and financial products. Already the bulk of our exports are services, and an increasing percentage of those are completely digital. Our trade with the English-speaking world can grow far faster than it can with anywhere else – Australia is the perfect place to start.
A template for future agreements
Finally, and perhaps most importantly, it will be a template for future post-Brexit trade deals. The first deal the UK strikes will set the tone for each one that follows, and it will establish the kind of commercial relationships the UK wants. What should a deal look like? It should be open, tariff-free, with no quotas, and with no restrictions on takeovers, and it should maximise the opportunities for companies and individuals to deal freely with one another on whatever terms they choose. But it should also respect each country's sovereignty, and ditch all the cumbersome, legalistic baggage that has hampered other trade deals – and the EU most of all – over the last decade. Deals with Japan, the US, China and of course the EU are all far more important in terms of size. But if the Australian deal works, and is seen to work, the UK can replicate it with other countries. Australian and British firms will probably be trading happily with each other long before Brussels ever gets around to agreeing a deal with the UK.
Matthew Lynn is a columnist for Bloomberg, and writes weekly commentary syndicated in papers such as the Daily Telegraph, Die Welt, the Sydney Morning Herald, the South China Morning Post and the Miami Herald. He is also an associate editor of Spectator Business, and a regular contributor to The Spectator. Before that, he worked for the business section of the Sunday Times for ten years.
He has written books on finance and financial topics, including Bust: Greece, The Euro and The Sovereign Debt Crisis and The Long Depression: The Slump of 2008 to 2031. Matthew is also the author of the Death Force series of military thrillers and the founder of Lume Books, an independent publisher.