How coronavirus is killing off the theatre
The performing arts have been hit hard by the coronavirus crisis and recovery is nowhere in sight. Yet the creative industries are an essential part of the UK's economy. Help is needed, says Simon Wilson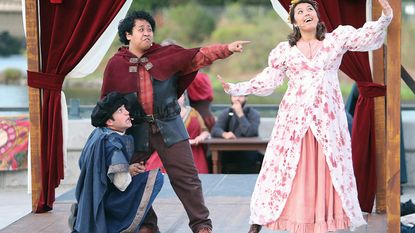 (Image credit: Actors "acting". © Napa Valley Register/ZUMA Wire/Alamy Live News)
What has happened?
Britain's theatres have been dark since mid-March and no one knows when they will be able to open. Even as museums and pubs, say, reopen over the summer and we embrace the pleasures of everyday life again, few will relish sitting in the dark in a packed theatre, cheek by jowl with their neighbours and flinching at every cough. Theatre's very purpose is that of a live shared experience and its business model depends on crowds of people sitting closely together for long periods of time. As a rule of thumb, commercial theatre shows need to play to at least 55%-60% capacity to cover costs. But with current social-distancing measures in place, theatre owners reckon they can admit only 10%-15%. Cinemas might be able to cope a bit better by packing in more showings each day for fewer people. But for live shows – with much longer turnaround times and labour costs – that's a non-starter.
How much revenue has been lost?
All of it. "We're not a sector with a lower income, we're a sector with no income," says Julian Bird, chief executive of Society of London Theatre and UK Theatre. Bird calculates that, up to late May, theatres had lost around £330m and reckons that "70% of theatres will run out of cash by the end of the year. And there are some very, very big venues in that 70%". Several major regional theatres have already gone bust, including Southampton's Nuffield and the Leicester Haymarket. And many theatres and production companies are in the process of mass redundancy consultations. "We are in the process of dismantling the infrastructure of British theatre," warns Bristol Old Vic boss Tom Morris. Intervention is needed.
What kind of intervention?
Emergency bailouts. The performing arts are not "optional extras: they are essential threads of social fabric as well as catalysts for vastly more economic activity than bare statistics suggest", argues Martin Vander Weyer in The Spectator. They are uniquely damaged by the Covid-19 shutdown – and with dim prospects for post-Covid-19 recovery. For those reasons the performing arts really are a special case and culture secretary Oliver Dowden needs to "come up with a very bold plan" – not a hand-out for an ailing sector, but a hand-up for a hugely successful one.
Subscribe to MoneyWeek
Subscribe to MoneyWeek today and get your first six magazine issues absolutely FREE
Get 6 issues free
Sign up to Money Morning
Don't miss the latest investment and personal finances news, market analysis, plus money-saving tips with our free twice-daily newsletter
Don't miss the latest investment and personal finances news, market analysis, plus money-saving tips with our free twice-daily newsletter
How big is the sector?
Across the UK, there were more than 34 million visits to the theatre in 2018, generating direct revenues of £1.28bn, according to trade body UK Theatre. In 2019, the West End alone drew 15.3 million people, generating gross revenue of £799m, and returning VAT receipts of more than £133m to the Treasury. Theatre employs 290,000 people. The performing arts sector (including businesses that provide goods and services to theatres) is worth an estimated £5bn a year. The government puts the economic contribution of the wider cultural sector at £32bn (comparable in size to the life-sciences sector), part of a larger "creative industries" worth £112bn. Theatre's role in driving tourism and hospitality, and contributing to the UK's global reputation, is real but harder to quantify.
Don't theatres already get subsidies?
Not all of them, no, and the proportion of UK theatres' revenue accounted for by subsidy has fallen sharply over the past decade (from almost a half to less than a quarter); earned income has grown. Shakespeare's Globe, say, which has always been unsubsidised, is now burning through reserves built up over two decades of robust commercial success and facing the very real risk of closure. But the Globe – along with the West End and the Old Vic, also unsubsidised – are good example of why this sector is more than the sum of its parts. Theatre makes an outsize economic contribution by driving the night-time economy, acting as a seedbed for talent in the wider TV and film industries, drawing tourists and adding to the lustre of the UK as a global financial hub. As one hedge-fund manager told The Economist last month: "London without the culture and restaurants is just a more expensive Frankfurt with more congestion". Letting theatres go under would be an act of national economic self-harm.
Why should the arts be a special case?
Because they are an essential part of life, argues Martin Sandbu in the Financial Times. They "add to the wellbeing of local and national communities" and are "engines of togetherness and collective sense-making". Like schools or public parks, we "need the arts regardless of whether they come at a financial cost". Moreover, a collapse of this sector would likely be "more costly than elsewhere. A lost cultural ecosystem would be harder to regrow than a restored hotel and restaurant scene". For all these reasons, the government should be planning how to protect and nurture the sector. That might require a relief fund or one-off cash injection – perhaps in return for some form of equity investment in which public funds receive a return from commercial success. It could also include extending the furlough scheme beyond October for the cultural sector and permit greater flexibility over social-distancing to allow a return to work.
Can't the luvvies get creative?
Plenty are, says The Sunday Times. English National Opera is launching Drive & Live, a series of drive-in operas, kicking off with a version of La Bohème at Alexandra Palace, London. Sheffield Theatres is preparing Shakespeare plays in parks in late summer. The optimistic scenario, says William Cook in The Spectator, would be that the crisis drives a resurgence of outdoor theatre, promenade productions in interesting spots and immersive shows in found spaces. So far, the only West End show to set a date for reopening (in October) is one such promenade show, The Great Gatsby, reworked as a socially-distanced masked ball. But even if these work, the bottom line for most theatres will still be bums on seats. And of those, as yet, there is no sign.
Simon Wilson's first career was in book publishing, as an economics editor at Routledge, and as a publisher of non-fiction at Random House, specialising in popular business and management books. While there, he published Customers.com, a bestselling classic of the early days of e-commerce, and The Money or Your Life: Reuniting Work and Joy, an inspirational book that helped inspire its publisher towards a post-corporate, portfolio life.
Since 2001, he has been a writer for MoneyWeek, a financial copywriter, and a long-time contributing editor at The Week. Simon also works as an actor and corporate trainer; current and past clients include investment banks, the Bank of England, the UK government, several Magic Circle law firms and all of the Big Four accountancy firms. He has a degree in languages (German and Spanish) and social and political sciences from the University of Cambridge.