Sunak's Budget: good, but short-term measures must be temporary
Rishi Sunak's Budget contained some well thought-out support policies. But, with policies introduced in times of crisis hard to back out of, we must ensure that any short-term schemes only have a limited life.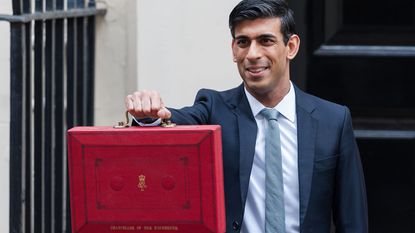 If you were a UK small business owner worried last Tuesday about how you might survive the year, you would have been a slightly less worried one after the Budget.
Some people might have found the news that coronavirus could well put some 20% of the UK's workforce out of action all at once made them feel a little tense. Others may have found the extraordinary scale of Rishi Sunak's spending promises did the same. He clearly expects things to get very bad indeed over the next few months.
However, no small or medium-sized business owner could possibly fail to be impressed by the measures the UK is taking to support them.
Subscribe to MoneyWeek
Subscribe to MoneyWeek today and get your first six magazine issues absolutely FREE
Get 6 issues free
Sign up to Money Morning
Don't miss the latest investment and personal finances news, market analysis, plus money-saving tips with our free twice-daily newsletter
Don't miss the latest investment and personal finances news, market analysis, plus money-saving tips with our free twice-daily newsletter
Statutory sick pay is to be available for all those told to self-isolate from day one rather than the usual day four – even if they have no symptoms. That would be a tough unexpected expense for many firms – except that the state intends to pick up the bill for up to 14 days per employee, for all businesses with fewer than 250 employees.
Further relief comes in the form of the abolition of business rates for one year for the retail, leisure and hospitality industry. That means around half of all UK businesses won't be taxed on their premises. Retailers, who have been clamouring for years for something like this because of online competition, should be particularly pleased.
And if that doesn't do it, small and medium-sized businesses can apply to the new coronavirus disruption loan scheme for government-backed loans of up to £1.2m – or, if they are very small, for a one-off £3,000 cash grant. About 700,000 firms will be eligible for this.
All this does two very good things. First and foremost, the measures make it clear that this government really is on the side of small businesses. That is a good thing too, as 60% of private sector workers work for firms with fewer than 250 employees. And, second, the programmes might actually work.
Business survival is all about cash flow. They can keep going as long as they can pay their bills. In times like this, policies that might increase sales are hard to dream up. So it makes real sense to focus on policies that cancel debts, extend the payment time on bills – including beefed up arrangements for businesses and the self-employed to defer tax payments – and lend firms low-cost money to pay bills.
Sunak's choices look like well thought-out support policies: neat bits of good news in a sea of bad.
Entrepreneurs' relief reform: a long time coming
However, there will be some whining over one small company-related policy: the cut to entrepreneurs' relief. The government has previously allowed entrepreneurs to pay capital gains tax on the sale of their businesses at a rate of 10% rather than the usual 20%, up to a lifetime allowance of £10m. That allowance will be cut to £1m.
But this change has been a long time coming. There is little evidence that the relief actually encourages new entrepreneurs to start up. There is also some evidence that it encourages them to hold large amounts of cash inside a company structure. Doing this allows owners to give themselves retirement funds on the sale of their businesses, effectively converting what would be income into capital for tax purposes. This is not a productive government policy.
In better economic times, it might have made sense to scrap the relief all together, as the government floated earlier this year. In these uncertain times, it makes sense to limit the benefit.
Doing so backs up the signal sent by the rest of Sunak's measures: the UK is keen to support and reward anyone prepared to risk their own capital to create a business.
However, my approval of Sunak's support measures for small and medium-sized businesses comes with one clear caveat: the UK has a history of over-subsidising some businesses.
I would argue, for example, that the tax credit system has long kept too many companies hooked on cheap labour because the low wages they pay are topped up by government benefits. That has turned these businesses into something closer to government make-work schemes than the kind of dynamic productive organisations that capitalism is supposed to produce.
With that pitfall in mind, I believe it is worth reminding the chancellor that policies introduced in times of crisis can be hard to back out of, even if you insist when you introduce them that they are time-limited. Sunak should also remember that in normal times most businesses are supposed to fail. Only 42.4% of businesses started in 2013 were still trading in 2018, official figures show.
The UK must work hard to avoid standing in the way of that kind of creative destruction. The chancellor must take care to ensure his new schemes are short-term schemes to keep people in work, not long-term ones that simply make work for them.
This article was first published in the Financial Times
Merryn Somerset Webb started her career in Tokyo at public broadcaster NHK before becoming a Japanese equity broker at what was then Warburgs. She went on to work at SBC and UBS without moving from her desk in Kamiyacho (it was the age of mergers).
After five years in Japan she returned to work in the UK at Paribas. This soon became BNP Paribas. Again, no desk move was required. On leaving the City, Merryn helped The Week magazine with its City pages before becoming the launch editor of MoneyWeek in 2000 and taking on columns first in the Sunday Times and then in 2009 in the Financial Times
Twenty years on, MoneyWeek is the best-selling financial magazine in the UK. Merryn was its Editor in Chief until 2022. She is now a senior columnist at Bloomberg and host of the Merryn Talks Money podcast - but still writes for Moneyweek monthly.
Merryn is also is a non executive director of two investment trusts – BlackRock Throgmorton, and the Murray Income Investment Trust.