MoneyWeek Christmas quiz 2021
It's been a year of speculative frenzy, economic uncertainty and political scandal. See which financial stories you remember – and which passed you by – with our Christmas quiz. Compiled by Jasper Spires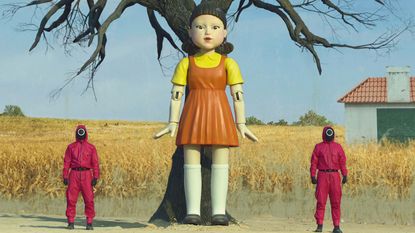 (Image credit: © Netflix)
Money
1 In April 2021, a record-breaking 2.7% of the American workforce quit their jobs in a single month, signalling an ongoing trend in the Western workplace. How has this phenomenon been described?
a) The Great Resignation b) The Covid Quit c) The Lockdown Walkout
2 "Meme stocks", propelled largely by buzz on social media rather than fundamentals, were all the rage this year. Which meme stock saw a roughly 800% jump in its share price to 17 December?
Subscribe to MoneyWeek
Subscribe to MoneyWeek today and get your first six magazine issues absolutely FREE
Get 6 issues free
Sign up to Money Morning
Don't miss the latest investment and personal finances news, market analysis, plus money-saving tips with our free twice-daily newsletter
Don't miss the latest investment and personal finances news, market analysis, plus money-saving tips with our free twice-daily newsletter
a) GameStop b) AMC Entertainment c) Purplebricks
3 Inflation is on the rise, with the UK consumer price index rising 5.1% in the year to November, while in the US, the figure hit 6.8%. When was the last time that American prices were rising this fast?
a) 1943 b) 1982 c) 1999
4 Bitcoin surged to new heights this year. What fresh record level did it reach?
a) Over $55,000 b) Over $58,000 c) Over $68,000
5 Covid-19 vaccines have been a boon for some in the pharmaceuticals industry. How much in sales does Pfizer expect to reap from its mRNA vaccine in 2021?
a) $15bn b) $36bn c) $55bn
6 Around 12% of international trade flows through the Suez Canal. What was the name of the ship that blocked the waterway for six days in March this year, causing havoc?
a) Ever Moving b) Ever Long c) Ever Given
7 A cryptocurrency project raised around $47m earlier this year to buy a specific historical artefact, only to be outbid by a billionaire who knew exactly what their highest offer would be as a result of the publicity around the scheme. What was the artefact?
8 The UK's generous Covid-19 relief schemes paid out around £60bn in the 2020-2021 tax year. How much of this money was lost to fraud, according to the tax office?
a) £500m b) £5.5bn c) £25bn
9 Which Russia-linked cybercrime group used a ransomware computer virus to extort Colonial Pipeline Co – which runs the largest fuel pipeline in the US – and demanded $4.4m for the return of stolen data?
a) DarkSide b) Russian Business Network c) Glupteba
10 In October, a cache of 11.9 million financial documents was leaked to the press, detailing the hidden deals and assets of over 100 billionaires, 30 world leaders, and 300 public officials. What was it called?
a) The Pandora Papers b) The Sisyphean Spreadsheets c) The Polyphemus Portfolios
People
1 Donald Trump has faced myriad troubles since his term as US president, but which jewel in his real-estate empire did he recently have to sell for $375m?
a) Trump Tower b) Trump International Hotel, Washington DC c) Trump Plaza
2 The CEO of which social-media giant stepped down in November, to be replaced by its chief technology officer?
a) Jeff Bezos, Amazon b) Jack Dorsey, Twitter c) Mark Zuckerberg, Facebook
3 Bill Hwang's Archegos Capital made headlines this year after it collapsed after making huge, unhedged bets on markets, losing $20bn in two days. Which Swiss bank lost $5.5bn in the debacle?
a) Julius Baer b) Credit Suisse c) Lombard Odier
4 Jeff Bezos' rocket company, Blue Origin, sent which Star Trek actor into space this year?
a) William Shatner b) Patrick Stewart c) Nichelle Nichols
5 Puneet Dikshit, a partner at consultancy McKinsey, was indicted for insider trading after betting on a takeover deal he'd been hired to consult on by Goldman Sachs. Which of the following did he NOT do?
a) Make the trades on his work computer b) Google basic information on how takeovers affect share prices c) Buy shares in his mum's name
6 This year, many musicians sold the rights to their music catalogues to reap huge profits. Who sold their songs for a record-breaking $500m?
a) Bob Dylan b) Stevie Nicks c) Bruce Springsteen
7 Netflix's wildly popular Korean drama series Squid Game made the company almost $900m in added value this year. How big a bonus did writer-director Hwang Dong-hyuk get?
8 Which Hollywood A-lister was part of a partnership that bought Welsh football team Wrexham AFC this year?
a) George Clooney b) Ryan Reynolds c) Jim Carey
9 Which high-ranking British official led markets up the garden path in November and then double-backed to surprise them again in December?
10 Tory MP Owen Paterson was embroiled in a scandal in November after receiving £500,000 to lobby on behalf of two different Northern Irish agriculture technology firms. What products were the two companies connected with?
a) Wheat and meat-free burgers b) Biodiesel and insect protein c) Milk and bacon
Companies
1 After a barrage of bad press in the summer, social-media giant Facebook changed the name of its parent company to what?
a) Hal 2021 b) Cyberdyne Systems c) Meta
2 SPACs, SPACs everywhere! This method of bringing companies public (Special Purpose Acquisition Companies – cash shells) is more popular than ever. How long did it take the total number of SPACs launched in the US in 2021 to eclipse the 2020 total?
a) 5 months b) 3 months c) 8 days
3 China's slowing real-estate sector was a nagging concern for investors across most of 2021. Which huge developer was finally deemed to have defaulted on its debt by credit-ratings agency Fitch this month?
a) Evergiven b) Evergrande c) Evergrowth
4 The London initial public offering (IPO) of which tech firm, whose share price fell by 26% on its first day of trading, was deemed "the worst IPO in London's history" by one of its own bankers earlier this year?
5 Credit Suisse was fined nearly £350m by UK and US financial regulators over its involvement in a scandal surrounding loans that it arranged for which emerging nation, ostensibly to build infrastructure including a state tuna fishery?
a) Mozambique b) Zimbabwe c) Botswana
6 Which FAANG stock was the most valuable in the world as the end of year approached, with a market capitalisation of nearly $3trn?
a) Apple b) Alphabet (Google) c) Amazon
7 Chinese financial regulators got tough in 2021. Which technology company was fined $2.8bn by Beijing's anti-monopoly regulator this April?
a) Tencent b) Alibaba c) China Mobile
8 Which asset manager held on to its title as the world's largest this year, with assets under management of $9.5trn as of end-September?
a) Vanguard b) Fidelity c) BlackRock
9 Which IPO was the largest of 2021 and the fifth-largest of all time (reports Reuters), with the group in question raising nearly $12bn at an initial market capitalisation of $66.5bn?
a) Rivian Automotive, a US electric-car maker b) DiDi Global, a Chinese "ride-hailing" company c) Coupang, a South Korean e-commerce company
Markets
1 A crisis in which wholesale markets led to the collapse of nearly 30 companies and the overhauling of regulations in one particularly troubled sector in the UK this year?
2 The Dow Jones index hit a historically significant level late this year. What was that level and why was it significant?
3 Which currency has lost more than half of its purchasing power against the US dollar this year as its central bank took the unorthodox move – under political pressure – of cutting interest rates to curb inflation? (Most central banks raise rates when trying to curb inflation.)
4 Chinese stocks have underperformed most other major markets this year, lagging the world index by 37%, according to Bloomberg (as measured by MSCI indices). It's the largest this gap has been since which year?
a) 1998 b) 1972 c) 1945
5 Which of these silvery-grey metals has enjoyed the biggest gains this year?
a) Palladium b) Tin c) Silver
6 Global merger and acquisition activity hit an all-time high this year, with deals valued at more than $5.6trn. That breaches the previous all-time high of $4.42trn – but in which year was that record set?
7 NFTs (non-fungible tokens) have baffled and excited investors in equal measure this year, with eye-popping valuations being reached for jpegs, gifs and other forms of "digital art" – or rather, cryptocurrency tokens representing ownership of said art. What was the most expensive NFT sold in 2021? And what did it cost?
8 In the year to 17 December, what was the best-performing share in the FTSE 100, with a gain of just over 85%? And which was the worst, with a loss of just under 30%? (Note, this is judged purely by the constituents in the index as of 17 December.)
9 The COP26 meeting in Glasgow in November ended with a (watered-down) promise by the attendee countries to "phase down" coal usage, which Boris Johnson optimistically presented as the "death knell" for the fossil fuel. How much did the coal price drop this year?
Quotes: put the words with the person who said them
1. "[Interest rates are] an evil that make the rich richer and the poor poorer".
2. "To anyone I've offended, I just want to say 'I'm sending people to Mars... Did you think [I'd] also... be a chill, normal dude?'"
3. "Fraud was not just the family business. It was a way of life. Nothing that's alleged to have gone on surprises me."
4. "I believe in the rights that the Democrats want, but I believe in the taxes that the Republicans want."
Jasper is a former writer for the MoneyWeek and he wrote on an array of topics including travel, investing in crypto and bitcoin, as well as cars. Previous to that he freelanced at The Art Newspaper, PORT Magazine and The Spectator. Jasper is currently a freelance writer at FAD magazine and he has an English literature degree from the University of Exeter, and a Master's degree from UCL.