UK inflation hits three-year high as economy opens up
UK inflation hit 2.5% in June – the highest since August 2018. Saloni Sardana looks at what's behind the rise and what it means for interest rates.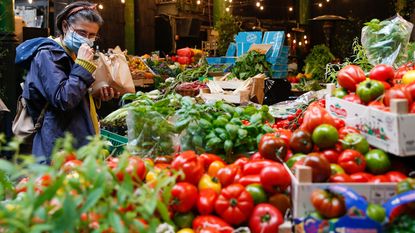 (Image credit: © Hollie Adams/Bloomberg via Getty Images)
UK inflation jumped to its highest level in three years with CPI inflation hitting 2.5% thanks to an increase in the price of foods, dining out, and clothing and footwear.
June's Consumer Price Index was higher than May's reading at 2.1% and also beat economists' predictions of a 2.2% increase, the Office for National Statistics said on Wednesday.
CPI rose 0.6% in June in 2020 on a monthly basis, compared to the previous year. It is the highest rise since August 2018 and comes amid a heated debate over the future of monetary policy around the globe just a day after the US posted its highest inflation reading since 2008.
Subscribe to MoneyWeek
Subscribe to MoneyWeek today and get your first six magazine issues absolutely FREE
Get 6 issues free
Sign up to Money Morning
Don't miss the latest investment and personal finances news, market analysis, plus money-saving tips with our free twice-daily newsletter
Don't miss the latest investment and personal finances news, market analysis, plus money-saving tips with our free twice-daily newsletter
Why has inflation shot up?
Higher UK prices came from sectors such as food, second-hand cars, clothing and footwear, typically sectors which suffered over the last year during the depths of the coronavirus pandemic.
The rise was partially offset by lower prices of games, toys and hobbies, where prices fell this year but rose a year ago. But regardless, the downward pressure was not sufficient to prevent inflation from creeping up.
"The global semiconductor shortage is forcing up the prices in the second-hand car market with June seeing a 4.4% increase in the prices of used cars," says Charles Hepworth, investment director at GAM Investments.
The world's current shortage in semiconductors, also known as chips, is contributing to higher cost of goods for consumers which is feeding into higher inflation.
Semiconductors are used in the manufacture of almost every product, but there is an acute shortage of them as companies underestimated the rebound in global demand following the recovery from the covid pandemic.
This morning's inflation reading will go some way to killing the "inflation is transitory" line which many central banks, including the Bank of England and Federal Reserve in the US have long chanted to prevent markets from becoming nervous about a premature tightening of monetary policy.
What does this mean for the future of monetary policy?
Andrew Bailey, governor of the Bank of England, has spent months watering down speculation that higher inflation data may prompt the Bank to raise the UK's base rate – which currently sits at 0.10%.
Andy Haldane, former chief economist at the Bank of England, is at odds with this view and thinks higher inflation will force the central bank to act much sooner than expected.
"If wages and prices begin a game of leapfrog, we will get the sort of wage-price spiral familiar from the 1970s and 1980s", Haldane told Merryn on the MoneyWeek Podcast last month. Although he does stress that a spiral is less likely in an era where the Bank of England can act independently.
Nevertheless, today's reading makes it much harder for the Bank of England to sustain its view, especially since it expects inflation to hit as high as 3% later this year.
While some market watchers may argue that higher prices are a short-term effect related to the grand reopening of the economy, Paul Dales, UK chief economist at Capital Economics thinks otherwise. He expects UK inflation to hit 4% this year, and thinks the rises go beyond what would be expected with a reopening, meaning "that genuine price inflation is happening too".
It is looking more and more as if inflation is no longer transitory, and higher interest rates seem increasingly likely, so investors should keep a cautious eye out.
Saloni is a web writer for MoneyWeek focusing on personal finance and global financial markets. Her work has appeared in FTAdviser (part of the Financial Times), Business Insider and City A.M, among other publications. She holds a masters in international journalism from City, University of London.
Follow her on Twitter at @sardana_saloni