Fortress Russia's economy is crumbling
Vladimir Putin invaded Ukraine in the belief that the Russian economy could withstand whatever the West threw at it. That belief is being severely tested.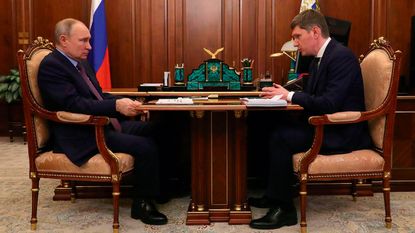 (Image credit: © Planetpix/Alamy)
In some ways Russia's economy is holding up surprisingly well. The rouble crashed in late February (almost halving in value from around 75 roubles to the dollar to around 140) as Russia launched its invasion of Ukraine and the West began imposing sanctions. But it had recovered all that lost ground within two months – buoyed by capital controls and high interest rates – and continued to strengthen.
This week the rouble is trading higher, at about 60 roubles to the dollar, its highest level since 2018. In late April, the central bank trimmed its key interest rate from 17% to 14%, suggesting that a financial panic that began in February had eased slightly.
And other "real-time" measures of economic activity are "largely holding up", says The Economist. Total electricity consumption, for example, has fallen only slightly.
Subscribe to MoneyWeek
Subscribe to MoneyWeek today and get your first six magazine issues absolutely FREE
Get 6 issues free
Sign up to Money Morning
Don't miss the latest investment and personal finances news, market analysis, plus money-saving tips with our free twice-daily newsletter
Don't miss the latest investment and personal finances news, market analysis, plus money-saving tips with our free twice-daily newsletter
What about revenues?
Even with the EU's partial oil embargo and planned restrictions on gas imports, Moscow's oil and gas revenue will be about $285bn this year, up by more than a fifth compared with 2021, according to Bloomberg Economics. Including other commodities, that more than makes up for the $300bn in foreign reserves frozen by sanctions. Yet there's no doubt that cracks are showing.
The rouble rebound might suggest confidence, says The New York Times, but it hurts exports and lowers government revenues from dollar-denominated energy sales. Moreover, the rebound reflects a "sanctions-induced collapse in imports that, combined with a continued gusher of energy revenues, has sent the country's current account soaring".
Meanwhile, inflation has leapt to around 18%. There are shortages of staple items in the shops; VAT receipts, reflecting consumer spending, fell 54% in April year on year, according to the Kommersant newspaper; and economy minister Maxim Reshetnikov has warned of a "demand crisis" in business and consumer spending.
And GDP?
Russia's own central bank is predicting a fall in GDP of 10%. That's not too far out of line with Western projections. The UK government estimates Western sanctions will cost Russia £256bn, with GDP falling up to 15% this year. Research by US economist Christine McDaniel, writing on The Hill, projects a GDP fall of 15%-20%, with a big slice of that (85%) accounted for by the effects of a collapse in foreign direct investment and the lack of "readily available domestic substitution for high-tech intermediate inputs that Russian manufacturers need". For example, imported semiconductor chips are vital for industrial equipment and cars and hundreds of other consumer goods.
So Russia is vulnerable?
Extremely. Russia's post-Soviet oil wealth has been both blessing and curse, says economist Branko Milanovic on his Global Inequality blog.
The industrial sectors that were the backbone of traditional (pre-digital) development were "well developed in the Soviet Union, but have been abandoned, left to deteriorate and, even if barely existing, are today technologically obsolete". As such, Russia's integration into the world economy since 1990 has "left the country fully dependent on foreign technologies, as Russia has specialised in the production of raw materials, food and relatively unprocessed products".
Russia's task now is to rebuild these industries (eg, machine building for petroleum and gas exploration, avionics and car production) "on the basis of technologies that have been left rusting for 30 years". That would not be easy in any event, and will be all the harder now. And newly passed laws that amount to state-sanctioned theft of intellectual property are hardly going to help, says The Economist.
How many firms have left Russia?
Already, nearly 1,000 foreign firms have left Russia, including Nike, Reebok, Starbucks and McDonald's, citing an untenable situation. But the effects will take time to feed through. Sergei Guriev, economics professor and chief economist at the European Bank for Reconstruction and Development, told Reuters that the impact will be felt more sharply in the next few months.
Meanwhile, Morgan Stanley economists predict a 13% drop in household consumption in 2022 and a 23% fall in investment. The bank's economist, Alina Slyusarchuk, says Russia's potential long-term growth rate is now just 1%.
How far have imports plunged?
Russia has stopped publishing detailed monthly trade statistics. But data compiled by Russia's major trade partners, and cited by Paul Krugman in The New York Times, shows that Russian imports of manufactured goods crashed immediately – falling by 50% in March compared with the monthly average of the previous six months.
Separate figures compiled by the Bank of Finland based on local customs data suggest that imports from China were down by a quarter in April, while those from Vietnam, South Korea, Malaysia and Taiwan more than halved. Partly this is down to companies' fears about being on the wrong side of Western sanctions, and partly due to the sanctions on Russia's financial system, including the exclusion of big private banks from international payment systems.
Why is this so vital?
Because it means the Kremlin will struggle to sustain its war in Ukraine it if can't replace the missiles, ships, tanks, aircraft, and other military equipment it continues to lose in battle. The revenue Russia receives from commodities is "painful" to see, says German vice-chancellor Robert Habeck.
But the issue for the Kremlin is that it can "barely spend any of it". A shortage of software security updates for aircraft will soon lead to planes being grounded, while a lack of high-tech equipment will "lead to production processes being destroyed". Vladimir Putin "can't keep going much longer".
Russia's economy might not be collapsing, but the president "is losing the economic war".
SEE ALSO:
Russia is now a financial pariah. What does that mean for markets?
Simon Wilson's first career was in book publishing, as an economics editor at Routledge, and as a publisher of non-fiction at Random House, specialising in popular business and management books. While there, he published Customers.com, a bestselling classic of the early days of e-commerce, and The Money or Your Life: Reuniting Work and Joy, an inspirational book that helped inspire its publisher towards a post-corporate, portfolio life.
Since 2001, he has been a writer for MoneyWeek, a financial copywriter, and a long-time contributing editor at The Week. Simon also works as an actor and corporate trainer; current and past clients include investment banks, the Bank of England, the UK government, several Magic Circle law firms and all of the Big Four accountancy firms. He has a degree in languages (German and Spanish) and social and political sciences from the University of Cambridge.