Russia, Ukraine and the coming global food crisis
The war in Ukraine has disrupted food and fertiliser exports, pushing up prices and threatening a global calamity.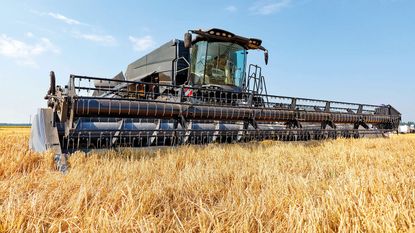 (Image credit: © Sergii Petruk / Alamy)
Wheat and other grain prices have surged since the Russian invasion of Ukraine due to fears of a supply crunch that threatens to send global food prices soaring and fuel food insecurity around the world. The issue is that Russia and Ukraine are both major producers and exporters of wheat (and other cereals), and still have crops from last year to ship. That's currently impossible due to Ukraine's wartime ban on grain exports and the closure of Ukraine's Black Sea ports.
Meanwhile, paying for Russian exports that do make it out via other routes has been complicated by Western sanctions. While Ukraine is "unreachable", Russia is "untouchable", says Michael Magdovitz of Rabobank. And a prolonged war would mean lasting disruption to this year's crops too.
As a result of all this, countries including Hungary, Turkey, Algeria, Argentina and Indonesia have already slapped total or partial bans on grain or other food exports – the first signs, analysts predict, of a turn towards greater food nationalism. Some think the wheat supply shock is set to fuel price spikes, shortages and even social unrest in countries that depend heavily on imports from Ukraine and Russia – especially in the Middle East and north Africa.
Subscribe to MoneyWeek
Subscribe to MoneyWeek today and get your first six magazine issues absolutely FREE
Get 6 issues free
Sign up to Money Morning
Don't miss the latest investment and personal finances news, market analysis, plus money-saving tips with our free twice-daily newsletter
Don't miss the latest investment and personal finances news, market analysis, plus money-saving tips with our free twice-daily newsletter
How important are the two countries?
Russia and Ukraine are two of the most important producers and exporters of agricultural commodities in the world – especially of cereal crops, including barley, wheat and maize. Overall, the two countries export 12% of the food calories traded worldwide. In the five years to 2020-2021, the two countries accounted for 19% of global production of barley, with Ukraine and Russia being the world's number two and three exporters respectively. When it comes to wheat (and meslin), their importance is even greater (meslin is a mixture of wheat and rye sown and harvested together; for the purposes of trade statistics it is usually classified with wheat.)
In a market where the top seven exporters combined accounted for 79% of international trade in 2021, Russia was the biggest of all, accounting for 18% of global wheat shipments (32.9 million tonnes). Ukraine was the fifth biggest exporter, with a 10% global market share (20 million tonnes). Ukraine is also the world's biggest exporter of sunflower oil, followed by Russia, with the two accounting for a combined dominant share of 64%.
So prices will rise?
Yes, and from an already high point in the cycle with prices soaring for both grains and vegetable oils. Having fallen over the first half of the 2010s, they've been rising steadily since about 2016 – but since 2020 they have spiked due to all the familiar supply problems associated with the pandemic.
To compound the fresh supply shock of the Ukraine war, both Russia and Ukraine are key suppliers to many countries that are highly dependent on imported foodstuffs and also fertilisers. For example, Eritrea – a country already wracked by political chaos and hunger – gets virtually 100% of its wheat from Russia and Ukraine, as do many central Asian countries. Somalia gets more than 90%, and the DR Congo get more than 80%. So too does Turkey. Countries getting more than 60% of wheat from Russia and Ukraine – still highly vulnerable to the supply shock – include Pakistan, Libya, Egypt and Lebanon.
In a report published last Friday, the UN's Food and Agriculture Organisation (FAO) warned that, in the event of a prolonged war and accompanying reduction in food exports by Ukraine and Russia, the upward pressure on food commodity prices would lead to an extra eight to 13 million people going short of food. The regions worst affected, the FAO predicts, will be Asia-Pacific, sub-Saharan Africa, the Middle East and north Africa
Why does fertiliser matter?
Because along with fuel it is one of the largest single variable costs involved in producing any food crop – whether for human consumption, or for use as animal feed – and because Russia and its close ally Belarus are both major producers of fertilisers, and big suppliers of critical fertiliser components, including natural gas and potash.
The price of fertiliser has already more than doubled over the past year, due to both surging fuel costs (making fertiliser is highly energy intensive) and to the 2021 sanctions imposed on Belarus, which produces 18% of the world's potash (compared with 20% for Russia).
Some analysts think the disruption to fertiliser production and supply – and the disruption to the international trade in potash – has the potential to prove an even more significant shock to global agriculture than the wheat shortage. In other words, the Ukraine war won't just push up the price of bread in the Middle East and north Africa, it will also push up food prices globally.
What can be done?
"This crisis is beyond the normal ability to shuffle supplies around," says agricultural economist Scott Irwin of the University of Illinois. "We've exploded that system, and the cost is going to be extreme pain." The truth is "there is no easy fix", says The Economist. Some of the 160 million tonnes of wheat fed to animals each year could be diverted for human consumption, but "substitution may export inflation to other staples".
Ramping up wheat production in the US and Europe, and drawing on India's vast stockpile, could yield ten to 15 million tonnes – a "substantial quantity, but less than a third of Ukraine and Russia's combined exports". When it comes to maize, governments could divert some of the 148 million tonnes used as bioethanol feed to help plug the likely shortfall this year of 35 million tonnes.
But fertiliser shortages are "even harder to cover", with new potash mines taking five to ten years to build. "The war in Ukraine is already a tragedy." As it "ravages the world's breadbasket", an even greater calamity looms.
Simon Wilson's first career was in book publishing, as an economics editor at Routledge, and as a publisher of non-fiction at Random House, specialising in popular business and management books. While there, he published Customers.com, a bestselling classic of the early days of e-commerce, and The Money or Your Life: Reuniting Work and Joy, an inspirational book that helped inspire its publisher towards a post-corporate, portfolio life.
Since 2001, he has been a writer for MoneyWeek, a financial copywriter, and a long-time contributing editor at The Week. Simon also works as an actor and corporate trainer; current and past clients include investment banks, the Bank of England, the UK government, several Magic Circle law firms and all of the Big Four accountancy firms. He has a degree in languages (German and Spanish) and social and political sciences from the University of Cambridge.