Australia and the economic costs of a "zero Covid-19" strategy
Some countries, such as Australia, pursued a strategy of trying to completely suppress the spread of the coronavirus. Did it work? And what does it cost?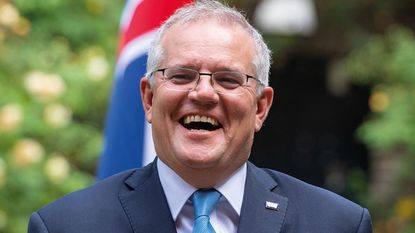 (Image credit: © Getty Images)
What's happened?
While much of the global economy is bouncing back strongly from the pandemic and government-mandated shutdowns, Australia is a worrying exception. Covid-19 cases are rising sharply, its most populous states (accounting for over half of GDP) are back under lockdowns, and fears are growing of a double-dip recession. In recent years, Australia has been one of the world's economic success stories. Two years ago, it marked three decades without a recession, the longest run of growth since at least the 1930s (when accurate records began). And though Australia's economy bounced back relatively strongly from last year's downturn, it is contracting again in the current (third) quarter, and a (two-quarter) recession could now be on the cards. Australia is "slumping just as the rest of the world is recovering", says Matthew Lynn in The Spectator. "In fact, it is about to show the economic cost of a zero Covid strategy."
What did that strategy look like?
In March 2020 Australia was fast to close its borders to non-citizens and non-residents and devised a successful track-and-trace system aimed at totally suppressing the virus. Since the start of the pandemic, it has registered about 41,000 Covid-19 cases and only 970 deaths. That's equivalent to 38 per million people, a per capita Covid-19 death toll among the world's lowest, and broadly similar to that in South Korea, Taiwan and Hong Kong. By way of comparison, the UK has registered more than six million cases and around 131,000 deaths (or 1,931 per million people, almost exactly the same per capita rate as the US, with its 640,000 deaths). Even now, as it enters what threatens to be its worst phase yet of the pandemic, Australia is currently seeing an average of four deaths a day, compared to 92 in the UK.
So not too bad?
Sure, but the worries over Australia are not about what happened last year; they're about how the country will fare in a world in which Covid-19 is endemic and we need to learn to live with it. The island nation can't seal itself off for ever, and the longer it does, the greater the economic damage. Currently, Australia still has no fixed timetable for opening its borders and prime minister Scott Morrison has indicated that lockdowns could continue until 80% of people are fully vaccinated, some time next year. Fears are growing that its zero-Covid-19 strategy has condemned it to an ongoing pattern of perpetual lockdowns, thanks to the Delta variant – and the government's overly relaxed attitude to its vaccine rollout (or "strollout" as it has been dubbed).
Subscribe to MoneyWeek
Subscribe to MoneyWeek today and get your first six magazine issues absolutely FREE
Get 6 issues free
Sign up to Money Morning
Don't miss the latest investment and personal finances news, market analysis, plus money-saving tips with our free twice-daily newsletter
Don't miss the latest investment and personal finances news, market analysis, plus money-saving tips with our free twice-daily newsletter
Was it too relaxed about jabs?
As of 16 August, around 39% of Australians have received one dose of a Covid-19 vaccine and 21% are fully vaccinated with two jabs (according to the FT tracker). That compares to around 64%-67% fully jabbed in the leading European countries (Belgium, Denmark, Portugal and Spain) and 61% in the UK. Australia's figure puts it level with Sri Lanka, Laos and Albania. New Zealand's proportion is even lower, on 17%. In the spring, as countries such as the UK and US raced ahead with successful vaccine rollouts, Morrison blithely insisted that "it's not a race". Bluntly, "he was wrong", says the Financial Times. "Having squandered its early victory over the virus, despite being one of the world's wealthiest countries, Australia now faces" further costly rounds of lockdowns and restrictions as it struggles to protect its still largely unimmunised population from the highly contagious Delta variant.
But it'll bounce back won't it?
Absent further lockdowns, some Australian economists do expect its economy to grow again strongly in the fourth quarter. And the central bank is sanguine. It surprised markets earlier this month by sticking with a plan to taper off its bond buying from A$5bn weekly to A$4bn. It trimmed its GDP growth forecast for 2021 by 0.75 points to 4%, but raised next year's forecast from 3.5% to 4.25%. That because recent lockdowns have been less damaging to the economy as business models and society have adapted. Capital Economics thinks Australia will avoid another recession, assuming the vaccine rollout picks up and restrictions are lifted in the fourth quarter.
So no reason to panic?
Australia's stockmarket and housing markets are also signalling sunny optimism, says Jeffrey Goldfarb on Breakingviews. Alas, it looks misplaced. Post-pandemic, Australia faces the "repercussions of stymied immigration coupled with an ageing population". Its exports have been "dangerously interrupted" by Covid-19 disruption. And pandemic spending could ultimately push national debt past 40% of GDP. "That's low by international standards, but will be hard to reverse if demographics limit growth. Climate change and a fracturing relationship with China present further burdens. Defying such economic realities will become even more wondrous" in the post-Covid-19 world.
What about other "zero" virus states?
Australia's struggle to contain the Delta variant has "cast doubt on the feasibility of zero-Covid-19 elimination strategies", says Robin Winkler of Deutsche Bank, but what's even more concerning is that "Australia could have been the canary in the coal mine for China's elimination strategy". Like Australia, China (where Delta cases are spreading) faces the dilemma of whether to "impose more severe and persistent lockdowns than last year, or switch to a mitigation policy". If anything, China's dilemma looks even more complex: it has vaccinated far more people, but there are greater question marks over the efficacy of its vaccines, especially when it comes to the Delta variant. What's more, the implications for the global economy are great. While a switch to a mitigation strategy by China would "pose less immediate downside risk to global growth than aggressive lockdowns, it would also add to global tail risks from new mutations".
Simon Wilson's first career was in book publishing, as an economics editor at Routledge, and as a publisher of non-fiction at Random House, specialising in popular business and management books. While there, he published Customers.com, a bestselling classic of the early days of e-commerce, and The Money or Your Life: Reuniting Work and Joy, an inspirational book that helped inspire its publisher towards a post-corporate, portfolio life.
Since 2001, he has been a writer for MoneyWeek, a financial copywriter, and a long-time contributing editor at The Week. Simon also works as an actor and corporate trainer; current and past clients include investment banks, the Bank of England, the UK government, several Magic Circle law firms and all of the Big Four accountancy firms. He has a degree in languages (German and Spanish) and social and political sciences from the University of Cambridge.