Why it's not worth recycling plastic
For decades, consumers have been led to believe that recycling plastic saves on waste. Unfortunately, it's not true, says Simon Wilson. And that could have big consequences for the oil business.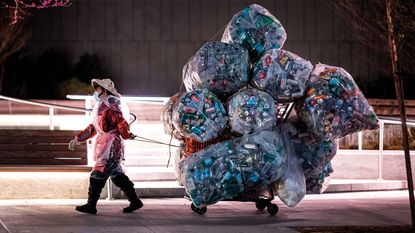 (Image credit: © JOHANNES EISELE/AFP via Getty Images)
What's happened?
A new investigation into the history of plastics manufacturing by US journalists (for National Public Radio) has reignited the policy debate over plastics pollution. NPR turned up a wealth of evidence, from documents and industry sources, that producers of plastics have cynically promoted the virtues of recycling for decades – thus encouraging consumers to think it's fine to use more – all while knowing full well that most plastic (more than 90%) is never recycled. It is far cheaper and more profitable to make new plastic (from oil and gas) than to recycle it. But in order to keep selling new plastic, the industry had to "greenwash" its wasteful image by embracing recycling, according to Larry Thomas, ex-president of a plastics industry trade association. "If the public thinks that recycling is working, then they are not going to be as concerned about the environment," says Thomas. So vast corporate resources were diverted into intricate "sustainability theatre".
Is it news that big business plays dirty?
No, but the extent of the deception, and the planning behind it, is striking. And it lends credence to the view espoused by both environmental campaigners and neoliberal economists that "plastic recycling is largely a fraud," as Jim Puckett of the Basel Action Network, an NGO that campaigns against the illegal waste trade, puts it. In reality, much recycling – and certainly the recycling of plastics – is an uneconomic activity that merely gives us "moral licence to pollute", says Michael Munger of the American Institute for Economic Research. It's akin to the "indulgences" sold by the pre-Reformation church to exculpate sins. Putting out your plastics for collection is not so much a rational economic act, more a "religious ceremony".
What's the scale of the problem?
Mass production of plastics began in the 1950s. So far 8.3 billion tonnes has been created, according to a 2018 study published in Science. Currently, we produce around 300 million tonnes globally each year. Most of that is in the form of disposable products: half of all plastic produced ends up in the bin within a year. Of the 29 million tonnes of plastic waste collected in the EU (including the UK) in 2018, about 30% was recycled (a far higher proportion than in the US). About 43% was burned in incineration plants, but a quarter ended up in landfill.
Subscribe to MoneyWeek
Subscribe to MoneyWeek today and get your first six magazine issues absolutely FREE
Get 6 issues free
Sign up to Money Morning
Don't miss the latest investment and personal finances news, market analysis, plus money-saving tips with our free twice-daily newsletter
Don't miss the latest investment and personal finances news, market analysis, plus money-saving tips with our free twice-daily newsletter
Is it easy to recycle plastic?
No, it's an energy-intensive process which involves significant environmental risk for relatively little reward. There are dozens of types of plastic, but of the seven main types, five hardly ever get recycled as it's not worth the effort. These five types of plastics (polyvinyl chloride, low-density polyethylene, polypropylene, polystyrene and polycarbonates) often contain toxins, carcinogens and other pollutants, explains Eline Schaart on Politico. That makes the process too expensive and complicated, and in any event the resulting product "is of lower quality than cheaper virgin plastics made out of oil and other hydrocarbons". The two types of plastics that it can make sense to recycle are polyethylene terephthalate (PET), used for things like single-use water bottles; and high-density polyethylene (HDPE), which is used to make some types of plastic bags and detergent bottles. Unfortunately, even these recycled plastics "can't be used in the same way as virgin plastics, because the polymers in plastics degrade each time they are reused". PET can be recycled to make new bottles or textiles like fleece garments, while HDPE is recycled into garden furniture and plastic lumber.
How does the recycling process work?
Once sorted at a local processing centre, bales of different plastic types are sent to a second facility to be washed and cleaned. Take the example of plastic water bottles, typically made of PET. First, they are washed and dunked in chemicals to get the labels off, then sliced up. Lid plastic is separated from bottle plastic using a flotation pool. Then the lid flakes and bottle flakes are "extruded" – melted down into pellets (using energy and emitting harmful chemicals) before being sold on to manufacturers. "It is possible to do all of this in an environmentally friendly way: treating the wastewater correctly, disposing of chemicals properly and making sure harmful emissions don't escape", says Leslie Hook in the Financial Times. Done right, this uses less energy and resources than virgin material. But it's costly, and if shortcuts are taken, the consequences can be environmentally devastating. Which is one reason why China, at the end of 2017, announced it would no longer be the world's dumping ground, transforming the $200bn global waste business – and diverting the world's torrent of plastic to south-east Asia (especially Malaysia, Vietnam and Thailand).
So we should give up on recycling?
Scientists are hard at work on identifying "super-enzymes" that could break down plastic quickly enough to make it more viable. But in the meantime the drive to cut plastic usage – plus a growing awareness of the limitations of recycling – has clear impacts on businesses and investors. A recent report from Carbon Tracker described the plastics industry as "a bloated behemoth, ripe for disruption" by governments keen to slash its heavy carbon footprint and tackle plastic pollution in the oceans. Producing plastic emits around five tonnes of carbon dioxide for every tonne of plastic produced. Thus the looming war on plastic waste raises the risk of stranded assets for oil companies, which hope that rising demand for "virgin plastics" will drive future strong demand for fossil fuels. But demand for virgin plastics may peak in 2027, predicts Carbon Tracker's energy strategist Kingsmill Bond, and global oil demand may already have peaked. "Remove the plastic pillar holding up the future of the oil industry, and the whole narrative of rising oil demand collapses."
Simon Wilson's first career was in book publishing, as an economics editor at Routledge, and as a publisher of non-fiction at Random House, specialising in popular business and management books. While there, he published Customers.com, a bestselling classic of the early days of e-commerce, and The Money or Your Life: Reuniting Work and Joy, an inspirational book that helped inspire its publisher towards a post-corporate, portfolio life.
Since 2001, he has been a writer for MoneyWeek, a financial copywriter, and a long-time contributing editor at The Week. Simon also works as an actor and corporate trainer; current and past clients include investment banks, the Bank of England, the UK government, several Magic Circle law firms and all of the Big Four accountancy firms. He has a degree in languages (German and Spanish) and social and political sciences from the University of Cambridge.