Quiz of the week, 5-11 December
This week, one country announced it will start exploring the feasibility of moving towards a digital currency. But which country was it? And what else happened? Test your recollection of the events of the last seven days with MoneyWeek's quiz of the week.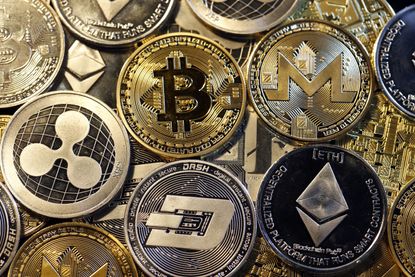 (Image credit: © Chesnot/Getty Images)
1. The United States congress is attempting to pass a Covid relief plan, but little progress is being made towards a bipartisan agreement. One of the sticking points is the Democrats' proposal of a $1,200 stimulus cheque per person. What was the Republicans' counter offer?
a. $800,
b. $400,
c. $600,
Subscribe to MoneyWeek
Subscribe to MoneyWeek today and get your first six magazine issues absolutely FREE
Get 6 issues free
Sign up to Money Morning
Don't miss the latest investment and personal finances news, market analysis, plus money-saving tips with our free twice-daily newsletter
Don't miss the latest investment and personal finances news, market analysis, plus money-saving tips with our free twice-daily newsletter
d. $1000
2. In a move towards profitability, Uber sold its self-driving car project this week, swapping it for a minority stake in another driverless vehicle startup. What other unit did it sell as it looks to make its main ride-hailing service profitable?
a. Its flying taxi unit,
b. Its food delivery service UberEats,
c. Its electric bicycle and motorised scooter rental unit,
d. Its robotics unit
3. This year the world's two largest cocoa producers jointly raised the price of their export by 20% to $2,600 a tonne, but the amount is still $500 less than what farmers require to earn a living wage. They now want to add a $400-a-tonne payment on top of that to lift farmers out of poverty. Which countries are they?
a. Dominican Republic and Colombia
b. Ecuador and Peru
c. Nigeria and Ghana
d. Ivory Coast and Ghana
4. Suppliers of what food have reported a surge in demand from pubs after the bar snack soared in popularity following the latest Covid restrictions?
a. Chips,
b. Scotch eggs,
c. Pork scratchings,
d. Sausage rolls
5. In what looks set to be the biggest legal battle against a US company in decades, New York attorney general Letitia James is demanding Facebook sell which two platforms to dismantle its monopoly?
a. Instagram and Tiktok,
b. Instagram and WhatsApp,
c. WhatsApp and Tiktok,
d. WhatsApp and Kik
6. The 1990s business card of which world leader has gone on sale for over £5,500?
a. Donald Trump,
b. Boris Johnson,
c. Vladimir Putin,
d. David Cameron
7. Which country, among the first in the world, announced it will start exploring the feasibility of moving towards a digital currency?
a. Sweden,
b. China,
c. South Korea,
d. Singapore
8. Rent in which American city, formerly known for its exorbitant prices due to its tech-hub status, plunged by 35% as employees increasingly working from home?
a. New York City, New York,
b. Boston, Massachusetts,
c. Los Angeles, California,
d. San Francisco, California
9. Which singer-songwriter, the only one to win a Nobel Prize for Literature, sold their entire publishing catalogue of over 600 songs to Universal Music Publishing Group this week for an estimated £450m?
a. Stevie Nicks,
b. Bob Dylan,
c. Elton John,
d. Dolly Parton
10. Disney unveiled a long list of new Marvel, Star Wars and Pixar projects that will be released over the next two years as part of a huge expansion project for its fledging streaming service, Disney+, that would see it double its annual content investment in the platform to $15bn by 2024. But which of the following movies or shows is not on the list?
a. The fifth and final episode of Indiana Jones starring Harrison Ford,
b. A standalone series on Star Wars character Obi-Wan Kenobi starring Ewan McGregor,
c. A controversial Black Panther sequel with a recast main character following Chadwick Boseman's death,
d. A reboot of Ron Howard's 1988 film, Willow
Answers
1. c. $600. Republicans are proposing liability protections for businesses and state and local support, temporarily extending pandemic programs and eligibility for unemployment insurance as well as a one time payment of $600. It would offer no federal unemployment supplement. Democrats are supporting a $1,200 stimulus cheque with enhanced jobless benefit. The proposed bipartisan plan would add $300 per week to jobless benefits for four months, but would not include a direct payment.
2. a. Its flying taxi unit. Uber sold its flying taxi unit, Elevate, to a California based electric aircraft developer this week.
3. d. Ivory Coast and Ghana. Ivory Coast and Ghana added a supplement to the sale price of cocoa beans to alleviate poverty, but it remains to be seen whether global buyers are prepared to pay.
4. b. Scotch eggs. Some food wholesalers are reporting ten-fold increases in scotch egg demand after the pork and breadcrumb snack was classed a "substantial meal", which pub-goers need to have in order to order drinks under Tier 2 restrictions.
5. b. Instagram and WhatsApp. The lawsuit alleges the social network abuses its power to crush smaller rivals at the expense of everyday users. James said Facebook acquired both platforms illegally. If it succeeds, it will be the first time an antitrust lawsuit has forced a major corporation to split since 1984 when AT&T was ordered to sell off its local telecom companies.
6. c. Vladimir Putin. The seller claims she received the card from an acquaintance who worked in PR. The white card has Putin's information in English and Russian, from when he was deputy mayor of St Petersburg. For a quick sale, the owner is willing to lower her asking price.
7. a. Sweden. Swedes already use less cash than most other countries in their day-to-day transactions. The financial markets minister said the review, launched this week, should be completed by 2022, marking another step towards a cashless society. The country's central bank is already running a political project to introduce an electric krona, based on the technology behind bitcoin.
8. d. San Francisco. San Francisco's golden era seems to be coming to an end as tech company employees grow used to working from home, decimating the real-estate market. The city stands to be among the most affected by Covid-19 as companies scale back office space.
9. b. Bob Dylan. The move guarantees that Dylan, who won a Nobel Prize for Literature in 2016, will cash in on his life's work. The value of his catalogue is rivalled in value and influence only by The Beatles.
10. c. A controversial Black Panther sequel. Disney confirmed Chadwick Boseman's character, T'Challa, will not be recast for the Black Panther sequel. Boseman, who died earlier this year four years after being diagnosed with colon cancer, led the hit 2018 film, which made $1.3bn at the global box office and was the first superhero film to be nominated for best picture at the Oscars. Disney released a list of over 30 new series for the platform, which has seen its subscribers jump from 73 million in October to 87 million in December.
Nic studied for a BA in journalism at Cardiff University, and has an MA in magazine journalism from City University. She joined MoneyWeek in 2019.