The best cities for buy-to-let investors
As returns come under pressure in the buy-to-let market, these cities still offer attractive returns for investors looking to earn a passive income.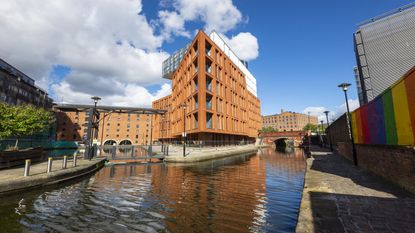 (Image credit: Getty Images)
With the buy-to-let sector facing significant hurdles, including a combined £17.9bn bill for energy efficiency upgrades, higher borrowing costs and more regulations, identifying the best areas for buy-to-let in the UK is crucial.
According to an analysis by real estate firm Redmayne Smith, Glasgow and Manchester have some of the best prospects for buy-to-let investors in the UK.
The midlands, north of England and Scotland dominate Redmayne Smith's list of the best places in the country for property investment, with only Cardiff and Bristol representing southern regions.
Subscribe to MoneyWeek
Subscribe to MoneyWeek today and get your first six magazine issues absolutely FREE
Get 6 issues free
Sign up to Money Morning
Don't miss the latest investment and personal finances news, market analysis, plus money-saving tips with our free twice-daily newsletter
Don't miss the latest investment and personal finances news, market analysis, plus money-saving tips with our free twice-daily newsletter
The firm took ten cities with the fastest-growing rents, and by researching the average rent, rental growth, average house price, price growth and transport links, assigned a score out of ten to each category.
Glasgow came out top on rental yield with 6.8%, receiving the perfect score of 10 in the category. The Scottish city also came out well on both annual property value percentage increase (14.1%) and transport links.
Manchester also took the top spots, receiving a score of 28 (out of a possible 30) with high marks across all three metrics, particularly in annual property value percentage increase (15.6%) and transport links.
Whilst the rental yield for Manchester came out slightly lower than that of Glasgow, at a rate of 5.1%, the property market in the city continues to demonstrate high demand and a growing population, pointing towards an attractive rental market, according to the report.
Not only is Manchester the home of Media City (the new Northern home of the BBC), but it has the presence of 80 FTSE100 companies and two premiership football teams, making it an attractive place for investors looking to garner high-net-worth individuals to rent their properties.
Gordon Dutfield, CEO at Redmayne Smith said investors are increasingly looking for opportunities in major UK cities, where the potential for growth and returns is high.
"With Glasgow and Manchester both undergoing significant investment and regeneration, we believe they offer the greatest potential. Personally, Manchester is the place I believe to be one of the best places to invest and this is where I'm focusing my time at the moment – investing in key areas in the city where I'll see the most return," he said.
The best regions for buy-to-let investors
Sheffield, Bristol, and Edinburgh completed the top five, with rental yield scores ranging from five to eight and annual growth percentages from seven to eight, with these cities all offering competitive returns on investment.
In addition, Sheffield's average house prices are relatively affordable compared to other regions, making it attractive to investors looking to maximise their budget. On the other hand, Bristol and Edinburgh topped the list for property prices, suggesting they would be more appropriate for investors looking to benefit from regions with less risk of market downturn and higher rental prices.
Birmingham and Nottingham received modest scores, both totalling 19. These cities scored well in terms of rental yield, with scores of six and eight respectively, and offer relatively affordable average house prices with strong potential for future growth.
While their transport links scored slightly lower than most of the top-ranking cities, both Birmingham and Nottingham are undergoing significant regeneration projects and attracting major businesses, which is expected to boost demand for rental properties in the coming years.
For investors looking for long-term growth potential, these cities offer a "compelling investment opportunity", Redmayne Smith's analysis noted.
Liverpool, Cardiff, and Leeds rounded out the list, scoring 18, 17, and 16 respectively.
Liverpool scored particularly well in rental yield and transport links, the Welsh capital scored moderately in all three metrics, whilst Leeds scored high in rental yield.
Dutfield added: "Rental yield and annual property value percentage increase are key indicators of the potential for strong returns on investment, while transport links are crucial in attracting tenants and maintaining demand.
"We believe these three factors offer the most accurate picture of a region's investment potential and are the most important things for investors to consider when selecting where to invest in the UK property market," he said.
Is the buy-to-let market finished?
Monthly buy-to-let mortgage interest payments have not escaped the rising rate environment, placing significant pressure on landlords following the range of new regulations and taxes introduced over the past ten years.
Prior, low borrowing costs and rising property values made buy-to-let an attractive investment, but new data shows the trend may be coming to an end as landlords face mounting bills, leading some to consider selling assets or returning.
Data from property lending expert Octane Capital shows just how much higher interest rates are eating into landlords' profits.
Separate data from estate agent Hamptons highlights this. A landlord coming to the end of a two-year fixed-rate mortgage with a rate of 2.2% on a home worth £200k, with a 60% loan-to-value mortgage, would have been paying £2,666 per year in interest.
But mortgage rates have climbed to near 5% – meaning annual payments have more than doubled to £6,060.
How else can I make money on property?
While the buy-to-let sector may be falling out of vogue for some investors, there are plenty of avenues for investors to generate returns within the real estate space.
Real estate investment trusts (Reits) are one such area where opportunities exist. At the end of February, the largest UK-listed Reits were trading at an average discount (to net asset value) of 13%, according to analysts at Stifel, with some trading at a discount of as much as 50%.
Meanwhile, there are a number of up-and-coming areas across the UK that are worth some attention, with some corners of the country benefiting from large discounts for cash buyers, offering the opportunity to leverage additional returns or simply secure property at a lower-than-usual rate.
Tom is a journalist and writer with an interest in sustainability, economic policy and pensions, looking into how personal finances can be used to make a positive impact.

He graduated from Goldsmiths, University of London, with a BA in journalism before moving to a financial content agency.
His work has appeared in titles Investment Week and Money Marketing, as well as social media copy for Reuters and Bloomberg in addition to corporate content for financial giants including Mercer, State Street Global Advisors and the PLSA. He has also written for the Financial Times Group.
When not working out of the Future's Cardiff office, Tom can be found exploring the hills and coasts of South Wales but is sometimes east of the border supporting Bristol Rovers.