Where will markets be in 2030? Here are 20 forecasts for the 2020s
A lot has changed in the last ten years – stockmarkets soared, technology transformed our lives and politics has changed beyond measure. Here, Dominic Frisby predicts what might change in the next decade.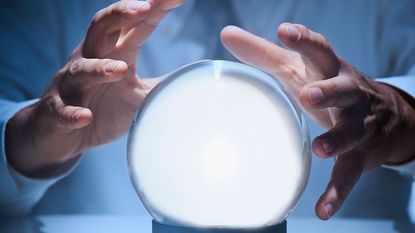 (Image credit: Getty Images/Tetra images RF)
In early January 2010, the S&P 500 was sitting at 1,100. Memories of the financial crisis and fear that another was around the corner were foremost in investors' minds.
Here we are, ten years later, and the S&P has almost tripled. Amazon shares traded hands for $110 apiece. Today they are $1,900. Facebook was not even listed.
I didn't have 4G; the house I lived in didn't have smart meters, or Alexa, or Netflix. The word 'Brexit' didn't even exist, and Gordon Brown was prime minister. A lot has changed.
Subscribe to MoneyWeek
Subscribe to MoneyWeek today and get your first six magazine issues absolutely FREE
Get 6 issues free
Sign up to Money Morning
Don't miss the latest investment and personal finances news, market analysis, plus money-saving tips with our free twice-daily newsletter
Don't miss the latest investment and personal finances news, market analysis, plus money-saving tips with our free twice-daily newsletter
"Most people overestimate what they can do in one year and underestimate what they can do in ten years," runs the famous saying, usually attributed to Bill Gates.
In other words a great deal can happen in a decade. So I thought today I'd make twenty predictions for the 2020s.
Twenty predictions for the 2020s
Many of these predictions will turn out to be hocus pocus, I'm sure. But I hope you'll find them thought-provoking nonetheless.
1. On the S&P 500: the bonanza of 2010s came off a very low base. Today's price of 3,300 is rather more elevated than the 2010 starting point, so the probability of the index doing a near-triple over the next decade is lower. Over the previous decade the S&P 500 actually lost 30%. The 2020s turn out to be a good, but not amazing decade. The S&P exceeds 6,666 – ten times higher than the infamous 666 crash low of 2009.
2. Not once in the decade does the UK see a Labour government.
3. The pound enjoys a bull market in the early part of the decade, and goes above $1.50, but, due largely to excess government spending and mismanagement, crisis then hits the currency, so that by 2024-2025 it is re-testing its 2016 crash lows (thus proving Frisby's Flux correct once again, conveniently enough).
4. Individual, portable jet-pack flying devices are a thing.
5. Over the course of the 2000s, gold more-or-less quadrupled. It has not begun the 2020s off 20-year lows as it did back then, but it has a good decade nonetheless and breaks the $5,000 an ounce barrier.
6. Does bitcoin disappear? Or does it go above $100,000? I think you know the answer to that one.
7. Currently fossil fuels – oil, coal and natural gas – are the ultimate source of over 80% of the world's energy, according to BP. For all the advances in clean tech, I don't see that proportion changing over the course of the decade. We are still deeply dependent on hydrocarbons so that by 2029 the proportion of the world's energy that derives from them is roughly the same as it is now.
8. Man goes back to the Moon.
9. The nature of employment changes even more. Jobs for life are already history (unless you work for the government). The traditional, easy-to-tax relationship between employer and employee is so last century. By 2029, 50% of UK labour is supplied by freelance, contingent or gig workers.
10. Oil is actually cheaper today than it was a decade ago. In the 2020s, however, it goes above $250 a barrel.
11. AI and robots do not decimate the workforce. Instead, as a result of the increased productivity, they facilitate and living standards improve.
12. China launches a part-gold-backed, yuan-based "stablecoin".
13. The FTSE 250 hits 50,000.
14. Cannabis is legalised in the UK.
15. Europe (including the UK, though to a lesser extent than the continent) is locked into in-fighting between left and right – those who would have more government and those who would have less. More and more separatist movements appear as a result.
16. Unashamedly ambitious and uninhibited, Asia has fewer such issues and it strides forward, beating Europe hands down as far as economic growth is considered.
17. The use of international currencies increases dramatically. Not just bitcoin and the like, but some kind of official international coin, based perhaps on the International Monetary Fund's SDRs, is launched. Asia launches its own SDR-type money.
18. Privacy becomes one of the dominant narratives in technology. Governments try to demand large corporations' privacy standards improve and impose greater regulations, while, at the same time, hypocritically clamping down on new privacy technologies such as VPNs and bitcoin mixers.
19. Whether very rich or very poor, at home or abroad, we will be leading longer, healthier lives.
20. We will also be enjoying better living standards than we have ever known.
Funnily enough, of all those predictions 19 and 20 are the ones I am most sure of. They are also the best news.
Stay positive!
Daylight Robbery – How Tax Shaped The Past And Will Change The Future is available at Amazon and all good bookstores with the audiobook, read by Dominic, on Audible and elsewhere. If you want a signed copy, you can order one here.
Dominic Frisby ("mercurially witty" – the Spectator) is the world's only financial writer and comedian. He is MoneyWeek's main commentator on gold, commodities, currencies and cryptocurrencies. He is the author of the books Bitcoin: the Future of Money? and Life After The State. He also co-wrote the documentary Four Horsemen, and presents the chat show, Stuff That Interests Me.
His show 2016 Let's Talk About Tax was a huge hit at the Edinburgh Festival and Penguin Random House have since commissioned him to write a book on the subject – Daylight Robbery – the past, present and future of tax will be published later this year. His 2018 Edinburgh Festival show, Dominic Frisby's Financial Gameshow, won rave reviews. Dominic was educated at St Paul's School, Manchester University and the Webber-Douglas Academy Of Dramatic Art.
You can follow him on Twitter @dominicfrisby