Great frauds in history: Takafumi Horie and Livedoor
Takafumi Horie used Enron-style dummy partnerships to inflate the revenue and operating profits of his company Livedoor.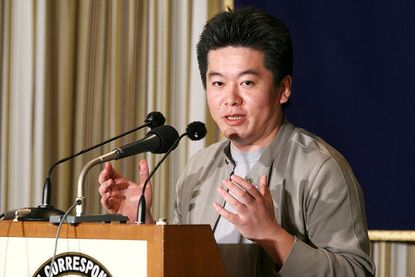 (Image credit: Kurita KAKU / Contributor)
How did it begin?
Born in the city of Yame in 1972, Takafumi Horie studied at the University of Tokyo before dropping out to found Livin' on the Edge (renamed Livedoor in 2004), a web-services start-up that went public in 2000. Its rapidly-growing profits and soaring share price allowed it to go on series of acquisitions. Horie's talent for self-promotion and his willingness to engage in hostile takeovers won him an equal number of admirers and detractors. At its peak Livedoor employed 1,000 people and had a market capitalisation of $7bn.
What was the scam?
Livedoor's strategy of paying shares, rather than cash, for the firms that it bought, gave it an incentive to keep the share price as high as possible: the higher the share price rose, the bigger Livedoor's purchasing power. In order to keep Livedoor's share price rising, Livedoor resorted to accounting manipulation, using Enron-style dummy partnerships to inflate its revenue and operating profits. In 2003-2004 the effect of this manipulation transformed losses of 310m (£2.2m at current exchange rates) into supposed profits of 5bn (£35m). It also spread market rumours designed to boost the share price of listed subsidiaries.
What happened next?
Livedoor's bid for broadcaster Fuji in 2004 and Horie's bid for Japan's parliament in 2005 ruffled many feathers in the country's establishment and led to increased regulatory scrutiny of Livedoor. In January 2006, Livedoor's offices were raided by regulators and one of Livedoor's bankers committed suicide. Horie was arrested days later and Livedoor was delisted. Horie was convicted in 2007 of fraud and sentenced to two and a half years in jail. Fund manager Yoshiaki Murakami was imprisoned for taking advantage of insider tips from Horie about which firms he was going to try to buy.
Subscribe to MoneyWeek
Subscribe to MoneyWeek today and get your first six magazine issues absolutely FREE
Get 6 issues free
Sign up to Money Morning
Don't miss the latest investment and personal finances news, market analysis, plus money-saving tips with our free twice-daily newsletter
Don't miss the latest investment and personal finances news, market analysis, plus money-saving tips with our free twice-daily newsletter
Lessons for investors
Livedoor would eventually be sold to a Korean firm NDH in 2010 for only 6.3bn (£44.3m), a fraction of its peak value, although shareholders did get some additional money back from various lawsuits against both Livedoor and Horie himself. An acquisition spree, especially when the underlying company is barely breaking even, is a cause for concern, since companies may be tempted into manipulating accounts (as Livedoor did). Acquisitions can also be used by management to provide cover for any subsequent accounting irregularities that emer
Matthew graduated from the University of Durham in 2004; he then gained an MSc, followed by a PhD at the London School of Economics.
He has previously written for a wide range of publications, including the Guardian and the Economist, and also helped to run a newsletter on terrorism. He has spent time at Lehman Brothers, Citigroup and the consultancy Lombard Street Research.
Matthew is the author of Superinvestors: Lessons from the greatest investors in history, published by Harriman House, which has been translated into several languages. His second book, Investing Explained: The Accessible Guide to Building an Investment Portfolio, is published by Kogan Page.
As senior writer, he writes the shares and politics & economics pages, as well as weekly Blowing It and Great Frauds in History columns He also writes a fortnightly reviews page and trading tips, as well as regular cover stories and multi-page investment focus features.
Follow Matthew on Twitter: @DrMatthewPartri