9 October 1967: Che Guevara is executed in Bolivia
Having failed to stoke revolution in Bolivia, Ernesto 'Che' Guevara was captured by the army and executed on this day in 1967.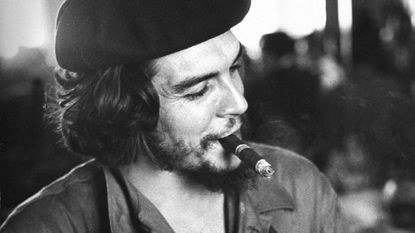 (Image credit: © Joseph Scherschel/The LIFE Picture Collection via Getty Images)
Perhaps no revolutionary is better known than Ernesto "Che" Guevara. Guevara was radicalised by his experiences while touring Latin America on a motorcycle. After qualifying as a doctor in 1953, he moved to Guatemala to back the government of Jacobo Árbenz, whose controversial land reform programme saw his downfall in a military coup a year later.
There, Guevara met Cuban revolutionary Fidel Castro. He followed Castro into Cuba in 1956 and played a key role in the guerrilla war that saw president Fulgencio Batista exiled on New Year's Day 1959. Guevara helped Castro consolidate power, executing his opponents and managing land nationalisation. He arranged for the USSR to position missiles within Cuba, setting off 1962's Cuban missile crisis. Yet in time, his criticisms of the USSR as insufficiently communist led to a break with Castro.
In 1965, he left Cuba to stoke revolution around the world. After an ill-fated stint in the Congo, he left for Bolivia to fight the military government. The superior training of the Bolivian army, poor relations with local communists, and antipathy from the locals saw his forces suffer a string of defeats. In October 1967, he was surrounded and forced to surrender to the army, and was executed the next day.
Subscribe to MoneyWeek
Subscribe to MoneyWeek today and get your first six magazine issues absolutely FREE
Get 6 issues free
Sign up to Money Morning
Don't miss the latest investment and personal finances news, market analysis, plus money-saving tips with our free twice-daily newsletter
Don't miss the latest investment and personal finances news, market analysis, plus money-saving tips with our free twice-daily newsletter
His charisma and early death (at 39) saw him become a symbol of revolution. Ironically, an iconic image of Guevara, taken in 1960 by Alberto Korda, working for a Cuban newspaper, has been used to sell everything from T-shirts to typewriters. However, in 2000, Smirnoff vodka had to pay Korda $50,000 (which he donated to the Cuban medical system) when it tried to use the picture in its advertising.
Matthew graduated from the University of Durham in 2004; he then gained an MSc, followed by a PhD at the London School of Economics.
He has previously written for a wide range of publications, including the Guardian and the Economist, and also helped to run a newsletter on terrorism. He has spent time at Lehman Brothers, Citigroup and the consultancy Lombard Street Research.
Matthew is the author of Superinvestors: Lessons from the greatest investors in history, published by Harriman House, which has been translated into several languages. His second book, Investing Explained: The Accessible Guide to Building an Investment Portfolio, is published by Kogan Page.
As senior writer, he writes the shares and politics & economics pages, as well as weekly Blowing It and Great Frauds in History columns He also writes a fortnightly reviews page and trading tips, as well as regular cover stories and multi-page investment focus features.
Follow Matthew on Twitter: @DrMatthewPartri