19 October 1960: US begins its trade embargo on Cuba
In retaliation for Cuba seizing American property, President Eisenhower banned exports to the island on this day in 1960.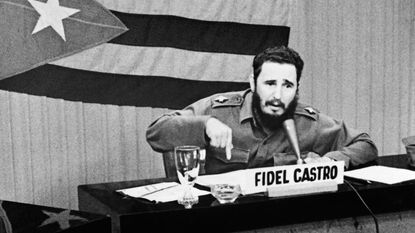 (Image credit: © Keystone-France/Gamma-Keystone via Getty Images)
After its revolution in 1959, Cuba began trading sugar for oil with the Soviet Union. The US, which imported some 3.5 million tons of Cuban sugar every year, was deep in the throes of the Cold War, and wasn't too keen on this development.
Che Guevara (at the time the head of the National Bank of Cuba) ordered the three foreign companies who operated refineries there – Esso, Texaco and Shell – to refine the Soviet oil. After the US State Department advised them not to, they refused. So Cuba nationalised their assets without compensation. In retaliation, the US cut Cuban sugar imports and Cuba seized all American property and businesses.
And so, on this day in 1960, the US got serious. President Eisenhower banned American companies from exporting anything but food and medicine to Cuba, and placed foreign ships which traded with Cuba on a blacklist. President Kennedy extended the embargo in 1962 to forbid imports of all goods from Cuba, and prohibited aid to countries that provided assistance to Cuba. (The day before he signed the order, he is said to have sent his press secretary to buy 1,200 Cuban cigars.)
Subscribe to MoneyWeek
Subscribe to MoneyWeek today and get your first six magazine issues absolutely FREE
Get 6 issues free
Sign up to Money Morning
Don't miss the latest investment and personal finances news, market analysis, plus money-saving tips with our free twice-daily newsletter
Don't miss the latest investment and personal finances news, market analysis, plus money-saving tips with our free twice-daily newsletter
Far from softening its stance after the fall of the Soviet Union, the US extended the embargo in the 1990s to penalise any company that did business with Cuba. But despite America's stance, much of the world has continued to do business with Cuba. The Netherlands and Canada are among its biggest trading partners, and Europeans have been holidaying there for many a long year.
On 17 December 2014, US president Barack Obama and Cuban president Raul Castro announced that work would begin to "normalise" relations between their two countries, with the eventual aim of re-establishing full relations and lifting the economic blockade that has been in place for so many years.
Cuba claims the embargo has cost it £1.1trn since it was imposed. The damage to the US economy is estimated at anything between $1.2bn and $4.8bn a year.
Ben studied modern languages at London University's Queen Mary College. After dabbling unhappily in local government finance for a while, he went to work for The Scotsman newspaper in Edinburgh. The launch of the paper's website, scotsman.com, in the early years of the dotcom craze, saw Ben move online to manage the Business and Motors channels before becoming deputy editor with responsibility for all aspects of online production for The Scotsman, Scotland on Sunday and the Edinburgh Evening News websites, along with the papers' Edinburgh Festivals website.
Ben joined MoneyWeek as website editor in 2008, just as the Great Financial Crisis was brewing. He has written extensively for the website and magazine, with a particular emphasis on alternative finance and fintech, including blockchain and bitcoin. As an early adopter of bitcoin, Ben bought when the price was under $200, but went on to spend it all on foolish fripperies.