26 August 1768: Captain Cook sets sail on his first voyage of discovery
On this day in 1768, Captain James Cook set off from Plymouth on his way to Tahiti and the fabled land of Terra Australis Incognita.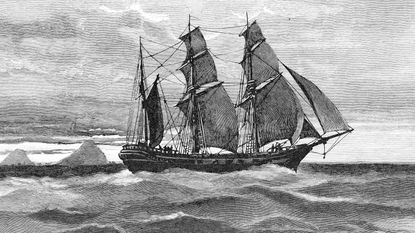 (Image credit: © The Print Collector/Print Collector/Getty Images)
On this day in 1768, Lieutenant (as he then was) James Cook set sail from Plymouth in command of the converted coal carrier HM Bark Endeavour, carrying a complement of scientists, on the first of his three voyages of discovery.
The stated purpose of the voyage, which was jointly sponsored by the Admiralty and the Royal Society, was to head for Tahiti to observe the transit of Venus across the sun, which would be visible only from the southern hemisphere, in June 1769. The second aim of the voyage, which Cook would only learn about on opening his sealed orders once at sea, was to find evidence of the unknown southern land, Terra Australis Incognita.
After concluding his business in Tahiti, Cook headed south as ordered, then west for New Zealand. He took with him two Tahitians: a priest, Tupaia, and his servant, Taiata, to help him navigate, and to communicate with any natives he might meet.
Subscribe to MoneyWeek
Subscribe to MoneyWeek today and get your first six magazine issues absolutely FREE
Get 6 issues free
Sign up to Money Morning
Don't miss the latest investment and personal finances news, market analysis, plus money-saving tips with our free twice-daily newsletter
Don't miss the latest investment and personal finances news, market analysis, plus money-saving tips with our free twice-daily newsletter
Part of Cook's orders was to record any flora and fauna he came across, bring back mineral samples and seeds, and observe the "genius, temper, disposition and number of the natives" and, "with the consent of the natives to take possession for His Majesty... as first discoverers and possessors".
Unfortunately, his first encounter with the Maoris involved some cultural misunderstandings, which left a couple of them dead. Nevertheless, he completed a comprehensive exploration and charting of the coast of New Zealand, before setting out west again to seek the fabled southern land.
In April 1770, Cook and his crew sighted land at Point Hicks in what is now Victoria. They scuttled north up the coast, and made landfall a week or so later at a place initially named Stingray Harbour, but which would soon become known as Botany Bay. In doing so, they become the first Europeans to visit Australia.
Cook continued northwards, charting the coast as he went, sighting and shooting the first kangaroo, and surviving a grounding on the Great Barrier Reef on the way.
He returned home via the Cape of Good Hope, arriving back in England in July 1771. Less than 20 years later the First Fleet would land to found the penal colony that would become the first European settlement in Australia.
Ben studied modern languages at London University's Queen Mary College. After dabbling unhappily in local government finance for a while, he went to work for The Scotsman newspaper in Edinburgh. The launch of the paper's website, scotsman.com, in the early years of the dotcom craze, saw Ben move online to manage the Business and Motors channels before becoming deputy editor with responsibility for all aspects of online production for The Scotsman, Scotland on Sunday and the Edinburgh Evening News websites, along with the papers' Edinburgh Festivals website.
Ben joined MoneyWeek as website editor in 2008, just as the Great Financial Crisis was brewing. He has written extensively for the website and magazine, with a particular emphasis on alternative finance and fintech, including blockchain and bitcoin. As an early adopter of bitcoin, Ben bought when the price was under $200, but went on to spend it all on foolish fripperies.