26 August 1970: the Isle of Wight holds the UK's biggest-ever music festival
On this day in 1970, 600,000 people flocked to the Isle of Wight to witness the biggest music festival ever to be held in the UK.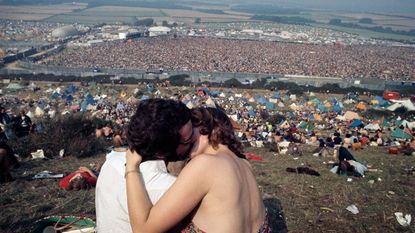 (Image credit: © Henri Bureau/Sygma/Corbis/VCG via Getty Images)
These days (well, not these days, but most years' days), there's a music festival every summer weekend on pretty much every spare plot of land from Thurso to Truro. Fresh-faced youngsters or whole families, depending on the niche the festival is intended to fill turn up with a bootful of freshly-bought equipment and set up camp, or rent eco-friendly tipis with composting toilets and solar showers. They settle down for a sophisticated weekend of the latest tunes and, if they're lucky, get a bit of a tan before leaving all their stuff in a filthy mess and heading home.
But things weren't always so sanitised.
The Isle of Wight held its first counter-cultural music festival in 1968. 15,000 young people came to see Jefferson Airplane headline. In 1969, 150,000 flocked to witness Bob Dylan's first live performance for three years.
Subscribe to MoneyWeek
Subscribe to MoneyWeek today and get your first six magazine issues absolutely FREE
Get 6 issues free
Sign up to Money Morning
Don't miss the latest investment and personal finances news, market analysis, plus money-saving tips with our free twice-daily newsletter
Don't miss the latest investment and personal finances news, market analysis, plus money-saving tips with our free twice-daily newsletter
But it is the 1970 festival that most people (well, most people over 40) think of when you mention the Isle of Wight Festival. 600,000 people came to watch The Doors, The Who, Joni Mitchell, and the undisputed star of the show, Jimi Hendrix, strut their stuff. So many turned up without a ticket that it effectively became a free festival, after the perimeter fence was demolished. It was a cultural phenomenon – not quite Woodstock, but not far off. The Isle of Wight Festival remains the biggest festival ever held in the UK.
Unfortunately, it was a victim of its own success. The retired colonels and yacht-club members that made up much of the island's population weren't impressed with the vast number of unwashed hippies swarming over from the mainland. So they decided to put a stop to it.
As a result of their objections, the Isle of Wight County Council Act 1971 was passed, which made it effectively illegal to hold gatherings of more than 5,000 people on the island without jumping through an inordinately stringent set of bureaucratic hoops. The restrictions it imposed killed off the festival for 30 years.
The festival was revived in 2002 (though it has no connection to the original), and has been held there every year since.
Ben studied modern languages at London University's Queen Mary College. After dabbling unhappily in local government finance for a while, he went to work for The Scotsman newspaper in Edinburgh. The launch of the paper's website, scotsman.com, in the early years of the dotcom craze, saw Ben move online to manage the Business and Motors channels before becoming deputy editor with responsibility for all aspects of online production for The Scotsman, Scotland on Sunday and the Edinburgh Evening News websites, along with the papers' Edinburgh Festivals website.
Ben joined MoneyWeek as website editor in 2008, just as the Great Financial Crisis was brewing. He has written extensively for the website and magazine, with a particular emphasis on alternative finance and fintech, including blockchain and bitcoin. As an early adopter of bitcoin, Ben bought when the price was under $200, but went on to spend it all on foolish fripperies.