Bordeaux En Primeur 2021 vintage: a triumphant year
The Bordeaux region has produced some exquisite wines in spite of Mother Nature, says Matthew Jukes.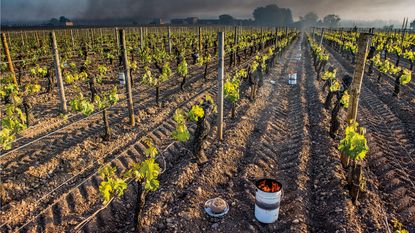 (Image credit: © Alamy)
To fully understand the 2021 vintage, you must digest the uniquely challenging weather conditions during the growing season. A series of interlinked climatic occurrences shaped this vintage such that it cannot be compared to any previous year. Last year presented Bordeaux with a volley of viticultural challenges that pushed every château to the edge of exhaustion. In many cases, they can rightly say that they triumphed over Mother Nature thanks to their tenacity, experience and tireless work ethic, and the finest wines are singular in their purity, freshness and uncommon resonance.
I drove nearly 1,000km in four days last week, tasted well over 300 wines and visited 51 individual châteaux as well as several industry-organised, larger, sub-regional tastings, and I enjoyed every minute. It has been three years since I last visited Bordeaux to taste the primeurs, and while mild Covid measures were still in place, the welcome afforded by the Bordelais was exceptional.
Early reports emerged from shoddy journalists suggesting 2021 was a disappointing vintage. I wish these doom-mongers would keep their ill-informed thoughts to themselves. You cannot assess a vintage by looking at weather forecasts and only fools would think this was an accurate picture of a very complicated scenario. It would be best if one tasted the wines first and then formed opinions with a complete picture of both the climatic events and the wines' accompanying flavours. Then it is obvious that 2021 produced one of the best vintages in the region's history.
Subscribe to MoneyWeek
Subscribe to MoneyWeek today and get your first six magazine issues absolutely FREE
Get 6 issues free
Sign up to Money Morning
Don't miss the latest investment and personal finances news, market analysis, plus money-saving tips with our free twice-daily newsletter
Don't miss the latest investment and personal finances news, market analysis, plus money-saving tips with our free twice-daily newsletter
Unsettled seasons
After a mild and wetter-than-average winter, bud-break took place relatively early in late March and until the end of May, it was unrelentingly cold (the lowest average temperature in 30 years). In April and May, a series of devastating frost episodes pulverised both sides of the Gironde, and while some estates fortunately escaped with minor damage, others were hit hard. Flowering was even and untroubled during a bout of fine weather, but the summer was unsettled and persistently stormy, and disease pressure was ever-present. Only those châteaux with exceptionally well-drilled viticulture teams managed to protect their most important plots. This meant staff (and in some cases, friends and family) were on standby 24/7, and we all know how preciously the French guard their weekends.
This was not a vintage where weekends were sacrosanct if you wanted to get to harvest time with clean bunches on your vines. Luckily, warmer weather in July and August naturally halted much of the mildew pressure and this period allowed veraison (when red grapes change colour from green to black). This stretch of decent weather was critical in kickstarting the long process of ripening the bunches. In September, there was more inclement weather, and disease pressure was still on red alert. Still, experienced estates let the grapes hang out as long as possible, bringing in delicate merlot first and gambling on conditions remaining dry into mid-October to bring in the cabernets in excellent condition. Thus 2021 is a vintage of the haves and the have-nots.
Taste every wine
If a château has noble terroir, an entirely dedicated team, state-of-the-art technology (to sort out the clean, pure, ripe fruit from the weaker berries) and a slice of luck, then there is no excuse for not making fabulous wine. If you lack these elements, you will have most definitely failed. So, this is a classic example of a vintage where every single wine must be tasted individually.
Reputation counts for nothing when Mother Nature starts to throw every trick in her playbook at you. Suffice to say that I found some exquisite wines in 2021, and they are all pure, long, refreshing, pristinely elegant and refined, and the epitome of the plots of vines from which they were harvested. If you would like to read my full 2021 Bordeaux En Primeur Report, I will be publishing it later this month on my website. In the meantime, here is a sneak preview of some of my favourite elite wines.
Ten "great value" 2021 En Primeur red Bordeaux (in alphabetical order)
Swipe to scroll horizontally
1 Château Capbern (Saint-Estèphe)
2 Château Le Pape (Pessac-Léognan)
3 Château Marsau (Francs Côtes de Bordeaux)
4 Château Montlandrie (Castillon Côtes de Bordeaux)
5 Château Potensac (Médoc)
6 Château Sociando-Mallet (Haut-Médoc)
7 Croix Canon (Second wine of Château Canon)
8 Lacoste-Borie (Second wine of Grand-Puy-Lacoste)
9 Petit Cantenac (Second wine of Clos Cantenac)
10 Ségla (Second wine of Rauzan-Ségla)
Ten "top end" 2021 En Primeur red and white Bordeaux (in alphabetical order)
Swipe to scroll horizontally
1 Château Cheval Blanc (1er Grand Cru Classé Saint-Émilion)
2 Château Ducru-Beaucaillou (2ème Cru, Saint-Julien)
3 Château Haut-Brion (1er Cru, Pessac-Léognan)
4 Château La Conseillante (Pomerol)
5 Château Lafite Rothschild (1er Cru Pauillac)
6 Château L'Eglise-Clinet (Pomerol)
7 Château Margaux (1er Cru Margaux)
8 Château Mouton Rothschild (1er Cru Pauillac)
9 Château Smith Haut Lafitte Blanc (Pessac-Léognan)
10 Vieux Château Certan (Pomerol)
Matthew Jukes has worked in the UK wine business for well over three decades and during this time has written 14 wine books.
Matthew regularly lectures, judges, speaks at wine conferences and runs masterclass tastings for both corporate and private clients all over the world. Matthew is also the creator of his ground-breaking initiative, the One Day Wine School, an indulgent day of tasting and learning first performed in 2006.
He has been the MoneyWeek wine correspondent since 2006 and has written a weekly column for the Daily Mail's Weekend Magazine since 1999. His four highly-acclaimed, annual wine reports – the Burgundy En Primeur Report, the Bordeaux En Primeur Report, the Piemonte Report and the 100 Best Australian Wines – are published on his website, www.matthewjukes.com.
Matthew is one of the world's leading experts on Australian wine and, with Brisbane-based wine writer Tyson Stelzer, runs an annual competition in Australia to find 'The Great Australian Red'. He was made Honorary Australian of the Year in the UK at the 2012 Australia Day Foundation Gala dinner.
Matthew is a winner of the International Wine and Spirit Competition's Communicator of the Year Trophy. His thoughts, recommendations and tastings notes are followed very closely by the wine world at large.