Inheritance tax refunds: Are you due one amid falling property prices?
Inheritance tax refunds are set to rise amid the current house market slump - but it must be proactively claimed. We explain how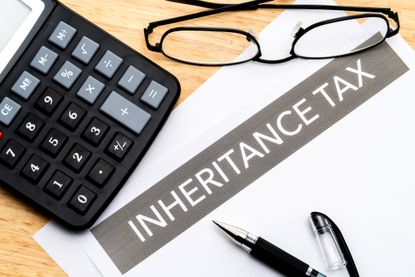 (Image credit: Getty images)
Increasing numbers of households could be in line for refunds on the inheritance tax (IHT) they have paid on property sales.
That's according to new data obtained by NFU Mutual from the taxman via a Freedom of Information request.
It comes as receipts from IHT have hit unprecedented levels, with HM Revenue & Customs (HMRC) forecast to pocket a record £6.7 billion this year.
Subscribe to MoneyWeek
Subscribe to MoneyWeek today and get your first six magazine issues absolutely FREE
Get 6 issues free
Sign up to Money Morning
Don't miss the latest investment and personal finances news, market analysis, plus money-saving tips with our free twice-daily newsletter
Don't miss the latest investment and personal finances news, market analysis, plus money-saving tips with our free twice-daily newsletter
Why you might be due an inheritance tax refund
Growing numbers of households could be in line for a refund because of falling house prices.
When someone dies their estate is valued for IHT purposes on the basis of what it was worth on the day they died. If IHT is owed, then it must be paid within six months. But if assets are sold for less than that initial value within 12 months you can claim an IHT refund.
This is particularly relevant when it comes to property prices, which have been falling for some time. According to the latest house price index from Nationwide property prices fell 3.5% year-on-year in June, with demand from prospective property buyers falling as a result of dramatic increases to mortgage rates over the last few months.
Thousands of families have been able to reclaim some of the IHT they've paid over the last year. Research from NFU Mutual shows more than 5,000 families reclaimed overpaid IHT in 2022-23, compared to 1,851 in the pre-pandemic 2019-2020 tax year.
Sean McCann, chartered financial planner at NFU Mutual, said that the current downturn in the property market meant that it was likely more bereaved families would sell property at a price lower than the value at which IHT was paid.
"These reclaim figures will rocket this year if house prices continue to decrease," he added.
Are you entitled to claim an inheritance tax refund?
You can recover thousands of pounds if you sell a property for less than anticipated within four years of a death - but overpaid IHT must be proactively claimed from HMRC.
"Everyone has a tax-free limit currently set at £325,000 - known as the nil-rate band. If your estate is worth more than this nil-rate band, the taxman can potentially take 40% of the excess," says Ian Millward, a chartered financial planner at Candid Financial.
He adds: "On top of this, the Government gives an extra allowance, known as the residence nil-rate band, of £175,000 to those who leave their home to children or grandchildren."
Combine the nil-rate band with the residence nil-rate band, and you could have a total tax-free allowance of £500,000. If you are married or in a civil partnership, you can leave everything to your other half with no tax to pay. A surviving spouse also has both allowances so assuming a home is left to children or grandchildren it means the surviving spouse will have a combined tax-free and property limit of £1 million when they die.
"The government raised about £6bn from IHT in the 12 months to April 22 which is the highest ever, largely through a combination of covid deaths and rising high prices," says Millward.
"But with values reversing the probate value may be higher than the amount realised. It potentially becomes chicken and egg with families pushing through sales quickly if they are worried values will fall further. Under the IHT act 1984 they are entitled to make a claim to recover overpaid tax. For example, a £100,000 reduction in the value of a property would result in a £40,000 repayment of tax."
How to claim an inheritance tax refund
An IHT refund claim can be submitted up to seven years after the death - though property sales must be in the four years after death.
HMRC says that you shouldn't make a claim until all the land and property is sold by the 'appropriate person'. The appropriate person means an executor if there was a will, or an administrator if someone dies intestate.
You claim an IHT refund by filling in the IHT38 form from Gov.uk.
Inheritance tax is also refunded on investment losses, but only if you sell for a lower value within the first year after the death of a relative.
Katie Binns is an award-winning journalist, and former Sunday Times writer where she spent 10 years covering news, culture, travel, personal finance and celebrity interviews. She has also written for the Times, Telegraph, i paper and Woman and Home magazine.
Her investigative work on financial abuse has examined the response of banks, the Financial Ombudsman and the child maintenance service to victims, and resulted in a number of debt and mortgage prisoners being set free.
With contributions from