Are Lifetime Isas still worth it?
Ahead of the Autumn Statement, pressure is building on the chancellor to overhaul the Lifetime Isa to ensure first-time buyers are not penalised, and to reflect rising house prices. We have all the details.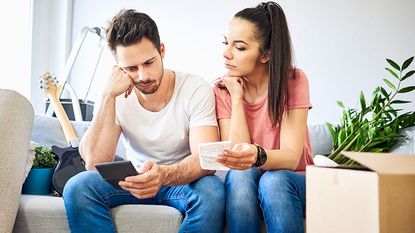 (Image credit: © Getty Images)
If you're considering whether now is a good time to get on the property ladder as house prices start to come down, then a Lifetime Isa could be one way to save for a mortgage deposit.
But amid concerns about house prices and exit fees, many are questioning if Lifetime Isas are fit for purpose, and urging Jeremy Hunt to use his forthcoming Autumn Statement to overhaul the product.
Financial companies including AJ Bell and Hargreaves Lansdown, along with money experts like Martin Lewis, are calling on the chancellor to scrap the exit penalty that savers face when buying a property worth more than the £450,000 limit, or when accessing their cash in an emergency. There are also calls to increase the property limit - which has been frozen since the product launched in April 2017.
Subscribe to MoneyWeek
Subscribe to MoneyWeek today and get your first six magazine issues absolutely FREE
Get 6 issues free
Sign up to Money Morning
Don't miss the latest investment and personal finances news, market analysis, plus money-saving tips with our free twice-daily newsletter
Don't miss the latest investment and personal finances news, market analysis, plus money-saving tips with our free twice-daily newsletter
However, there is currently no sign that the chancellor will overhaul the Lifetime Isa, with one newspaper reporting that the Treasury has dismissed any potential plans to tweak the product.
The Lifetime Isa – dubbed Lisa – was introduced by George Osborne to help young people buy a home or to save for retirement. Those aged under 40 can open the tax-free savings product, contribute up to £4,000 each tax year and receive a 25% bonus from the government. They can either save up to buy their first home, as long as the property costs £450,000 or less, or for a pension that can be accessed when they turn 60.
The product seemed popular initially: it was more generous and flexible than the Help to Buy Isa, which closed to new customers in 2019.
But six years after it launched, is the Lifetime Isa still worth it? A lot has happened since then: house prices have rocketed by 25%, interest rates have risen sharply, and a pandemic that crushed many people's finances has exposed an unfair penalty hidden in the Lifetime Isa's small print.
We explain how the Lifetime Isa works, the pressure on the government to reform the product, and whether it still makes sense to save into one if you're looking to get onto the property ladder.
HOW DOES THE LIFETIME ISA WORK?
Like all Isas, the Lifetime Isa is a tax-efficient way to save money because any interest and investment gains are free from tax.
However, with a Lisa, you also get a juicy 25% government bonus worth up to £1,000 every tax year, depending on your contribution. For example, if you pay £2,000 into your Lisa in a tax year, you'll receive a £500 top-up.
To open a Lifetime Isa, you must be aged between 18 and 39. Once you've opened the account, you can contribute up to £4,000 each year until you're 50.
The money you pay in counts towards your annual Isa limit (£20,000 for the 2023-24 tax year). Like adult Isas and junior Isas, you can hold cash or stocks and shares in a Lifetime Isa, or a combination of both.
As mentioned, buying a first home worth up to £450,000 or using the money for later life (at age 60 or over) is what the Lisa is designed for. If you're terminally ill, with less than 12 months to live, you can also access the account.
But if you make a withdrawal for any other reason, you'll be hit with a 25% exit charge. This effectively takes the government bonus away, but also some of your own money too. For example, if £10,000 was withdrawn from a Lisa, which triggered the exit charge, the bonus would be deducted plus £625 of your own savings too.
The exit fee also applies if you try to use the cash for a property costing more than £450,000. "Anyone who exceeds the £450,000 limit, even by just £1, will be hit with the 25% exit charge on the Lifetime Isa, as their purchase will no longer be within the rules," notes Laura Suter, head of personal finance at AJ Bell.
According to the investment platform, if someone had contributed the full £4,000 annual limit since the Lifetime Isa launched, they'd have a £35,000 deposit saved once the government bonus is added. If they then faced the 25% exit penalty, they would have to pay a charge of £8,750. It means they would end up with £26,250 in savings, £2,250 less than they contributed.
The exit fee was previously reduced to 20% during the pandemic after an outcry over its unfairness – but it reverted back to 25% in April 2021.
HOW POPULAR IS THE LIFETIME ISA?
The number of first-time buyers using a Lifetime Isa to fund a property purchase has steadily risen each year. In the 2022-23 tax year, 56,100 first-time buyers withdrew money to buy a home, according to the latest figures from HMRC. That is an increase of 5,800 on the previous tax year. The average amount withdrawn was £13,877.
However, the number of people making unauthorised withdrawals rose by 56% to 74,650 during the tax year, meaning they were hit by the 25% exit charge. These penalties were worth a whopping £47m in total.
This could be due to the impact of the pandemic and the cost of living crisis – forcing people to raid their savings to top up their income – while the rise in interest rates has dampened demand from first-time buyers.
Wealth manager Quilter is among firms and campaigners calling for changes such as increasing the house price cap or reducing or even scrapping the withdrawal charge.
"For those who are able to afford to leave their money in the Lisa the penalty is not an issue, but in light of the cost-of-living crisis, a considerable number of people are having to dip into these savings and face losing their hard-earned money as a result," says Rachael Griffin, tax and financial planning expert at Quilter.
"Lisas were launched in a very different economic environment, and young people are now finding it much more difficult to get onto the property ladder. Even with a substantial deposit, high house prices and interest rates are making it unaffordable for many, and at a time when money is tight, it is more likely people will need to access the funds they have locked away."
She adds that "the generous government Lisa bonus is enough to draw people in, but the foreseeable harm of the high penalty charge punishes people for trying to make the most of it".
Quilter says it may "also be sensible to rename the Lifetime Isa as a clean-up of the Isa brand. For example, it would be much better understood by people as a simple 'First Home Account', perhaps losing the retirement element".
"Chancellor needs to fix dead duck Lifetime Isas to stop first-time buyers being fined"
Even though house prices have dropped over the past 12 months, they have still risen dramatically in recent years, meaning many people using a Lifetime Isa for their first home face being priced out of the product.
When the Lifetime Isa launched, the average UK house price was £208,000, but it has since shot up to £259,000, according to Nationwide's house price index.
AJ Bell argues that house prices across the UK have risen by 25% since April 2017, and if the Lifetime Isa limit had increased in line with this it would sit at £562,500 today – more than £112,500 higher.
Martin Lewis, founder of MoneySaving Expert, says the freeze on the property limit has led to some young people, especially in expensive urban areas, being priced out of the Lisa benefits. He is calling on Hunt to fix "dead duck Lifetime Isas" and abolish the exit penalty.
MoneySavingExpert calculates that those buying above the current £450,000 maximum, who withdraw their deposit from a LISA, only get back £937.50 per £1,000 they saved, due to the fine.
Suter at AJ Bell says the exit charge should be cut from 25% to 20%, which means the government's bonus would be clawed back, but the saver would not lose their own money.
She also suggests increasing the property limit to £625,000, to align it with the first-time buyer stamp duty break of the same amount.
Catherine West, Labour MP for Hornsey and Wood Green in north London has also been campaigning for the government to "urgently upgrade" the "woefully inadequate" product.
She comments: "I am acutely aware that many in my constituency will have saved through the Lisa scheme and now face the prospect of not being able to use their savings due to the rise in house prices across London."
The chancellor will unveil his Autumn Statement on 22 November, and there are rumours that it could include some Isa changes.
David Brooks, head of policy at the independent consultancy Broadstone, says "minimising penalties on the Lifetime Isa" could be on the cards, "to make them more attractive given the government's aim to boost saving for later-life and home ownership".
He adds: "While we do not want further complications that could deter or confuse savers, initiatives to boost saving, especially pension saving and home ownership, are much needed."
Hargreaves Lansdown has added its weight to calls to reform Lifetime Isas. It has asked the government to reduce the withdrawal penalty from 25% to 20%, and also allow people to open and contribute to Lisas up until the age of 55.
However, the Telegraph reported this week that the chancellor has abandoned plans to reform the Lifetime ISA as part of his Autumn Statement, such as by lifting the £450,000 property limit or scrapping the penalty charge.
The Treasury has previously defended the savings scheme, telling MoneyWeek: "The Lifetime Isa is one of a number of ways the government is helping people to get on the property ladder and save for later life. At £450,000, the price cap is well above the average price paid by first-time buyers for a home outside London and comfortably above that paid by first-time buyers for a home in outer London, meaning it is appropriately targeted to support the majority of first-time buyers across the UK."
IS THE LIFETIME ISA STILL WORTH IT?
On the face of it, a 25% bonus on top of your savings sounds very attractive. It will boost your savings far more than if you relied on regular cash savings or stocks and shares Isa.
The key is to work out how you would feel if you weren't able to buy your first home with the money, for example, because the property you ultimately buy costs more than £450,000, or because mortgages become unaffordable and you continue to rent. This would mean your cash would be locked up until age 60. If you withdrew the money earlier, the exit penalty would kick in.
Salman Haqqi, personal finance expert at money.co.uk, comments: "The £450,000 cap may be too low for first-time buyers wanting to buy a 3-4 bedroom property in, or around, London. But for those outside London, with recent predictions that house prices will soon take a dip, a Lifetime Isa may still be a viable option."
As with all financial products, it's important to understand the small print, and also think about your own personal circumstances. Your age, financial goals, amount you can save and attitude to risk will also be factors in deciding whether a Lisa is worth taking out.
Ruth is passionate about helping people feel more confident about their finances. She was previously editor of Times Money Mentor, and prior to that was deputy Money editor at The Sunday Times.
A multi-award winning journalist, Ruth started her career on a pensions magazine at the FT Group, and has also worked at Money Observer and Money Advice Service.
Outside of work, she is a mum to two young children, a magistrate and an NHS volunteer.