Where to put your savings now that NS&I has cut its rates
National Savings & Investments (NS&I) has slashed its interest rates. There are now much better deals for your savings elsewhere, says Ruth Jackson Kirby.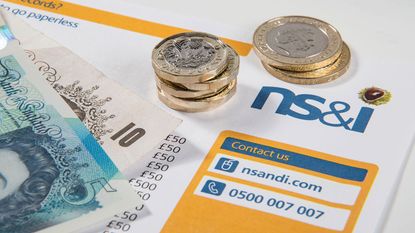 (Image credit: © Alamy)
There is rarely good news for savers these days, but one beacon of light in 2020 has been National Savings & Investments (NS&I). The Treasury-backed savings bank has offered market-beating interest rates for months. But no longer. NS&I is cutting its rates on several accounts as well as significantly lengthening the odds of winning the monthly prize draw with Premium Bonds. It claims it "had no choice but to act because savers had put away billions more during... lockdown, which left it in danger of breaching its government-mandated funding limit for the year", says David Byers in The Times.
In July alone savers deposited £9bn, nine times the normal level. Because it is backed by the Treasury, NS&I is not allowed to get too competitive; the government sets a limit on how much money it can accept each year. That limit – known as its net financing target – is £35bn. It is believed to have brought in £23bn already this year.
So the axe has come out to make accounts less attractive. "The savageness of the cuts will be devastating," says Anna Bowes, co-founder of Savings Champion. "The competition we have seen in the savings market could swiftly end, as providers could be swamped with new money."
Subscribe to MoneyWeek
Subscribe to MoneyWeek today and get your first six magazine issues absolutely FREE
Get 6 issues free
Sign up to Money Morning
Don't miss the latest investment and personal finances news, market analysis, plus money-saving tips with our free twice-daily newsletter
Don't miss the latest investment and personal finances news, market analysis, plus money-saving tips with our free twice-daily newsletter
NS&I has slashed the rate on its Income Bonds from a market-leading 1.16% to just 0.01%. Its Direct Saver will drop from paying 1% to 0.15%. The Investment Account will pay 0.01%, down from 0.8%. Junior Isa (individual savings account) accounts will drop from 3.25% to just 1.5% and the Direct Isa interest rate falls from 0.9% to 0.1%. All these rate declines will occur on 23 November. To cap it all, Premium Bonds will become much less attractive. From the December draw the odds of a £1 Premium Bond number winning a prize will lengthen from 24,500-to-1 to 34,500-to-1. There will be a million fewer prizes handed out to holders.
So what should you do now? If you are going to move your money, act fast. Savers "may have only a few days left before smaller banks that generally offer the top rates trim them", says Stefan Wagstyl in the Financial Times. Several of the best deals have already vanished. At the time of writing, the top easy-access accounts were Yorkshire Building Society's Internet Saver Plus, which pays 0.95% on balances over £10,000, and Principality Building Society's Web Saver, which pays 0.8% on all balances. However, if you are prepared to limit your access to your cash to only two withdrawals a year then Coventry Building Society's Double Access Saver pays 1.10%, while Principality Building Society's Online Limited Access pays 1.05% but allows three withdrawals.
Those who have unused individual savings account (Isa) allowances could look at Cynergy Bank's Online Isa, which pays 1%. You can make as many withdrawals as you like, but it's not a flexible Isa (ie, money paid in and withdrawn still counts against your Isa allowance). Coventry Building Society's Triple Access Isa pays 0.96% and is flexible but only allows three withdrawals per year; Principality Building Society's Web Isa pays 0.95%, is flexible and lets you withdraw as often as you like.
The best rate available is 1.6% with BLME's Premier Deposit Account, but that is a five-year bond. You can get 1.36% for two years (and 1.26% for one year) on Gatehouse Bank's Fixed Term Deposit.
Ruth Jackson-Kirby is a freelance personal finance journalist with 17 years' experience, writing about everything from savings and credit cards to pensions, property and pet insurance.
Ruth started her career at MoneyWeek after graduating with an MA from the University of St Andrews, and she continues to contribute regular articles to our personal finance section. After leaving MoneyWeek she went on to become deputy editor of Moneywise before becoming a freelance journalist.
Ruth writes regularly for national publications including The Sunday Times, The Times, The Mail on Sunday and Good Housekeeping among many other titles both online and offline.