Gender pensions gap - are women paying a parenthood penalty?
Trade body warns women face serious obstacles to saving enough for retirement as the gender pensions gap continues. Is raising a family having a detrimental impact on our pension pot?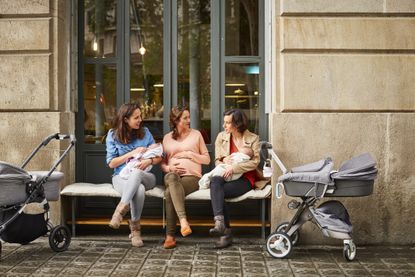 (Image credit: Getty)
This month, the government released official stats saying the gender pensions gap is around 35%. Women will retire with much smaller pots than men - yet they can expect to live longer and are likely to need more money to fund life after work, meaning they also face poverty in old age.
Now, the Pensions Management Institute (PMI) has joined in, warning women face serious obstacles that prevent them from building sufficient wealth for retirement.
PMI's latest research found breaks in employment, which mainly arise out of taking time out to raise a family, were the main cause of women not saving enough.
Subscribe to MoneyWeek
Subscribe to MoneyWeek today and get your first six magazine issues absolutely FREE
Get 6 issues free
Sign up to Money Morning
Don't miss the latest investment and personal finances news, market analysis, plus money-saving tips with our free twice-daily newsletter
Don't miss the latest investment and personal finances news, market analysis, plus money-saving tips with our free twice-daily newsletter
But worryingly, only 36% of women know what is in their pension pot - with these women having an average retirement pot of £25,959. Only 4% of female employees have saved more than £55,000 in pension savings.
And do women have other money that can be used for retirement? Seems not, for 60% of women, pension saving is the only preparation for retirement being made.
Motherhood and pensions - filling the gender pension gap
As a mum, I spent years working as a freelance journalist; I enjoyed the flexibility and variety. But, I must confess and put my hand up to say I did not think about my pension.
Why as a financial journalist did I miss out? First, because my income was ad-hoc, I just focused on my earnings and plugged away at my savings (not to mention there was no 'free' cash from my employer to encourage me).
Second - I was simply too tired to think about my finances.
But, I was lucky to be able to continue with my career and I did eventually think about my pension, but may have missed out on a few years.
But this is not the case for many parents, especially mums - as it is ultimately women that take on childcare duties. Many actually stop working due to extortionate childcare costs or the lack of flexibility around their work.
These women rarely pick up on pension savings and do face a significant shortfall.
When I ask stay at home parents what they are doing to save for retirement, the answer is often 'nothing'.
How can stay at home parents build a pension?
If you're a stay at home parent, there are some things you can do to ensure you continue to build a pension.
State pension - make sure you look after your state pension by registering for child benefit (regardless of your household income threshold). This ensures you receive National Insurance credits that go towards your state pension - also take a look at our article - how much state pension will I get - to work out your state pension.
Track down lost pension pots - you may have some savings from the past employment which can really add up.
Set up a personal pension and contribute when you can - not all providers require you to pay in regularly, so if you want to pay in when you can, take a look at PensionBee or Wealthify for example. And don't forget, you also benefit from 25% tax relief when you pay into a personal pension, so every £800 invested is worth £1,000.
Ask your partner to contribute - it doesn't seem unreasonable to me for the stay at home parent to ask their working partner to contribute to a pension. After all, if you are at home holding the baby, it is only fair they may help you secure your retirement.
How to boost your pension
If you are back to work, even if returning part-time, see if you can boost your pension by paying in more than the minimum contribution. Remember, many employers will match your contribution up to a certain amount, so that means extra free cash from your employer to help you build your pot.
Also, take a look at our article on how you may be able to boost your pension by purchasing National Insurance credits.
More help for women
Sadly, the gender pension gap is an ongoing battle.
In Scandinavian countries, women do not suffer any loss of earnings as a consequence of maternity leave, yet in 2023, raising a family (children who will contribute to the future economy) comes at a cost to women in the UK.
I hope that at the very least, the government is able to step in to help women by introducing financial education drop in sessions for parents and most certainly reduce the minimum income threshold (£10,000) for auto-enrolment, meaning those parents who return part-time are automatically thrown into the pensions system and start to save for their retirement.
Sometimes, it may just take a nudge or some guidance to help women take action.
And to answer my question - can women have both, the answer is yes, But women, the onus is on you to secure a stronger pension - at least for now it is.
Kalpana is an award-winning journalist with extensive experience in financial journalism. She is also the author of Invest Now: The Simple Guide to Boosting Your Finances (Heligo) and children's money book Get to Know Money (DK Books).
Her work includes writing for a number of media outlets, from national papers, magazines to books.
She has written for national papers and well-known women's lifestyle and luxury titles. She was finance editor for Cosmopolitan, Good Housekeeping, Red and Prima.
She started her career at the Financial Times group, covering pensions and investments.
As a money expert, Kalpana is a regular guest on TV and radio – appearances include BBC One's Morning Live, ITV's Eat Well, Save Well, Sky News and more. She was also the resident money expert for the BBC Money 101 podcast .
Kalpana writes a monthly money column for Ideal Home and a weekly one for Woman magazine, alongside a monthly 'Ask Kalpana' column for Woman magazine.
Kalpana also often speaks at events. She is passionate about helping people be better with their money; her particular passion is to educate more people about getting started with investing the right way and promoting financial education.