DWP: Gender pensions gap now at 35%
Women will retire with pension pots 35% smaller than that of men, data from the Department for Work & Pensions reveals.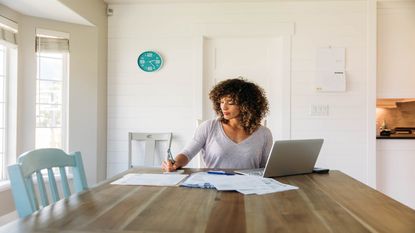 (Image credit: © Getty Images)
Women are hitting retirement age with about a third less saved into their private pensions than men, according to the latest data from the Department for Work and Pensions (DWP).
The widening gender pensions gap means for every £100 a man has in his pension, a woman has just £65, meaning women are more likely to face a significant shortfall in having a comfortable retirement.
DWP's data measures the difference in the amount of private pension wealth held by men and women at 55. It found that between 2018 and 2022 the gender pensions gap in private pensions was 35%. The gap is slightly smaller for those eligible for automatic enrolment, at 32%.
Subscribe to MoneyWeek
Subscribe to MoneyWeek today and get your first six magazine issues absolutely FREE
Get 6 issues free
Sign up to Money Morning
Don't miss the latest investment and personal finances news, market analysis, plus money-saving tips with our free twice-daily newsletter
Don't miss the latest investment and personal finances news, market analysis, plus money-saving tips with our free twice-daily newsletter
The gender pensions gap
The DWP estimates that between 2018 and 2020 the average pension pots for a woman was at £94,000, while men's stood at £145,000.
The data also showed the gap differed based on age. The gap for women in their 30s is 10%, but grows to 33% for the 40-44 age group and to 47% for the 45-49 group.
"Once they hit their 40s and above women significantly drop behind men in their pension savings," says Laura Suter. Head of personal finance, AJ Bell.
"A lot of this will be due to women taking career breaks to have children, working part-time around caring responsibilities or the gender pay gap meaning they earn less – which all filters through to lower incomes and lower pension contributions."
Data also showed the difference in average contribution rates. In the private sector, men contribute £2,010 a year to their pension compared to £1,500 for women.
The gap was as high as 42% between 2006 and 2008, but it has not made much progress over the last 10 years.
How can we address the pensions gap?
The fact that the gap is smaller between those who are eligible for auto-enrolment is encouraging, as we can "hope the gap continues to close as more women save into workplace pension schemes", says Helen Morrissey, head of retirement analysis at Hargreaves Lansdown.
"However, the structural problems that derail women's pension planning are all too clear. The government recently announced childcare reforms which should help more women keep working and contributing to their pensions, but the gender pension gap looks set to remain with us for some time yet," says Morrissey.
"The publication of these statistics represents a vital first step in tackling profound gender inequalities in pensions, and Laura Trott is to be commended for getting this work done within months of coming into office," Says Layra Myers, a member of LCP's gender pension gap working group.
"Not only does this report put the issue firmly on the government's agenda, but it means we will be able to hold governments to account to make sure that progress is made on the yawning gap in pension rights between men and women."
Why are women's pension pots smaller than men's?
Women are far more likely to work part time in their 40s due to bearing the brunt of childcare. But "if you're older and your kids have flown the nest, then it can make sense to up your pension contributions," says Alice Guy, head of pensions and savings at interactive investor.
"Contributing an extra £200 per month from the age of 50 could add up to £64,104 by the time you reach 67, assuming 5% investment growth. And that £200 per month will only cost basic rate taxpayers £160 after tax as pension contributions are tax free."
If one partner earns more than the other and has a larger pension pot, it could be worth paying extra into the lower earner's pot. "When you come to draw your pension it's not tax efficient for one partner to earn a lot more than the other and you could end up with a much bigger tax bill as a couple," says Guy.
It's also important to note that women typically live longer than men and so they actually need a bigger pot to see them through retirement.
"From maintaining pension payments during maternity leave, to increasing contributions if you return to work part-time, or boosting contributions before you go off, there are lots of ways to ensure a career break doesn't leave a huge hole in your pension savings," says Suter.
"There's also lots of evidence to show that women don't ask for pay rises as often as men, and a bigger income means bigger pension contributions."
Research has also shown women are likely to be https://moneyweek.com/personal-finance/605478/gender-investment-gapmore cautious than men when it comes to investing, which could cost them returns – so addressing the investment gap could be another way to boost retirement savings.
Nic studied for a BA in journalism at Cardiff University, and has an MA in magazine journalism from City University. She joined MoneyWeek in 2019.