How to get a £23,000 pension pot boost
Most people do not save enough for retirement, but could you give yourself a £23,000 pension boost with a few modest cash injections?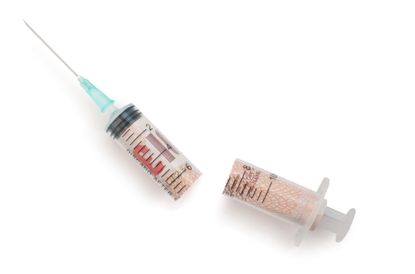 (Image credit: CharlieAJA)
Around 12.5 million people saving for retirement risk having a lower-quality lifestyle when they stop work, according to government figures.
While auto-enrolment, which was introduced in 2012, has helped create more pension savers, it has resulted in many people simply keeping their pension contribution to a minimum. Auto-enrolment rules state that the employer must pay at least 3% into the pension, and the employee pays at least 5% (1% via tax relief).
Of course, the nudge is in the right direction for those who may not have otherwise saved, but there is concern that millions of workers, including high earners, are simply not contributing enough to their pension pots, and they won't be able to afford a comfortable retirement. Experts suggest saving around 15% of your income (rather than the auto-enrolment minimum of 8%) is more appropriate.
Subscribe to MoneyWeek
Subscribe to MoneyWeek today and get your first six magazine issues absolutely FREE
Get 6 issues free
Sign up to Money Morning
Don't miss the latest investment and personal finances news, market analysis, plus money-saving tips with our free twice-daily newsletter
Don't miss the latest investment and personal finances news, market analysis, plus money-saving tips with our free twice-daily newsletter
One way to give yourself a pension boost is to simply pay more in each month, and in some cases, an employer will match your increase. Another way to supercharge your pension is to inject a one-off contribution into your pot.
Here's how making a few extra contributions could leave you better off by £23,000 by the time you stop work.
Get a £23,000 pension boost
Whether you are getting paid a bonus this year, been given a generous cash gift or have some surplus savings, using it to grow your pension could be worthwhile.
According to calculations from Standard Life, paying in a one-off lump sum of £1,000 every five years could boost your pension by £23,000 when you retire.
Making ad-hoc contributions to your pension pot throughout the course of the career can make a significant difference to your final pension income, as even small contributions will grow and benefit from compounding.
How much could my pension grow by?
While you can pump more money into your pension pot at any given time, the younger you start the more time your money has to grow and benefit from compounding.
According to calculations from Standard Life, a 22-year-old earning £25,000, who makes the minimum auto-enrolment contribution, would have a pension pot of around £434,000 by age 66. But if they topped it up with at least nine one-off payments of £500 every five years between age 25 and 65, the pot would grow by £11,000.
If they can add more, say £5,000 every five years, it could grow by £115,000, leaving them with a retirement fund of £549,000.
Dean Butler, managing director for retail at Standard Life, said: "Pensions are one of the most tax-efficient ways to save and they're investments, so they have the potential to grow faster than cash-based savings would. For example, if you receive a bonus this year, paying some or all of it into your pension plan could shield your money from some big tax and national insurance deductions, meaning you could keep more of your money in the long run, whilst also giving your pension savings a significant boost by the time you're ready to retire."
He added: "With the ongoing cost of living challenges, it can be tempting to put off thinking about your long-term financial future and focus purely on the short term. However, as our analysis shows, if your finances permit and it's appropriate for your circumstances, the more you engage with and contribute to your pension, the better your ultimate retirement outcome will be.
"For those in a position to do so, consistently paying into a pension from as early an age as possible and topping up payments, especially in your 20s, 30s or early 40s, can make a massive difference over time."
Other ways to boost your pension
While top-ups can be a great way to boost your pension pot, other ways to make the most of your pension include:
Increase your monthly contribution. This is especially worthwhile if your employer will match your contributions, as it means you can take even more advantage of the 'free' cash toward your retirement fund.
Bonus sacrifice. If you are paid a bonus, you may be given the option to put it into your pension instead. This saves you on tax and National Insurance contributions and means you get to keep more of your bonus, but inside your pension for the future.
If you are a few years away from retiring, you can delay your retirement date. If you have a defined contribution pension, it means you have more time to pay into it. If you are looking to buy an annuity, rates tend to get better the older you are.
You can also ask your employer about salary sacrifice, which could help you save on tax by lowering your gross salary.
Kalpana is an award-winning journalist with extensive experience in financial journalism. She is also the author of Invest Now: The Simple Guide to Boosting Your Finances (Heligo) and children's money book Get to Know Money (DK Books).
Her work includes writing for a number of media outlets, from national papers, magazines to books.
She has written for national papers and well-known women's lifestyle and luxury titles. She was finance editor for Cosmopolitan, Good Housekeeping, Red and Prima.
She started her career at the Financial Times group, covering pensions and investments.
As a money expert, Kalpana is a regular guest on TV and radio – appearances include BBC One's Morning Live, ITV's Eat Well, Save Well, Sky News and more. She was also the resident money expert for the BBC Money 101 podcast .
Kalpana writes a monthly money column for Ideal Home and a weekly one for Woman magazine, alongside a monthly 'Ask Kalpana' column for Woman magazine.
Kalpana also often speaks at events. She is passionate about helping people be better with their money; her particular passion is to educate more people about getting started with investing the right way and promoting financial education.