Coronavirus: what it means for your mortgage or your rent
Ruth Jackson-Kirby looks at all the key questions for owners, renters and landlords affected by the coronavirus crisis.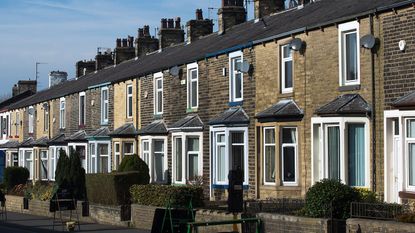 (Image credit: Terraced houses © Getty Images)
We're officially in lockdown and many of us are seeing the coronavirus crisis take its toll on our income. So, what happens about paying your mortgage? Here we answer all the big questions.
Can I stop paying my mortgage?
The government has announced that homeowners should be offered three-month payment holidays if they are struggling to make their mortgage repayments as a result of the coronavirus. But this doesn't mean you can simply cancel your direct debit.
"Homeowners are unknowingly putting themselves into arrears by cancelling their mortgage payments without speaking to lenders first," says Will Kirkman on ThisisMoney.co.uk. This can have an impact on your credit score.
Subscribe to MoneyWeek
Subscribe to MoneyWeek today and get your first six magazine issues absolutely FREE
Get 6 issues free
Sign up to Money Morning
Don't miss the latest investment and personal finances news, market analysis, plus money-saving tips with our free twice-daily newsletter
Don't miss the latest investment and personal finances news, market analysis, plus money-saving tips with our free twice-daily newsletter
If you need to take a mortgage holiday, contact your lender before you stop repayments, but don't rush to the phone. "Amid claims that borrowers are waiting up to ten hours on the phone to speak to someone, many lenders are now asking borrowers to submit applications online to free up their helplines, or to only call if they are vulnerable or facing immediate difficulty," says Kirkman.
What happens to my debt if I take a mortgage holiday?
Any repayments you don't make now will need to be made at a later date. "It is likely the lender will spread outstanding payments out over the remaining term of your mortgage, so borrowers will see an increase in their monthly mortgage payments," says Patrick Collinson in The Guardian.
That means, for example, that someone with a £200,000 25-year mortgage at 2.6% interest who takes a three-month payment holiday would see their repayments increase from £907 a month to £920 for the rest of the term.
Alternatively, your lender may let you extend the remaining term of your mortgage, so your monthly repayments stay the same. You may also be able to make an overpayment later on to clear what you haven't paid now.
What are the alternatives to a payment holiday?
Simply stopping your mortgage repayments isn't the only option if you are struggling during the coronavirus outbreak. You could ask your lender about options to reduce your bills for a few months. This could be switching to interest-only payments, deferring your interest payments or extending your mortgage term.
Can my home be repossessed?
If you do fall behind with your repayments, you cannot lose your home. The Financial Conduct Authority (FCA), the City regulator, has instructed banks and building societies not to repossess homes during the crisis. Nor can they charge fees for payment holidays granted owing to the crisis, says Collinson.
Can I stop paying my rent?
Yes. The government has acted to protect tenants as well as homeowners. "Emergency legislation will stop social and private tenants being forced out of their homes for at least three months," says Martina Lees in The Times. But the situation "does not mean you can live for free", says Lees. "Arrears will mount up – you'll have to repay [the money] eventually."
The housing minister has said the government expects landlords and tenants to work together to come up with an affordable repayment plan once the crisis is over.
I'm a landlord. Can I stop my mortgage repayments?
The government advice on payment holidays includes buy-to-let landlords whose tenants can't pay their rent due to coronavirus. If you need to stop making repayments on your buy-to-let mortgage you should speak to your lender.
If you have insurance, it should cover rent arrears. Alan Boswell, one of the biggest landlord insurers, told The Times that existing rent guarantee policies will cover missed rental payments caused by the economic dislocation we are experiencing.
Has my lender cut my interest rate?
Late last week the Bank of England cut the base rate to an unprecedented 0.1%. Unfortunately, many banks are failing to pass this cut on to customers. Research by ThisisMoney.co.uk found that just 13 banks and building societies out of 87 had trimmed the rates they charge borrowers.
Under normal circumstances, "a drop in the base rate will see a corresponding drop in a lender's 'standard variable rate'", says Kirkman. But the majority of lenders have kept their standard variable rates at the same level as before the central bank's original cut on 11 March.
If you have a tracker mortgage the rate drop should mean your repayments fall slightly. But anyone thinking about switching to a tracker could struggle. Nationwide no longer offers any tracker mortgages at all.
Ruth Jackson-Kirby is a freelance personal finance journalist with 17 years' experience, writing about everything from savings and credit cards to pensions, property and pet insurance.
Ruth started her career at MoneyWeek after graduating with an MA from the University of St Andrews, and she continues to contribute regular articles to our personal finance section. After leaving MoneyWeek she went on to become deputy editor of Moneywise before becoming a freelance journalist.
Ruth writes regularly for national publications including The Sunday Times, The Times, The Mail on Sunday and Good Housekeeping among many other titles both online and offline.