Lloyds Bank issues Football ticket scam warning - how to avoid ticket scams
The number of football ticket scam victims more than doubled last season, Lloyds Bank has warned. Here's how to avoid football ticket scams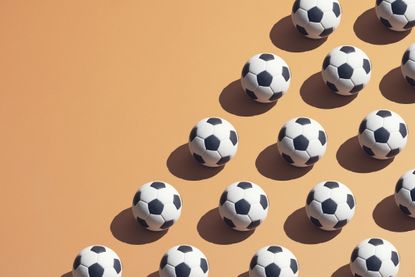 (Image credit: Getty Images)
The rising threat of online ticket scams ahead of the new football season has spurred Lloyds Bank to issue a scam warning.
Analysis of reported fraud cases among the lender's own personal banking customers found the number of people being scammed when buying football tickets more than doubled last season compared to the season before
Victims lost an average of £154.
Subscribe to MoneyWeek
Subscribe to MoneyWeek today and get your first six magazine issues absolutely FREE
Get 6 issues free
Sign up to Money Morning
Don't miss the latest investment and personal finances news, market analysis, plus money-saving tips with our free twice-daily newsletter
Don't miss the latest investment and personal finances news, market analysis, plus money-saving tips with our free twice-daily newsletter
It also revealed that more than 90% of football ticket scams reported during the 2022/23 season started on just three online platforms: Twitter, Facebook and Instagram, with those aged between 18 and 24 years old being most likely to fall victim.
Here's what you need to know to avoid getting scammed when buying football tickets.
How football ticket scams work
When tickets for big events are scarce or in high demand, fraudsters know they can cash in on desperate fans willing to pay much more.
One way they do this is by creating fake posts on social media or online marketplaces to advertise tickets that don't exist. Often they will include pictures of real tickets to convince the unsuspecting buyer that they are genuine.
The victim is tricked into sending money via bank transfer, but Lloyds say many consumers are unaware that bank transfers were not designed as a way of paying for things online and offer little protection if something goes wrong.
Once the money has been transferred, the fraudster simply disappears, and the victim receives nothing in return.
The emergence of ChatGPT and other generative AI services has given hackers a new tool to produce content used in scams, such as seemingly convincing emails and messages. While ChatGPT has functions built-in designed to stop it from being misused, they are easy to subvert.
It is fans of some of the biggest clubs in England – where demand for tickets is strongest – who are most likely to be targeted. Supporters of Liverpool and Manchester United fell victim most often last season, along with Arsenal and Chelsea fans. Tickets for international matches and major cup finals are also falsely advertised on a regular basis.
Liz Ziegler, fraud prevention director at Lloyds Bank, says: "It's easy to let our emotions get the better of us when following our favourite football team, but when it comes to buying tickets for matchday, it's important fans keep a clear head.
"The vast majority of ticket scams start on Twitter and Facebook, where it's far too easy for criminals to set up fake profiles and advertise items for sale that simply don't exist. Social media companies must do more to tackle this issue given the vast majority of fraud starts on their platforms," she adds.
How to stay safe when buying football tickets
Those who pay for tickets by credit card or debit card benefit from the well-established Section 75 and Chargeback rules which have been protecting consumers for decades.
The regulation, part of the Consumer Credit Act 1974, means your card provider is "jointly and severally liable" for your purchases. This means that if you pay for something with your credit card the lender is just as liable as the company you made the purchase from if something goes wrong.
As such, your card provider is legally required to help. It also covers services bought with a credit card such as flights and accommodation - well worth being aware of if you're planning on following your side around Europe.
But the best way to avoid a football ticket scam is to only purchase tickets from official vendors/ The English Premier League makes clear that if you are looking to buy match tickets you should purchase them directly from the clubs. Those clubs will also provide details of any authorised ticket partners on their official website, which may include legitimate ways for tickets to be resold by individuals.
"Buying directly from football clubs or their official ticket partners is the only way to guarantee you're paying for a real ticket, and always use your debit or credit card for maximum safety. If you're not doing those two things, there's a big chance you're going to get scammed," adds Lloyds' Ziegler.
Join us at the MoneyWeek Summit on 29.09.2023 at etc.venues St Paul's, London.
Tickets are on sale at www.moneyweeksummit.com
MoneyWeek subscribers receive a 25% discount.
Tom is a journalist and writer with an interest in sustainability, economic policy and pensions, looking into how personal finances can be used to make a positive impact.

He graduated from Goldsmiths, University of London, with a BA in journalism before moving to a financial content agency.
His work has appeared in titles Investment Week and Money Marketing, as well as social media copy for Reuters and Bloomberg in addition to corporate content for financial giants including Mercer, State Street Global Advisors and the PLSA. He has also written for the Financial Times Group.
When not working out of the Future's Cardiff office, Tom can be found exploring the hills and coasts of South Wales but is sometimes east of the border supporting Bristol Rovers.