5 things you didn't realise were affecting your credit score
Make sure you're keeping your credit score in top shape by avoiding these five mistakes.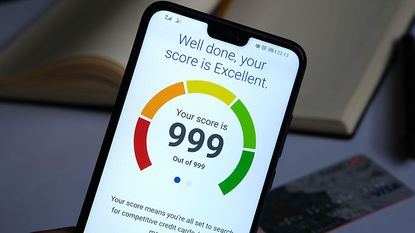 (Image credit: © Alamy)
Are you thinking about buying a house? Or applying for a loan or a credit card as the cost of living rises? If so, it's a good idea to check your credit score beforehand so you know where you'll stand with a lender.
Lenders will want to know your creditworthiness when going over your application, and will use your credit score to determine the amount of money – if any at all – they will lend you.
Your credit score is determined by your financial history and how you've managed your bills and debts in the past. If you've missed several payments, for instance, you could have a poor credit score.
Subscribe to MoneyWeek
Subscribe to MoneyWeek today and get your first six magazine issues absolutely FREE
Get 6 issues free
Sign up to Money Morning
Don't miss the latest investment and personal finances news, market analysis, plus money-saving tips with our free twice-daily newsletter
Don't miss the latest investment and personal finances news, market analysis, plus money-saving tips with our free twice-daily newsletter
However there are many things that can affect your credit score, some which you might not be aware of. Here are five things to stay on top of to make sure your credit score remains the highest it can be.
5 things you may not have realised were affecting your credit score
1. Taking out a mortgage or a joint account with someone with bad credit
"Many couples decide to merge finances and open up joint bank accounts or take out mortgages together", says Brean Horne, personal finance expert at comparison site NerdWallet.
"By doing this, it means that both you and your partner's credit scores and credit histories will be linked together, so if your other half has low credit, this can negatively impact you as well."
2. Avoiding credit altogether
It's a common misconception that using credit can harm your credit score, but this is far from the case.
"Not using credit can actually have a negative impact on your credit score and leave you with a thin credit history," says Horne. "That's because a good credit score is achieved by using a mix of credit products and showing you can make repayments on time."
3. Applying for too many credit cards
It's a good idea to use an eligibility checker before you apply for a credit card, otherwise making multiple applications in a short period of time "may suggest that you are in desperate need of money and that there is a higher risk that you won't be able to pay off what you borrow".
4. Receiving a county court judgment
A county court judgment (CCJ) may be registered against you if someone takes court action claiming you owe them money. Having a CCJ on your report will seriously affect your credit score, and it will take around six years to clear from your report.
5. Not being registered to vote
"Being on the electoral register means that your personal data is recorded, which helps lenders to easily confirm your details like your name, age and address," says Horne.
"Not being registered to vote means that credit, mortgage or loan lenders will find it harder to access your details to verify your identity, and you won't reap the benefits from this simple way to increase your credit score."
How can I check my credit score?
There are three main UK credit reference agencies: Equifax, Experian, and TransUnion.
Experian is the biggest. You can create a free account and check your credit score as often as you want. The information is updated every 30 days.
Equifax is free for the first 30 days, but after that it will cost you £7.95 a month.
TransUnion is also free for 30 days, then charges £14.99 a month.
It's worth noting that you do not need to subscribe to a paid service to access your basic credit report, but you will get more information – including your numerical "score" – if you do. Under the Data Protection Act 2018, all credit reference agencies must provide you with a copy of your credit report. You have the right to dispute any inaccurate information and have errors corrected within 28 days.
The Information Commissioner's Office says that you should "look for the phrase 'statutory report' on the CRAs' websites", and emphasises that you "don't need to pay a fee for obtaining a statutory report".
What is a "good" credit score?
Each agency has a different scoring system, so the points might differ but you should still fall in the same category.
Experian's points system goes from zero to 999. A "fair" credit score is anything that falls between 721 and 880; a "good" credit score is anything between 881 and 960; an "excellent" credit score is between 961 and 999.
Equifax scores out of 700. An "excellent" credit score is from 466 to 700; a "good" one is from 420 to 465 and a "fair" one is from 380 to 419.
TransUnion scores out of 710. An "excellent" score ranges between 628 to 710; a "good" score ranges from 604 to 627, and a "fair" one from 566 to 603.
Nic studied for a BA in journalism at Cardiff University, and has an MA in magazine journalism from City University. She joined MoneyWeek in 2019.