Mortgage overpayment calculator: pay off your home loan early?
Our mortgage overpayment calculator can help you to see how your monthly repayments will change if you overpay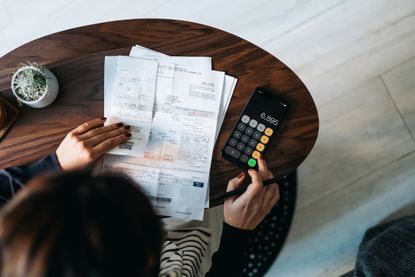 (Image credit: Getty images)
Rising mortgage rates can get homeowners thinking about overpaying their mortgage as a way to protect themselves.
The Bank of England rate is now 5% and there's a growing acceptance that there will be more rate rises this year. Many borrowers coming to the end of a fixed rate will now be remortgaging onto deals above 5%, after enjoying a lengthy period of paying interest of less than 2%.
If you have spare cash, you may be thinking about whether you should overpay your mortgage or invest instead.
Overpaying your mortgage means you can drastically reduce the interest you pay to your lender, become mortgage-free sooner and possibly secure a better rate when you come to remortgage.
Overpaying can be done as a regular monthly amount or a lump sum or a combination of both. Most lenders let their customers repay 10% of their mortgage balance a year without charging an early repayment penalty - do check, though, as NatWest has increased its limit on overpayments to 20%.
Our mortgage overpayment calculator reveals how your monthly repayments may change and help you decide if it is worth it.
Mortgage overpayment calculator
Overpaying your mortgage can save you thousands in interest
Now that mortgage rates have edged over 5%, overpaying your home loan can have a big impact.
For a homeowner with a £300,000 mortgage on the typical two-year fixed rate of 5.86% (as of 12 June according to Moneyfacts) and a 25-year term, overpaying by £100 a month would save £32,930 in interest and mean you'll be mortgage free two years and eight months early, according to the broker L&C Mortgages.
Alternatively, a one-off lump sum overpayment of £5,000 would mean you pay £15,938 less in interest and are mortgage-free 11 months early.
Even on a cheaper mortgage deal, overpaying can have a meaningful impact.
For example, on a rate of 2.15%, you'd save £8,734 in interest and the mortgage would be paid off two years and four months sooner if you overpaid by £100 a month.
And if you used a one-off lump sum overpayment of £5,000 you'd pay £3,496 less in interest and be mortgage-free 7 months early.
Overpaying your mortgage may give you access to better deals when you remortgage
Borrowers who reduce the LTV on the mortgage by overpaying their mortgage may find they have access to a broader range of better rates when they come to remortgage.
For example, according to Defaqto, the best two-year fixed remortgage deal for a remortgage based on a £150,000 loan with the loan worth 60% of a home's value was 5.09% as of 14 June.
In comparison, the best two-year fixed remortgage deal with a loan worth 80% of a home's value was 5.19%.
Overpaying your mortgage versus saving versus investing
Some homeowners will still be locked into a low fixed rate mortgage deal and with top fixed savings rates having edged over 5%, it means you could earn more interest putting your money in a savings account rather than using it to overpay your mortgage.
Similarly, if you're happy with how you are managing other debt, emergency savings and pension savings you may be considering investing the money instead of overpaying your mortgage.
But investments are there for the long-term, so you will be locking your money away for some years before you see strong returns.
Katie Binns is an award-winning journalist, and former Sunday Times writer where she spent 10 years covering news, culture, travel, personal finance and celebrity interviews. She has also written for the Times, Telegraph, i paper and Woman and Home magazine.
Her investigative work on financial abuse has examined the response of banks, the Financial Ombudsman and the child maintenance service to victims, and resulted in a number of debt and mortgage prisoners being set free.