What is Islamic finance?
Sharia-compliant or Islamic finance banks regularly offer great rates for savers, but how do they differ from Western banks?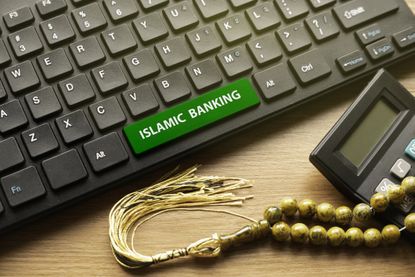 (Image credit: Getty Images)
If you're a keen reader of our up-to-date guides on the best savings accounts, you may have noticed a number of Islamic finance banks tend to be in regular contention for the top spot. But did you know that these accounts are available to anyone, regardless of faith?

Here's what you need to know about Islamic finance and why you may want to consider starting an account.
What is Islamic finance?
Banks that operate under Islamic law have a handful of key principles that differentiate them from Western peers.
Banks such as Al Rayan, Habib Bank AG Zurich, Gatehouse and the Bank of London and the Middle East do not charge interest to customers to borrow money, nor do they pay any interest on savings or current accounts.
Subscribe to MoneyWeek
Subscribe to MoneyWeek today and get your first six magazine issues absolutely FREE
Get 6 issues free
Sign up to Money Morning
Don't miss the latest investment and personal finances news, market analysis, plus money-saving tips with our free twice-daily newsletter
Don't miss the latest investment and personal finances news, market analysis, plus money-saving tips with our free twice-daily newsletter
These banks also avoid benefiting from investing in businesses involving armaments, gambling, pornography, drugs, tobacco, pork or alcohol, and tend to steer well clear of any high-risk investments.
Islamic law states that money has no intrinsic value, meaning banks and lenders seek to generate an "expected profit rate" as opposed to a rate of return. This means that when you open an account with an Islamic bank, your money is invested in a profit-share arrangement.
But it's important to note that any such expected profit rates are not concrete, and the bank could give you less back than you initially put in. This is unlike a standard fixed rate account, which guarantees to pay you a certain rate for a fixed period of time, regardless of how the bank may be performing.
Can you get back less than the expected profit rate?
It is extremely rare for a UK-operating Islamic bank to not meet its expected profit rate, but if the bank fears it will have to return you less than stated, it will contact you ahead of time.

Gatehouse Bank says on its website: "If we believe the expected profit rate will not be achieved, we will contact you giving you notice of the new expected profit rate."
As such, you should have a good sense of confidence when it comes to achieving the profit rates set out by Islamic banks, while failsafes such as reserve funds are in place to cover periods where the bank may be running at a loss.
And there's good reason why Islamic banks want to keep savers as satisfied as possible - they are dependent on savers' cash. Owing to the constraints of Sharia law, Islamic banks cannot borrow money from other lends through the interbank system, meaning a steady flow of cash from everyday savers. Happy savers make for a happy bank.
From a savers perspective, Islamic banks work in practically the same way as any other lender, and the Financial Services Compensation Scheme (FSCS) sees it that way too. It protects any deposit up to £85,000 should anything happen to your bank, so you can be assured that your money is as protected in a Sharia-compliant account as it is in any other high street bank.
Join us at the MoneyWeek Summit on 29.09.2023 at etc.venues St Paul's, London.
Tickets are on sale at www.moneyweeksummit.com
MoneyWeek subscribers receive a 25% discount.
Tom is a journalist and writer with an interest in sustainability, economic policy and pensions, looking into how personal finances can be used to make a positive impact.

He graduated from Goldsmiths, University of London, with a BA in journalism before moving to a financial content agency.
His work has appeared in titles Investment Week and Money Marketing, as well as social media copy for Reuters and Bloomberg in addition to corporate content for financial giants including Mercer, State Street Global Advisors and the PLSA. He has also written for the Financial Times Group.
When not working out of the Future's Cardiff office, Tom can be found exploring the hills and coasts of South Wales but is sometimes east of the border supporting Bristol Rovers.