Smartphone banking: the best app-based bank accounts
App-based banks are convenient, come with features that help you budget and make banking easy. What are the best app-based accounts available now?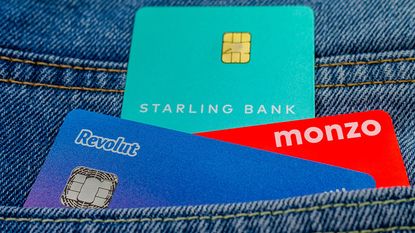 (Image credit: © Alamy)
Challenger banks, also known as digital or app-based banks, have been disrupting the banking industry for some years now. But for users, they provide tools and services that standard high street banks are yet to develop.
They've also become popular with savers, often offering better rates than traditional high street banks. Whether you're looking for the best savings account or a new current account, more of us are shifting to digital banking as the challenger banks continue to grow in popularity.
Unlike traditional banks, digital banks do not have physical branches and you'll have to deal with the bank exclusively via your mobile phone – even for things like paying in a cheque, should you ever get one again.
Subscribe to MoneyWeek
Subscribe to MoneyWeek today and get your first six magazine issues absolutely FREE
Get 6 issues free
Sign up to Money Morning
Don't miss the latest investment and personal finances news, market analysis, plus money-saving tips with our free twice-daily newsletter
Don't miss the latest investment and personal finances news, market analysis, plus money-saving tips with our free twice-daily newsletter
Here are the best digital banks and what they have on offer.
The best app-based bank accounts
Monzo
Monzo, launched in 2015, is one of the best app-only banks for budgeting and tends to do well in customer ratings.
It offers real-time notifications via your mobile every time you spend. And if you want to know where most of your money is going, you can easily see summaries of your spending which is categorised.
The app also allows you to set budgets, which is useful amid the cost of living crisis where prices are creeping up. Its salmon coloured card is popular with those in their twenties, but as more people become conscious of how they spend, the digital bank is likely to attract more attention with its useful budgeting tools.
The bank also has its own instant access savings account, offering a rate of 4%. The interest is paid monthly into the savings pot you create. You can withdraw money at any time, but it will take one working day for it to hit your account. You don't need a minimum deposit and can hold up to £100,000.
Monzo doesn't charge any overseas spending fees, but ATM withdrawals are only free up to £200 every 30 days. A 3% charge applies after that.
It offers joint, business and personal accounts.
The Monzo Premium account, a packaged account that includes features such as mobile insurance, and travel insurance, costs £15 a month and pays 1.5% AER.
The account comes with an optional £2,000 overdraft and loans up to £25,000.
Monzo is protected by the Financial Services Compensation Scheme (FSCS), meaning that you can get up to £85,000 worth of protection on your money should the bank go out of business.
Cash can be paid into the account via any of the 28,000 PayPoint terminals in the UK, located in local shops.
Chase
US-based Chase has become popular in the UK with its cashback on purchases deal and competitive savings rates.
The bank's introductory 12 month 1% cashback offer has been extended, and customers can now earn 1% cashback for another 12 months as long as they deposit £500 into their account once the initial 12 months expire.
From April the bank is introducing interest on its current account. From April, new and existing customers will get 1% interest on their current account balances with no fees or minimum deposits.
The Chase saver, which is linked to the current account, pays 4.1% AER. Customers can open multiple savings accounts and save up to £500,000.
You can also earn 5% AER variable interest on "round ups" – customers can round up each card transaction to the nearest pound and put it into a separate savings pot that pays 5% interest.
There are no charges for overseas spending.
Chase is FSCS protected.
There is no facility for paying in cash.
Starling
Starling Bank won the "Best British bank" for four consecutive years until 2021 and offer similar tools as Monzo to help you budget, save for your goals and keep track of your spending. Starling also recently entered the savings market, offering you 5.25% on a one year fixed.
You can have a business, personal, joint, dollar and euro accounts.
It offers a debit card for children (Kite) for children aged 6 - 16, linked to the parent's account, but this will cost you £2 a month.
Free cash withdrawals abroad and no fees for overseas spending; transactions are converted at the Mastercard exchange rate.
AER of 0.05% on personal current account balances up to £85,000.
Allows you to spend money abroad with no fees.
It is FSCS protected.
Cash can be deposited at any Post Office branch and if you happen to get a cheque, you can use the app to scan it in.
Atom Bank
Atom Bank offers savings accounts and mortgages rather than a current account.
Atom Bank does not operate a current account and can't be used for daily spending.
Atom Bank's fixed saver account (one year) has a rate of 5.9%.
Only open to UK residents.
Atom Bank has a maximum savings limit of £200,000.
There is no minimum deposit required for the instant saver but the fixed saver requires a minimum deposit of £50.
Protected by the FSCS
Pros and cons of using app-only accounts
Pros
Many app-only banks have gained recognition for having excellent customer service as the absence of physical branches means digital banks often focus heavily on online customer service. Most app-based bank accounts offer fee-free transactions abroad
Accounts can be opened in minutes and come with useful budgeting tools and simple savings options. Most accounts will break down your spending by type so you can see where your money goes each month, which is handy if you are trying to set up a budget and stick to it. Alerts whenever you use your card also help you keep on top of spending.
Several app-based banks also offer round-up savings services: every time you spend on your card, the amount is rounded up to the nearest pound and the difference is put in a savings account.
Other benefits include the ability to set your own contactless spending limit., If you are uncomfortable with the standard £100 limit, you can change it in an instant. And if you lose your card, you can block it in the app.
Cons
App-based banks usually have fewer account types on offer compared to larger high street banks or more established banks. You generally get the choice of a current account and a basic savings account.
While Monzo and Starling do use the current account switching service, they may not offer any cash incentive to tempt new customers.
As there are no physical branches, customers can't get face-to-face support should they want to; rather, you will need to be comfortable with online and, possibly, telephone support. However, with major bank closing branches, digital banking is increasingly becoming the norm.
Nic studied for a BA in journalism at Cardiff University, and has an MA in magazine journalism from City University. She joined MoneyWeek in 2019.