Student loans: yet another reason they won't ever be repaid
So few student loans are now being paid off that the government would have been better off not reforming the system at all. It's all down to 'salary sacrifice', says Merryn Somerset Webb.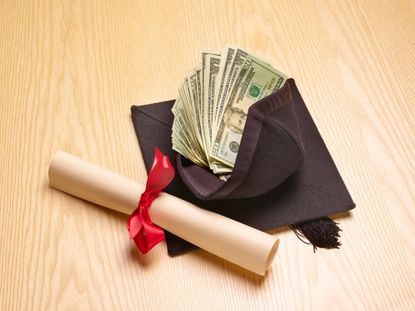 (Image credit: Peter Dazeley)
Got a student loan? Think you might pay it all back over the years? Well, silly you. Hardly anyone else is going to.
Repayment rates on student loans have now fallen so low that the government would almost have been better off not bothering to reformthe university finance system.
Its original estimate wasthat 28% of loans would have to be written off. That number has now been revised to 45%. The tipping point at which the whole thing starts costing, rather than saving, money is 48%.
Subscribe to MoneyWeek
Subscribe to MoneyWeek today and get your first six magazine issues absolutely FREE
Get 6 issues free
Sign up to Money Morning
Don't miss the latest investment and personal finances news, market analysis, plus money-saving tips with our free twice-daily newsletter
Don't miss the latest investment and personal finances news, market analysis, plus money-saving tips with our free twice-daily newsletter
This is partly about graduates earning less than expected; partly about graduates who don't earn (those who go on to be full-time mothers, or the retired perhaps they can take out loans to go to university too); and, as ever, partly about the general tax avoidance incentives built into our system.
In this case, the culprit is salary sacrifice. Here's how Tilney Bestinvest looks at it: "With clever planning, an employee can use salary sacrifice to reduce their income below certain thresholds and therefore make further savings.
"Take student loans, for example; many students leave university with high hopes of landing a top job but can find themselves undone, with low pay and laden with debt. Repayment of student loans is 9% of income earned above £17,335 for those taking out student loans before September 2012, and £21,000 for those taking a loan out after 1 September 2012. This can often leave many university leavers with a lot less take-home pay than they need.
"Taking into account Income Tax and National Insurance, a graduate will take home just 59p in the £1 for part of their income earned above the repayment thresholds. This would further reduce to 49p in the £1 for income earned above the basic rate tax threshold and a quite frightening 32p in the £1 for each pound of income earned between £50,000 and £60,000 if the graduate has two children and is in receipt of Child Benefit payments."
Let's say our graduate earns £30,000, and has a choice of putting money into his pension either via salary sacrifice or out of his net salary (in which case the tax is claimed back). If he does it using salary sacrifice, his official gross salary is not £30,000 but £27,000. That cuts his NI bill and his income tax bill but crucially, it also cuts his loan repayments from £810 to £540. The result is a take home pay of £20,907 instead of £20,277.
That might be good news for individual graduates, but it isn't exactly good news for taxpayers as a whole. It's also one more reason why the idea that salary sacrifice might be in line for the chop on 8 July might not be as silly as some think it is.
Merryn Somerset Webb started her career in Tokyo at public broadcaster NHK before becoming a Japanese equity broker at what was then Warburgs. She went on to work at SBC and UBS without moving from her desk in Kamiyacho (it was the age of mergers).
After five years in Japan she returned to work in the UK at Paribas. This soon became BNP Paribas. Again, no desk move was required. On leaving the City, Merryn helped The Week magazine with its City pages before becoming the launch editor of MoneyWeek in 2000 and taking on columns first in the Sunday Times and then in 2009 in the Financial Times
Twenty years on, MoneyWeek is the best-selling financial magazine in the UK. Merryn was its Editor in Chief until 2022. She is now a senior columnist at Bloomberg and host of the Merryn Talks Money podcast - but still writes for Moneyweek monthly.
Merryn is also is a non executive director of two investment trusts – BlackRock Throgmorton, and the Murray Income Investment Trust.