Arkady Volozh: Founder of Yandex's legacy is at threat due to Ukraine war
Arkady Volozh has been hailed as a visionary leader in the tech industry and spent 20 years building Russia's tech giant, Yandex. The Ukraine war threatens his achievement. Jane Lewis reports.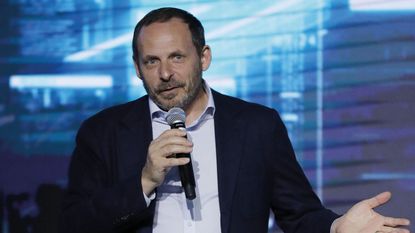 (Image credit: © Alamy)
It took Arkady Volozh 20 years to build Yandex into Russia's Google, Uber, Spotify and Amazon combined, says Wired – and just 20 days for "everything to crumble". The country's preeminent tech giant has been so stricken by the Ukraine war that there are doubts about its survival – at least in its current form.
Western sanctions have led to Yandex's shares being frozen on US stock exchanges, which in turn has led shareholders to seek repayment on convertible note guarantees, reports Radio Free Europe. The company says it doesn't have the $1.25bn to cover the sum. The now untradable stock is down nearly 80% since November, wiping off more than $20bn in market value. Big-name Western partners are deserting in droves.
A Russian miracle
Founded as a search engine in 1997, Yandex has spent years cultivating an image that it was far enough removed from the Kremlin to be considered a secure investment, says the Financial Times. It succeeded well enough to be viewed as "a Russian miracle" in Western tech circles.
Subscribe to MoneyWeek
Subscribe to MoneyWeek today and get your first six magazine issues absolutely FREE
Get 6 issues free
Sign up to Money Morning
Don't miss the latest investment and personal finances news, market analysis, plus money-saving tips with our free twice-daily newsletter
Don't miss the latest investment and personal finances news, market analysis, plus money-saving tips with our free twice-daily newsletter
But now Volozh's hopes of becoming "a significant player on the global tech stage" have been smashed. There are also growing worries about its position at home, says Bloomberg. Russia's "omnipresent tech company" is "facing a looming shortage of hardware" as US sanctions bite. According to sources, it may run short of semiconductors to power its servers in a year to 18 months' time. By general consensus, the disaster couldn't have happened to a nicer chap, says Wired. Arkady, as everyone in Yandex calls him, comes across as "the opposite of the stereotypically boastful, political knife-fighting Russian oligarch". Indeed, he's described as "self-effacing, cerebral, respectful". The US angel investor and former Yandex board member Esther a business magnate". Others consider him a visionary leader. He also clearly has skills in diplomacy – mastering the "high-wire act" of running an independent business while remaining on the right side of the Kremlin.
Born in 1964 to a Jewish family in the capital of Soviet Kazakhstan, Volozh's father was an oil geologist and his mother a music teacher. As a child he was something of prodigy and attended a special school for students gifted in mathematics, where he formed a close relationship with "an equally precocious youngster", Ilya Segalovich.
The pair headed to Moscow for college and after graduation started a series of small IT companies in the 1990s, "tinkering" with "the possible but unproven commercial potential of the internet". Volozh likes to boast that their first search engine went live in September 1997, almost a year before Google. By 2009, it had a 56% share of the Russian-language market. Two years later, when Yandex floated on Nasdaq raising $1.3bn, it was hailed as the start of a new era.
Tiptoeing westward
Segalovich, who was openly antiKremlin, died in 2013, leaving Volozh running Yandex alone in an "increasingly nationalistic" climate. But lately Volozh had begun "tiptoeing westward" in a bid to make the firm "less reliant on its Russian business – and on the whims of Vladimir Putin".
Yandex formed a joint venture with Uber and launched delivery services in London and Paris. But its most showy project is a Michigan-based selfdriving car trial launched in partnership with Grubhub. Volozh has long lived in Israel. He may now form the focus of a senior staff exodus, says The Times of Israel.
A Reuters report this week suggests that Yandex's CEO Elena Bullina has resigned and left Russia for Israel. "I cannot work in a country that is at war with its neighbours," she wrote. The company's fate now hangs in the air, its former champion Esther Dyson told Radio Free Europe. "The future of Yandex depends on the future of Russia."
Jane writes profiles for MoneyWeek and is city editor of The Week. A former British Society of Magazine Editors editor of the year, she cut her teeth in journalism editing The Daily Telegraph's Letters page and writing gossip for the London Evening Standard – while contributing to a kaleidoscopic range of business magazines including Personnel Today, Edge, Microscope, Computing, PC Business World, and Business & Finance.
She has edited corporate publications for accountants BDO, business psychologists YSC Consulting, and the law firm Stephenson Harwood – also enjoying a stint as a researcher for the due diligence department of a global risk advisory firm.
Her sole book to date, Stay or Go? (2016), rehearsed the arguments on both sides of the EU referendum.
She lives in north London, has a degree in modern history from Trinity College, Oxford, and is currently learning to play the drums.