Invest in the future of the cosmetics industry
Three key trends are shaping the future of the cosmetics business, says Nicole García Mérida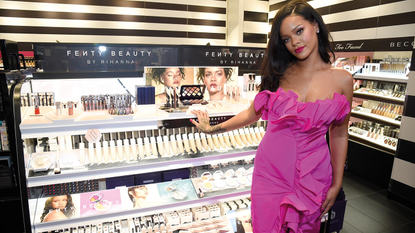 (Image credit: © Getty Images)
In tough economic times, consumers are more likely to buy less expensive luxury goods – known as the lipstick effect. So it makes sense that after the past couple of years, consumers worldwide have bought more than a couple of lipsticks. People went out less (if at all) throughout the pandemic, but that didn't stop many of them from wanting to look their best.
The fact that we were sat in front of our computers staring at ourselves on Zoom probably also allowed for more time to worry about our appearance. The rise of masks might have sent complexion products to the back of the shelf, while bringing eye products such as eyeliner, mascara and eyeshadow to the front, as this was really the only visible part of our face.
However, the pandemic also meant everyone spent more time on social media. This created space for celebrities, influencers and brands to push products to people who had money to spend because they weren't able to spend it on anything else. The pandemic has changed the face of the world, and beauty is no exception. These trends – the shift to online, the increased concern in our appearance, the role of the "influencer" – are unlikely to be transient.
Subscribe to MoneyWeek
Subscribe to MoneyWeek today and get your first six magazine issues absolutely FREE
Get 6 issues free
Sign up to Money Morning
Don't miss the latest investment and personal finances news, market analysis, plus money-saving tips with our free twice-daily newsletter
Don't miss the latest investment and personal finances news, market analysis, plus money-saving tips with our free twice-daily newsletter
The power of followers
The rise of celebrity makeup brands has arguably been one of the main drivers behind industry growth. Singer Rihanna became the wealthiest female musician in the world, valued at $1.7bn according to Forbes, but it was her Fenty Beauty brand that propelled her to billionaire status, not her music. Fenty Beauty is a joint venture with LVMH (Paris: MC), which owns 50% of the company. LVMH's wider portfolio of cosmetic and fragrance products is vast, including Christian Dior, whose fragrance Sauvage became the highest selling in the world in 2021, and KVD Vegan Beauty. The latter was formerly owned by celebrity tattoo artist Kat Von D, who launched it in 2008, and was bought by the conglomerate early 2020.
TV personality Kylie Jenner launched her makeup brand, Kylie Cosmetics, in 2015. The brand gradually expanded and Jenner sold a 51% stake in her company to cosmetics conglomerate Coty (NYSE: COTY) for $600m in November 2019. Coty's portfolio includes a wide range of beauty-aisle staples, such as CoverGirl, Rimmel, and Max Factor. Latest results showed sales were up 12% from the same period the year before, driven in part by Jenner's eponymous brand.
The list of celebrities getting into beauty brands is long. Makeup artist Pat McGrath founded Pat McGrath Labs in 2015, singer-songwriter Lady Gaga launched Haus Laboratories in 2019, former Disney channel star and singer Selena Gomez released Rare Beauty in 2020. Jennifer Lopez, Alicia Keys, and Millie Bobby Brown (who was 14 when her brand Florence by Mills hit the shelves) are also among the many performers to realise that there is plenty of money to be made by capitalising on their social media following.
On the face of it, these ventures might not seem too different from traditional celebrity endorsements, but these names mean a lot to consumers, as evidenced by the success of Rihanna's and Jenner's brands. These are celebrities with cult followings creating products that will make consumers look (or think they look) exactly like they do.
These brands have also been far quicker to tap into online trends than more established competitors. The rise of social media platforms such as YouTube, Instagram and TikTok have bred new forms of advertising. Chief among them is the influencer. In the beauty sector, some of them are former makeup artists, but for the most part they are just charismatic people who have managed to amass a following of hundreds of thousands, sometimes millions. The key difference between influencer endorsements and celebrity endorsements it that the former are seemingly normal people. The everyday shopper is going to relate to someone trying on an eyeshadow stick sitting in their bedroom floor than they are to a celebrity with a makeup and hair team. Fashion and beauty related content, including makeup and skincare reviews, are among the most popular content on YouTube: in 2018, beauty-related content generated over 169 billion views according to Statista, up from 59 billion views in 2016.
A new experience of beauty
The revolution in how companies market themselves is not just happening online. Beauty firms increasingly sell experiences, as opposed to just products, and they are sometimes using technology to do so. L'Oreal (Paris: OR), which owns brands like NYX Professional Makeup and Maybelline as well as its eponymous line, says it is in the process of transforming into a "digitally augmented beauty company". In 2018 it bought ModiFace, a Toronto-based company specialising in artificial intelligence and augmented reality that created software that allows customers to virtually try on makeup and hair colours through its brand's apps and even their retailers, including Amazon.
LVMH's brands include Sephora, a multinational retailer of beauty, skincare and fragrance products. The retailer has a strong online presence, which helped carry it throughout the worst of the pandemic, and it rebounded well as restrictions eased worldwide and customers returned to brick and mortar shops. But customers don't just flock to Sephora for products – LVMH's aim is to sell the "Sephora Experience". Its "Beauty Hub" concept was first available in two shops outside Paris. These featured a beauty table for tutorials from makeup artists working at the shop, but most notably it provided customers with tablets and touch screens that allowed them to try products on and match them to their skin tone virtually. They also provide a virtual look book with thousands of options to give customers inspiration, while recommending products they can use to achieve the look.
Retailer Ulta Beauty (Nasdaq: ULTA) is the largest beauty retailer in the United States, operating over 1,250 stores and selling online through its website. The easing of coronavirus restrictions across the country meant sales increased 28.6% to $2bn in the third quarter of the year, from $1.6bn for the same period the year before. Profits increased to $789.5m compared to $545.5m in the third quarter of fiscal 2020. The company initially focused on more affordable brands, but has begun to stock its shelves with premium products and started to market itself as an experience. Customers who download its app can virtually try on beauty products, get custom shade recommendations and tailored skin care routines.
Shiseido (Tokyo: 4911), whose prestige brands include Drunk Elephant, Nars, and Dolce & Gabbana, also talks of "beauty experiences that go well beyond traditional cosmetics". It is hoping to develop value through cutting-edge technology in dermatology including ultraviolet rays and ageing. Consumers have never been as concerned about their appearance as they are now, at a time where people are getting photographed more than ever before. The addition of technology to conventional beauty products aims to ensure all of these companies stay at the forefront of industry innovation and therefore remain staples in customers' bathroom shelves.
Estee Lauder (NYSE: EL) is perhaps among the few companies not gravitating towards technology – yet. The company owns over 25 prestige brands, including Bobbi Brown, Cliniquie, and Mac, all of which have benefited from the lipstick effect, and it focuses more on physical experience. It talks of in-store touch points designed to "inspire and delight consumers" with "unique in-store services" that offer "a respite from their daily routines". The firm's 30 Bobbi Brown stores all feature consistent branding but are tailored to their local market – one of their shops in Russia features a fireplace. Sales are growing as the world emerges from the pandemic, up by 14% to $5.5bn in the three months to 21 December compared to the year before.
The Korean wave
A third, far more specific development is the emergence of Korea as both a cultural force and beauty trend in recent years. "Hallyu" – the Korean term for the popularity of South Korean pop-culture abroad – has taken the world by storm. Boyband BTS is one of the few groups since The Beatles to earn four US number-one albums. South Korean drama Squid Game became Netflix's most-watched series, attracting over 142 million members during its first four weeks. And this extends to the country's beauty industry.
Korea's cosmetics trade surplus exceeded $6bn for the first time in 2020, making it the third-largest cosmetics exporter behind France and the US. Cosmetics exports outperformed home appliances, smartphones, and pharmaceuticals, and Korean brands are increasingly being stocked in Western retailers. Makeup in Western countries has traditionally been quite heavy – full-coverage, intense, smokey. However standards of beauty are ever-shifting, and the West is coveting the toned, youthful, luminous look characteristic of South Korean women.
Thus Amorepacific (Seoul: 002709) saw a 40% surge in online sales in 2021, reporting a net profit of $151m, a year-on-year rise of 727%. It owns K-Beauty brands such as Amorepacific, Sulwhasoo and Leneige. The company says it is committed to innovation and its laboratories look for the benefits associated with natural ingredients – an example of how beauty firms are trying to be aligned with environmental, social and governance (ESG) themes that appeal to many young consumers. At the same time, like other beauty firms, it wants to stay at the forefront of technology: it says it has developed the world's first intelligent tactile sensor to measures skin sensations.
Similarly, the management of consumer goods giant LG Household and Healthcare (Seoul: 051900) talk of heavily investing in sustainability – something that younger consumers are increasingly prioritising as they become more aware of the effects their purchasing habits have on the planet. It has a record year in 2021, with a 3.1% yearly increase in sales to $6.6bn and a 5.6% increase in operating profit to $1.07bn. The company's beauty business was boosted by the strength of the luxury beauty market in China, but it is also setting its sights on expansion in North America.
Nic studied for a BA in journalism at Cardiff University, and has an MA in magazine journalism from City University. She joined MoneyWeek in 2019.