This high quality engineering firm will filter profits to investors
Porvair, a maker of high-tech filtration systems, is an excellent long-term pick for your investment portfolio.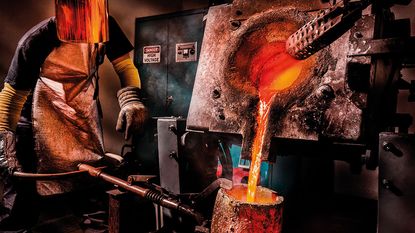 (Image credit: HadelProductions)
There is a select group of high-quality British engineering companies with leading positions in their market niches that make excellent long-term holdings for your portfolio. These include Halma, Rotork and Spirax Sarco.
Here, we add another: Porvair (LSE: PRV), a member of the FTSE Small Cap index with a market value of £340m. Porvair makes filters – bespoke high-tech filtration systems that, for example, extract impurities from molten metals.
Porvair's filters are usually a modest part of the overall cost of process equipment for its clients. But they are crucial for quality and reliability so these features are more important than price.
Subscribe to MoneyWeek
Subscribe to MoneyWeek today and get your first six magazine issues absolutely FREE
Get 6 issues free
Sign up to Money Morning
Don't miss the latest investment and personal finances news, market analysis, plus money-saving tips with our free twice-daily newsletter
Don't miss the latest investment and personal finances news, market analysis, plus money-saving tips with our free twice-daily newsletter
A specialist in three fields
Porvair has three divisions contributing to its 2019 turnover of £145m: aerospace and industrial (45%); laboratory and environmental (28%); and molten metals (27%).
Aerospace and industrial makes filtration equipment for aerospace, energy and other industries; top clients include Airbus, Boeing and Rolls-Royce. In 2018 it introduced new products for the US nuclear industry. The second division supplies analytical instruments and consumables (such as reagents) for laboratory and environmental applications, notably water-quality assessment. Molten metals produces specialist filters for the filtration and purification of molten aluminium, ductile iron and nickel-cobalt alloys.
Porvair's markets are highly regulated, with aerospace components requiring official accreditation, laboratory instruments needing approval and metal melt quality governed by extensive qualification requirements. The group is also geographically diversified. The Americas comprise around half of overall sales, Europe 26% (the UK accounts for two-fifths), Asia 23% and Africa 1%.
Five key bullish factors
Porvair has five characteristics that make it an attractive investment. First, it is shielded from competition. It boasts patents on products stemming from research and development (R&D); plus, it makes products specially designed for distinct applications which, in regulated industries such as aerospace or nuclear, require approval by regulators – so it is unlikely that one of Porvair's products could be replaced by a competitor's without a protracted approval process. Moreover, production contracts for specific customer applications usually last for seven to ten years so such revenue is secure for long periods.
Porvair's second major advantage is that filters are consumables, which must be replaced as part of planned maintenance cycles. That is why some 80% of revenue is recurring, giving the company a secure revenue stream.
Third, the global market for Porvair's products is expanding healthily. It is forecast to grow at around 5% per year. Fourth, return on invested capital (ROIC), a key gauge of profitability, is high. In 2019 it reached 14%, down slightly from 15% in 2018 because of an acquisition.
Finally, the company is cash generative with a strong balance sheet showing net cash of £4m at the end 2019, providing the scope to make further acquisitions should attractive opportunities become available. And that was after investing £14.1m in capital expenditure and acquisitions during the year.
Porvair's growth comes both from internal innovation and from bolt-on acquisitions. R&D was £4.1m for 2018 (3.2% of sales – quite high for an engineering business) and approximately one third of products were patented. Over the last six years the company has spent £56m on investment and acquisitions. Recent purchases include Royal Dahlman of the Netherlands (a specialist in petrochemical filtration) and Keystone Filter (food and drinking water).
A reasonably priced sustainable grower
Swipe to scroll horizontally
Porvair (LSE: PRV)
Investment measure
Row 1 - Cell 1
Investment ratio
Market value
£340m
P/e (2021)
24.4
Share price
708p
Debt/cash
Net cash £4m
Results
2018
2019
Change
Turnover
£128.8m
£144.9m
+12.5%
Pre-tax profit
£12m
£14m
+16.7%
Earnings per share
22.1p
23.6p
+6.8%
Dividend per share
4.6p
4.9p
+6.5%
Porvair's laboratory and environmental division designs and manufactures both analytical instruments and the consumables that go with them for use in environmental and bioscience laboratories.
There is a particular emphasis on water analysis and on sample preparation equipment. This division has facilities in the US, UK, Netherlands and Germany. Designing instruments and the consumables suitable for them means that customers normally buy Porvair's consumables, which are approved along with the instruments. The emphasis on both emissions reduction and water analysis gives Porvair an environmental, social and governance (ESG) flavour, making it attractive for managers of ESG funds to add to their portfolios.
The main risk for investors is the irregular nature of large contract wins: revenue and profits could rise strongly one year because of several contract wins but these might not be repeated in the next year, leading to a slowdown. However, this would probably be followed by further growth when the next large contracts are won. For example, in the first half (H1) of 2019, aerospace and industrial won several contracts to give a 48% increase (+£10.4m) in revenue over H1 2018.
Porvair's last five years of results show steady growth of revenue with 2019 up 39% compared with 2014 and pre-tax profit up 66%. Porvair has in the past exceeded brokers' forecasts and, in its update of 5 December, the company said its full-year results would be slightly ahead of expectations. The preliminary results released on 3 February showed revenue up 13%, pre-tax profit up 17% and earnings per share up 7% over 2018. The company says 2020 has "started well". The 2021 p/e is 24.4 – reasonable for a stock of Porvair's quality and record of sustainable profitable growth.
For decades, Dr Mike Tubbs worked on the 'inside' of corporate giants such as Xerox, Battelle and Lucas. Working in the research and development departments, he learnt what became the key to his investing. Knowledge which gave him a unique perspective on the stock markets.
Dr Tubbs went on to create the R&D Scorecard which was presented annually to the Department of Trade & Industry and the European Commission. It was a guide for European businesses on how to improve prospects using correctly applied research and development.