Vaccine patents: a bitter pill for drug companies
The US has suggested waiving drug companies' vaccine patents to hasten the defeat of Covid-19, sending their share prices down.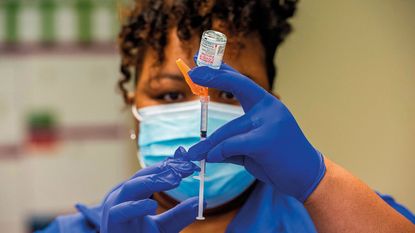 (Image credit: N© JOSEPH PREZIOSO/AFP via Getty Images)
Shares in pharmaceutical companies slumped last week after the US government "threw its weight behind global plans for a patent waiver on Covid-19 vaccines to boost their production and distribution around the world", says Julia Kollewe in The Guardian. Vaccine makers Moderna and Novavax fell by over 10%. In Hong Kong CanSino Biologics slumped by 22% and Fosun Pharma, which distributes the Pfizer/BioNTech vaccine, lost 18%.
No wonder investors "shuddered", says The Economist. Drug companies have hitherto banked on big profits from a vaccine, with Pfizer forecasting "vaccine revenues of $26bn in 2021, with profits around $7bn". But much of this would disappear if their know-how could be "pilfered with impunity". Worse, "botched imitations" by generic manufacturers could "fuel vaccine hesitancy" and lead to litigation. But these arguments are unlikely to impress countries pushing for a waiver. They insist that "a pandemic is not the time to be thinking about profits".
An unfortunate precedent
It's not just lost profits from Covid-19 drugs keeping drug firms up at night, says the Financial Times. For decades, the US has "fiercely" protected domestic companies' intellectual property rights in trade disputes, even to the extent of preventing cash-strapped countries trying to lower the costs of expensive HIV treatments in the late 1990s. The biotech sector fears that President Biden is now opening a "crack in the wall" that could be used to set a precedent to "make it easier to suspend patents in the future", thus reducing the incentive for future innovation.
Subscribe to MoneyWeek
Subscribe to MoneyWeek today and get your first six magazine issues absolutely FREE
Get 6 issues free
Sign up to Money Morning
Don't miss the latest investment and personal finances news, market analysis, plus money-saving tips with our free twice-daily newsletter
Don't miss the latest investment and personal finances news, market analysis, plus money-saving tips with our free twice-daily newsletter
Investors shouldn't panic just yet, since the US announcement is more a "symbolic milestone than a turning point", says life-sciences news site Stat. Due to opposition from Germany and other countries it will take "months of international infighting" before any proposal is agreed at the World Trade Organisation, with the most likely outcome a "narrow" compromise involving the compulsory licensing of vaccines. What's more, even if patents were waived today, generic manufacturers would struggle to find the "skilled expertise" required for making the vaccines. Note that even though Moderna has already opened the door to copycats, it's unclear whether any company has tried to emulate its vaccine.
While an immediate patent waiver may be a bad idea, there are several ways in which drug and other companies could help speed up distribution in poorer countries, says The Wall Street Journal. For example, the US could make "hundreds of millions" of surplus doses in its stockpile available to countries such as India and Brazil. Countries that produce "quality vaccines" could also invest in a "major expansion" of manufacturing facilities aimed at increasing exports to poorer countries. Finally, pharma groups should speed up efforts to build up manufacturing capacity in poorer countries.
Matthew graduated from the University of Durham in 2004; he then gained an MSc, followed by a PhD at the London School of Economics.
He has previously written for a wide range of publications, including the Guardian and the Economist, and also helped to run a newsletter on terrorism. He has spent time at Lehman Brothers, Citigroup and the consultancy Lombard Street Research.
Matthew is the author of Superinvestors: Lessons from the greatest investors in history, published by Harriman House, which has been translated into several languages. His second book, Investing Explained: The Accessible Guide to Building an Investment Portfolio, is published by Kogan Page.
As senior writer, he writes the shares and politics & economics pages, as well as weekly Blowing It and Great Frauds in History columns He also writes a fortnightly reviews page and trading tips, as well as regular cover stories and multi-page investment focus features.
Follow Matthew on Twitter: @DrMatthewPartri