A new legal headache for Haleon
Haleon, GSK's former consumer-products arm, spun off last month, has made a dismal debut on the stockmarket.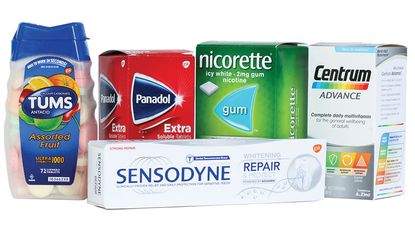 (Image credit: © Chris Ratcliffe/Bloomberg via Getty Images)
GSK's listing of its consumer-products arm Haleon is rapidly "turning into a textbook case of how not to do a spin-off", says Aimee Donnellan on Breakingviews. The hived-off company, in which Pfizer also owned a stake, floated last month. But last week Haleon's shares plunged owing to imminent litigation in Illinois over the once-popular heartburn drug Zantac.
GSK – formerly GlaxoSmithKline – stopped selling Zantac in 2019 when US regulators found that a potentially carcinogenic compound was created during the manufacturing process. Haleon, which owns brands such as Sensodyne toothpaste and Panadol painkillers, has never sold Zantac. However, it could have legacy "indemnification obligations" to GSK and Pfizer – a fact that has spooked investors already looking at a pretty "thin" case for holding Haleon.
Branded consumer goods face a tough time as inflation soars and customers seek out value. And it hardly helps that GSK loaded up Haleon with £10bn of debt, four times expected 2022 Ebitda – nor that GSK and Pfizer want to dump their remaining combined 45% holding in the stock.
Subscribe to MoneyWeek
Subscribe to MoneyWeek today and get your first six magazine issues absolutely FREE
Get 6 issues free
Sign up to Money Morning
Don't miss the latest investment and personal finances news, market analysis, plus money-saving tips with our free twice-daily newsletter
Don't miss the latest investment and personal finances news, market analysis, plus money-saving tips with our free twice-daily newsletter
During the pandemic we have become used to reading about the "speed and brilliance of innovation in life sciences", says Alex Brummer in the Daily Mail. The anxiety about Haleon and Zantac is a salutary reminder that new pharmaceutical products often have a "long tail of litigation risk".
Nor was it just Haleon stock that fell, says Lex in the Financial Times. GSK and Sanofi, which marketed Zantac for a time in the US, slipped too. Morgan Stanley estimates that GSK could account for 30%-60% of any liability, and puts the potential legal hit at anything from $10.5bn-$45bn.
Shares in all three firms have stabilised after assurances about the robustness of their legal positions. Yet investors are right to be "wary". Bayer's ongoing legal wranglings over Roundup, the glyphosate weedkiller acquired during the "disastrous" takeover of Monsanto, show how easy it is "to draw a line under compensation claims prematurely".
The wrong decision
Last December, GSK turned down a £50bn bid for Haleon from Unilever. That "road not taken" is looking very attractive, says Chris Hughes on Bloomberg Opinion. Even applying a "thumping" 50% bid premium to Haleon's current market value, you get to only £46bn once adding back the net debt. Moreover, "private equity was sniffing around last year, too". GSK's chairman Jon Symonds and its boss Emma Walmsley get "paid the big bucks" – £703,000 and £8.2m last year, respectively – to get these decisions right, says Alistair Osborne in The Times.
Instead, GSK has waved goodbye to about £30bn of value, and could now face a "legal dust-up" with its former subsidiary over liability for Zantac claims. "Investors may need to take the entire medicine cabinet to survive this."
Simon Wilson's first career was in book publishing, as an economics editor at Routledge, and as a publisher of non-fiction at Random House, specialising in popular business and management books. While there, he published Customers.com, a bestselling classic of the early days of e-commerce, and The Money or Your Life: Reuniting Work and Joy, an inspirational book that helped inspire its publisher towards a post-corporate, portfolio life.
Since 2001, he has been a writer for MoneyWeek, a financial copywriter, and a long-time contributing editor at The Week. Simon also works as an actor and corporate trainer; current and past clients include investment banks, the Bank of England, the UK government, several Magic Circle law firms and all of the Big Four accountancy firms. He has a degree in languages (German and Spanish) and social and political sciences from the University of Cambridge.