The market finally seems to be getting it
Reality checks are coming fast to the markets, says Merryn Somerset Webb – with even 2022's safe havens beginning to reflect recession worries.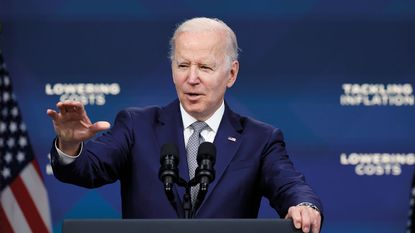 (Image credit: © Ting Shen/Bloomberg via Getty Images)
This week we got the latest inflation numbers from the US. The consumer price index (CPI) for April came in at 8.3% higher than this time last year. Some saw this as good news: it is slightly lower than it was last month (8.5%). Some saw it as bad news: it is slightly higher than the market expected (the consensus was for 8.1%).
But the key thing is not so much the number after the decimal point as the one before it. Last year, most commentators were flicking away the idea that inflation would be 3% at this point of this year, let alone over 8%. Last year, inflation was definitely transient. This year it is definitely heading for 10% in the UK (it was 7% in March – see this week's magazine for how high it might already be for you).
Reality checks are coming fast
We've written here a lot over the past few months about the effect rising interest rates should have on the prices of expensive stocks. The market seems to be finally getting it. The tech giants are now mostly 30%-50% from their highs. Small caps are having a nasty time (down 22% in the US year to date).
Subscribe to MoneyWeek
Subscribe to MoneyWeek today and get your first six magazine issues absolutely FREE
Get 6 issues free
Sign up to Money Morning
Don't miss the latest investment and personal finances news, market analysis, plus money-saving tips with our free twice-daily newsletter
Don't miss the latest investment and personal finances news, market analysis, plus money-saving tips with our free twice-daily newsletter
Even the sectors that have been safe havens so far in 2022 are beginning to reflect recession worries: Shell and BP struggled at the start of the week (nothing brings oil prices down more effectively than global recession). And it is not just stockmarkets that are having an unwelcome meeting with reality – look at cryptocurrencies.
This week John reminds us that crashes always reveal the "bezzle" – bubble riches resting on an unhealthy mix of almost-fraud and magical thinking. As the froth falls away, the silliness of investments made at the top becomes obvious. So it is with supposed stablecoin TerraUSD. Spoiler alert: it isn't stable. Bitcoin isn't either: it is down 46% in the past six months – putting it in line with other "assets" that produce no obvious return.
The environmental, social and governance (ESG) boom deserves a mention. The idea that investing only in stocks that can help you tick ESG boxes can help you outperform has disappeared with the outperformance of technology (a stalwart of ESG portfolios). There is every chance that these reality checks will keep coming, and that those who invested in some type of magical thinking – made-up money has worth! We don't need oil! – will get their comeuppance.
Expect the unexpected
However it is also worth noting, as James Anderson does in our interview this week (listen to the whole thing on the MoneyWeek podcast here) and Matthew Lynn does in his column, that we can be sure of nothing. Perhaps inflation-adjusted interest rates matter more than nominal ones. With UK rates at 1% and inflation at 7%, real rates are -6%. The world's central banks may be sounding like they are getting tough on inflation, but as inflation is rising faster than rates, money is actually getting cheaper, not more expensive. This is new.
The last time UK inflation was 7%, rates were 12% – so the real interest rate was 4%. Look at it like that and it is possible that instead of a crash we will get yet another "wild bubble", says Matthew. That possibility is good reason not to be completely in cash (tempting as it is right now) and not to think you can find the bottom. It is also good reason to keep an eye out for emerging value – listen to this week's podcast for ideas.
Merryn Somerset Webb started her career in Tokyo at public broadcaster NHK before becoming a Japanese equity broker at what was then Warburgs. She went on to work at SBC and UBS without moving from her desk in Kamiyacho (it was the age of mergers).
After five years in Japan she returned to work in the UK at Paribas. This soon became BNP Paribas. Again, no desk move was required. On leaving the City, Merryn helped The Week magazine with its City pages before becoming the launch editor of MoneyWeek in 2000 and taking on columns first in the Sunday Times and then in 2009 in the Financial Times
Twenty years on, MoneyWeek is the best-selling financial magazine in the UK. Merryn was its Editor in Chief until 2022. She is now a senior columnist at Bloomberg and host of the Merryn Talks Money podcast - but still writes for Moneyweek monthly.
Merryn is also is a non executive director of two investment trusts – BlackRock Throgmorton, and the Murray Income Investment Trust.