Why GSK should turn down Unilever's billions
Unilever has offered GSK £50bn for its consumer division. But while the cash will be a temptation, the deal is not in the interests of shareholders or of anyone else, says Matthew Lynn.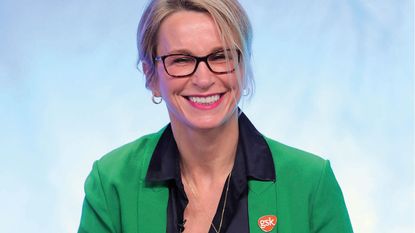 (Image credit: © Alamy)
Now that its hand has been revealed, there is no question that Unilever will do its best to acquire the consumer division of GlaxoSmithKline as it completes its demerger. Its £50bn offer may rise to £60bn, £70bn, or more. But the institutional investors that will make the decision should still say no.
Sure, it is a lot of money to turn down. Shareholders may well be tempted to discreetly get in touch with GSK chief executive Emma Walmsley to quietly point out that they wouldn't mind 50 or 60 billion in cash, all things considered, especially given that the shares have drifted for years and no one has made much money from their investment. But the deal is not in their interests or anyone else's.
Unilever's "woke" cul-de-sac
Firstly, Unilever's record is hardly inspiring. Under Alan Jope, shares in the consumer goods juggernaut have flagged. Over the last year, while the stockmarket was relatively strong, Unilever's shares dropped from £43 to £39. They fell another £3 after news of the proposed takeover broke. Nestlé, its great Swiss rival, was up by 20% over the same period, and even GSK managed to do significantly better than that.
Subscribe to MoneyWeek
Subscribe to MoneyWeek today and get your first six magazine issues absolutely FREE
Get 6 issues free
Sign up to Money Morning
Don't miss the latest investment and personal finances news, market analysis, plus money-saving tips with our free twice-daily newsletter
Don't miss the latest investment and personal finances news, market analysis, plus money-saving tips with our free twice-daily newsletter
In truth, the company has disappeared up a woke cul-de-sac. It spends so much time signalling about inclusiveness, diversity and sustainability, and finding different ways of supporting radical protest groups, that it seems to have forgotten that a company is meant to be about making and selling stuff. In reality, it needs a complete culture change, allowing it to behave responsibly, while sticking to its main task of selling more ice cream and detergent at a fair price – but it won't be able to do that while it is spending all its time trying to complete a mega-merger.
Secondly, the FTSE 100 needs more major companies, not fewer. GSK Consumer, or whatever the demerged unit ends up being called to justify the millions the brand consultants will no doubt charge for its new name, will be a major business. With a £50bn-plus valuation, it will be one of the leaders on the FTSE 100. It will make the UK stockmarket home to three of the world's major consumer-goods companies: Unilever, Reckitt and GSK. It will help shift the market away from an over-reliance on oil giants, banks and drugs companies. Sure, asset managers can collect a huge cheque if the unit is sold to Unilever, but they will have one less attractive company to invest in. It would be far better to own shares in Unilever and GSK Consumer, and let the two companies compete to show which is the best, instead of just putting the money into the rest of the FTSE.
Finally, GSK's consumer healthcare division has an excellent chairman in former Tesco boss Dave Lewis. The sector is one of the most attractive in the global economy – with ageing populations, and indeed with everyone taking more of an interest in taking care of themselves, demand should carry on growing at a decent rate. If Covid-19 is turning into an endemic but relatively mild disease, as it seems to be, then there will be a huge market for self-medication to deal with its symptoms. Just as significantly, Lewis showed during his time at Tesco that he knows how to drive a business forward. The demerged business should be given a chance. Who knows – in a few years, the GSK division may be bidding for Unilever and not the other way around.
Give GSK Consumer a chance to shine
Unilever already looks to have made a mess of this. It could have bid for the whole of GSK for £80bn before Christmas, sold off the drugs business for a healthy price and kept the consumer unit. It was not bold enough and now it has missed the moment.
As for Walmsley, she does not have a great deal of goodwill to draw upon. She has been, at best, an indifferent CEO, failing to revive GSK's pipeline of new drugs, despite promises to do so, and losing ground against more dynamic rivals such as AstraZeneca and Pfizer. There probably are not many shareholders who feel like backing her judgement in anything. Even so, she was right to turn down the Unilever offer and shareholders should back that decision.
Matthew Lynn is a columnist for Bloomberg, and writes weekly commentary syndicated in papers such as the Daily Telegraph, Die Welt, the Sydney Morning Herald, the South China Morning Post and the Miami Herald. He is also an associate editor of Spectator Business, and a regular contributor to The Spectator. Before that, he worked for the business section of the Sunday Times for ten years.
He has written books on finance and financial topics, including Bust: Greece, The Euro and The Sovereign Debt Crisis and The Long Depression: The Slump of 2008 to 2031. Matthew is also the author of the Death Force series of military thrillers and the founder of Lume Books, an independent publisher.