The FTSE 100 doesn't need its retailers
Retailers are falling out of Britain's index of leading shares – the latest FTSE 100 reshuffle left just four. But that may be no bad thing, says Matthew Lynn.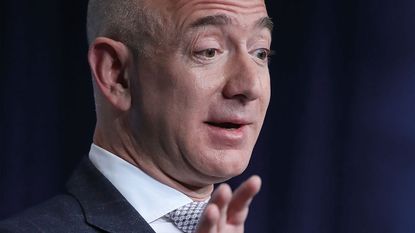 (Image credit: Getty Images)
And then there were four. In the latest FTSE reshuffle last week, Kingfisher was demoted from the main index. There are now just four retailers left, the lowest number ever. Marks & Spencer, once a bellwether of the British economy, was kicked out last year, and over the last few decades so were WHSmith, Boots, House of Fraser, Habitat, Mothercare and many others. It may be even fewer soon. The supermarket chain Morrisons only just survived this week, and may not make the cut next time. Whatever else we are, we aren't a nation of shopkeepers – or shareholders in shopkeepers – anymore. It would be easy to regret the decline of a once huge industry, and one in which a series of brash, go-getting tycoons built their fortunes. And yet that would be a mistake. In truth, the FTSE will be better off without its retailers.
The four failings of the sector
First, retailing is low-growth. Sure, individual retailers can still grow if they come up with a great new brand, or format, or pricing strategy. We have seen that in the last few years with fashion chains such as Superdry and Ted Baker, or the German discount grocers Aldi and Lidl. There is always room for a smart company to offer customers something new and take a slice of the market as a result. But overall, retailing is not a growing industry. Total consumer spending is not rising very fast, and that makes it impossible for any company to expand except by taking sales from a rival. The overall market is stagnant.
Second, retailing is low-productivity, and it relies on an army of low-paid workers. In industries such as software, manufacturing, business or financial services, or the design, consultancy and media sectors, it is possible for productivity to improve significantly over time. That allows companies to grow and wages to rise. But it is really hard to do that with a shop. It takes time to put stuff on display, to check out customers, give advice or to take returns. That amount of time is roughly the same now as it was 50 or 100 years ago. A clothes shop today is probably no more efficient than a Victorian one. Robotics and artificial intelligence may help a bit. Scanners at supermarkets mean they don't need quite as many staff as they used to. But on the whole it is an exceptionally difficult industry in which to raise output per person – and that limits profits growth.
Subscribe to MoneyWeek
Subscribe to MoneyWeek today and get your first six magazine issues absolutely FREE
Get 6 issues free
Sign up to Money Morning
Don't miss the latest investment and personal finances news, market analysis, plus money-saving tips with our free twice-daily newsletter
Don't miss the latest investment and personal finances news, market analysis, plus money-saving tips with our free twice-daily newsletter
Third, retail needs mountains of consumer debt to keep it going. With store cards, buy-now-pay-later deals, and cheap finance, retailing depends on people spending money they don't really have to sustain itself. Without all those hammered credit cards on a Saturday afternoon even more chains would have closed down, and the most successful retailers are often those that find ways of persuading people to borrow more, often at punitive interest rates. But debt is not great for the economy overall. In truth, we probably have too much of it. An economy that was less dominated by retailing would also be one that was less dominated by debt – and that would definitely be an improvement.
No retailers no cry
Finally, there is hardly any innovation in the sector. A few retailers – mainly from the tech industry – are finally trying. Amazon has launched cashier-less stores where you simply walk in, take what you want and leave (it gets charged to your phone). Apple is building stores that hardly seem to sell anything, yet have some of the best results in the world. But our bookshops, clothes shops, toy shops and hardware stores have hardly changed over the past century. The last really new thing in retailing was the supermarket and that had been perfected by the 1960s. Without innovation, it is hard for an industry to grow.
So it's probably no bad thing that the retailers are falling out of the FTSE. The companies that have been coming into the index as the retailers drop out are in technology, finance, pharmaceuticals and medicines: all industries with genuine growth potential. When the final retailer is dropped from the FTSE – presumably Tesco – it may even be a reason to celebrate.
Matthew Lynn is a columnist for Bloomberg, and writes weekly commentary syndicated in papers such as the Daily Telegraph, Die Welt, the Sydney Morning Herald, the South China Morning Post and the Miami Herald. He is also an associate editor of Spectator Business, and a regular contributor to The Spectator. Before that, he worked for the business section of the Sunday Times for ten years.
He has written books on finance and financial topics, including Bust: Greece, The Euro and The Sovereign Debt Crisis and The Long Depression: The Slump of 2008 to 2031. Matthew is also the author of the Death Force series of military thrillers and the founder of Lume Books, an independent publisher.