Change is coming to the German stockmarket as the Dax index expands
Germany's benchmark Dax stock index is to expand to 40 companies from the current 30 amid a broader shakeup of the German stockmarket.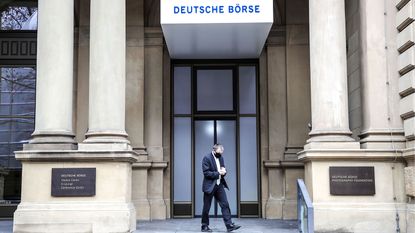 (Image credit: © ARMANDO BABANI/AFP via Getty Images)
"Over the last 15 years Germany has come to be seen by many in Europe as a paragon of political stability", says Ronald G. Asch in The Spectator. Now Angela Merkel, the country's "perennial chancellor", is preparing to retire. An election on 26 September will decide who replaces her at the helm of Europe's biggest economy.
The next coalition
The election campaign has proved volatile. The centre-left Social Democrats (SPD) have soared in the polls in recent weeks at the expense of Merkel's conservative CDU. Gaffes by the "buffoonish" Armin Laschet, the CDU's candidate to succeed Merkel, have alienated voters. They have taken a shine to SPD candidate Olaf Scholz, who currently serves as the finance minister in a coalition government with Merkel's party. Scholz seems "serious-minded" and "pleasantly boring – something very much appreciated by the majority of German voters".
Scholz's SPD is proposing "a suite of progressive but modest economic policies", says Tom Rees in The Daily Telegraph. The party wants to boost public investment, using tax increases to pay for it. If the SPD manages to "maintain its present momentum" then it will probably favour a coalition with the liberal Free Democrats and the Greens, says Cedric Gemehl of Gavekal Research. The parties' respective red/yellow/green colours mean that combination is dubbed a "traffic light coalition".
Subscribe to MoneyWeek
Subscribe to MoneyWeek today and get your first six magazine issues absolutely FREE
Get 6 issues free
Sign up to Money Morning
Don't miss the latest investment and personal finances news, market analysis, plus money-saving tips with our free twice-daily newsletter
Don't miss the latest investment and personal finances news, market analysis, plus money-saving tips with our free twice-daily newsletter
Such a coalition would not be "revolutionary": Germany's constitutional "debt brake", which limits government deficits, would probably be left untouched. But an SPD-led government would still be more "fiscally proactive" and more favourable to European integration than the present one.
The blue-chip index expands
It is not just Germany's political system that is heading for a shake-up. The benchmark Dax stock index will soon be grappling with a new government and will also expand to 40 companies from the current 30 on 20 September. The changes are part of a broader shakeup in response to last year's Wirecard fiasco, says Brigitte Scholtes in Deutsche Welle. The former Dax constituent went bust last year following a major accounting scandal.
Operator Deutsche Börse has tightened rules about corporate governance and will require firms to be profitable before they can be included in the index in the future. The new members will include Porsche and sportswear brand Puma. Aircraft manufacturer Airbus and online clothes seller Zalando have also made the cut.
The Dax was founded in 1988, says Joe Miller in the Financial Times. Since then it has delivered a total return comparable to that of the FTSE 100 over the same period, averaging 8.6% annually. The expansion reflects a concern that the index had become overly weighted towards old economy industries such as carmakers, banks and industrial groups. By offering a broader selection of companies, a bigger Dax should give investors a more accurate cross-section of the German economy.