Is Bayer a bargain stock despite the litigation surrounding Roundup?
The German chemicals group Bayer's lawsuits over its Roundup weedkiller could throttle its profits. But is the gloom overdone? Matthew Partridge reports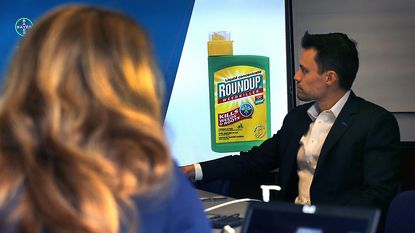 (Image credit: 2019 - The Boston Globe)
"Only hours away" from another jury trial over its weedkiller Roundup, Germany's Bayer has secured a postponement to allow room for "escalating settlement talks" to continue, reports Laura Kusisto and Ruth Bender in The Wall Street Journal.
This has raised hopes that Bayer may be close to settling claims related to allegations that Roundup causes cancer, which have already caused Bayer to lose three individual cases, leaving it liable for a total of $190.5m in compensation. A fourth adverse verdict could have handed the 42,000 plaintiffs involved so far "additional ammunition in settlement talks that have dragged on for months".
A settlement won't come cheap, says Fortune. Experts believe that settling the "tens of thousands" of claims, which could eventually rise to as much as 85,000, could cost around $10bn, with some even putting the costs at $13bn.
Subscribe to MoneyWeek
Subscribe to MoneyWeek today and get your first six magazine issues absolutely FREE
Get 6 issues free
Sign up to Money Morning
Don't miss the latest investment and personal finances news, market analysis, plus money-saving tips with our free twice-daily newsletter
Don't miss the latest investment and personal finances news, market analysis, plus money-saving tips with our free twice-daily newsletter
The lower estimate would imply $8bn to resolve current cases and $2bn set aside for future claims, including those related to diseases such as non-Hodgkin's lymphoma "which can take years to diagnose". There's also the problem of trying to simultaneously negotiate with the various groups of plantiffs' attorneys, "each with a sizable inventory of cases".
The fact that Bayer's shares rose by 4% on the news of the postponement suggests there is a risk that shareholders' expectations "are getting carried away", says Chris Hughes on Bloomberg. There remains a "real possibility" that the "saga" endures for longer than investors have anticipated if talks between the two sides break down. Indeed, given that Bayer still believes that Roundup doesn't cause cancer, it could simply decide that it would be better off taking a chance on a trial if an acceptable figure cannot be reached.
The positive scenario
However, if a deal does end up being signed then shareholders could stand to do very well, as the chemical giant currently still trades at a "substantial discount" to its peers. The gap is worth "much more" than the settlement costs being discussed.
Just getting to a valuation matching its cheapest counterparts "would add about €20bn of market value, after deducting the estimated cost of ending litigation", while a move toward the average of its peer group would see the market value rise even higher.
Shareholders may be relieved at the "fairly modest" settlement, say Ed Cropley and Aimee Donnellan on Breakingviews. Still, they are still entitled to be "hopping mad" at the fact that Bayer got itself into the mess in the first place by buying Monsanto (which originally developed the drug) for $66bn in 2018. A Bayer investor who bought shares when the deal with Monsanto was completed would still have lost nearly 20% of their stake today, while those who invested in other drug companies would have made big profits. Bayer CEO Werner Baumann "has a lot of work to do" to ensure that Bayer's shares close the gap.
Matthew graduated from the University of Durham in 2004; he then gained an MSc, followed by a PhD at the London School of Economics.
He has previously written for a wide range of publications, including the Guardian and the Economist, and also helped to run a newsletter on terrorism. He has spent time at Lehman Brothers, Citigroup and the consultancy Lombard Street Research.
Matthew is the author of Superinvestors: Lessons from the greatest investors in history, published by Harriman House, which has been translated into several languages. His second book, Investing Explained: The Accessible Guide to Building an Investment Portfolio, is published by Kogan Page.
As senior writer, he writes the shares and politics & economics pages, as well as weekly Blowing It and Great Frauds in History columns He also writes a fortnightly reviews page and trading tips, as well as regular cover stories and multi-page investment focus features.
Follow Matthew on Twitter: @DrMatthewPartri