Brazilian stocks will bounce back in 2023
Brazil's Ibovespa stockmarket index has fallen by 9% since it peaked in April. But with an election in 2023 and current president Jair Bolsonaro on course to lose, Brazilian stocks could bounce back.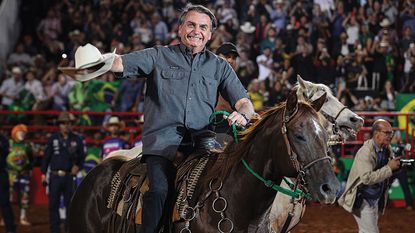 (Image credit: © Alisson Demetrio/Getty Images)
In Sao Paulo, "there is a constant, oppressive hum over the skyscrapers", says Bruno Meyerfeld in Le Monde, as Brazil's financial elite use helicopters to get to work.
In 2018 these "one-percenters" overwhelmingly backed Jair Bolsonaro to be Brazil's president. Now many are disillusioned. Apart from pension reform in 2019, "no major law has been passed", says Pedro Wongtschowski, chairman of oil and gas distribution giant Ultrapar. Bolsonaro's endless "outrages and the ransacking of the Amazon" have "ruined Brazil's image and closed many markets to us", he says.
Many ordinary Brazilians also hold the president responsible for their hardships, says Bryan Harris in the Financial Times. Brazil has suffered the second-highest Covid-19 death toll globally and inflation is running at more than 10%. Millions of people are going hungry. Bolsonaro is on course to lose the presidential election next month, says The Economist.
Subscribe to MoneyWeek
Subscribe to MoneyWeek today and get your first six magazine issues absolutely FREE
Get 6 issues free
Sign up to Money Morning
Don't miss the latest investment and personal finances news, market analysis, plus money-saving tips with our free twice-daily newsletter
Don't miss the latest investment and personal finances news, market analysis, plus money-saving tips with our free twice-daily newsletter
Polling gives his leftist rival Luiz Inácio Lula da Silva, who served as president between 2003 and 2010, 47% compared with 32% for the incumbent. "Since Brazil's return to democracy in 1985, the candidate who leads polls two months before the election has gone on to win." Rhetoric from Bolsonaro about vote fraud suggests that the "Trump of the Tropics" may not accept the result. If he attempts a coup, "people are not sure what the [military] top brass might do".
A post-election boom?
International observers shouldn't worry, investment manager Dynamo Administração de Recursos told Vinicius Andrade and Felipe Marques on Bloomberg. "Our experience tells us that Brazil will remain pretty much the same following the vote... without major ruptures."
The local Ibovespa stockmarket index soared almost 17% in the first three months of the year along with the commodity rally, but has fallen back 9% since it peaked in April. In June local stocks were trading on their cheapest level since 2008 on a forward price/earnings (p/e) basis. Soaring interest rates – up 11.75% since March last year – have prompted investors to sell stocks and buy fixed income.
For now, investors are braced for more volatility, says Craig Mellow in Barron's. Yet things may improve in 2023. Lula's choice of a centrist politician as his running mate is a sign that he intends to run a fiscally responsible government. The central bank has "ample room" to slash interest rates from current levels should inflation start to ease.
The stockmarket boasts "a wealth of well-run companies" that have been dragged down by sell-offs. Brazil is notorious for "promising a bright future that never quite materialises". Yet "during the intervals when hope outweighs disappointment, market returns can be explosive".