How will India's Covid crisis affect the global economy?
The wave of Covid infections sweeping through India has sparked a humanitarian crisis. But with India's economy the fifth-biggest in the world, could it have bigger repercussions around the globe? Saloni Sardana investigates.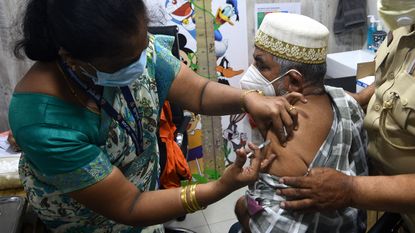 (Image credit: © Imtiyaz Shaikh/Anadolu Agency via Getty Images)
Just when it appeared there was a light at the end of the tunnel for the Covid crisis, India is shattering global records, giving the world a harsh reality check that the pandemic is far from over.
The world's fifth largest economy reported a new global all-time high of 412,431 cases on 5 May just days after it crossed the grim milestone of over 200,000 deaths and 20 million infections.
What's more is that it recently overtook Brazil to become the second most affected country by case numbers and now regularly reports new daily covid cases of more than 300,000.
Subscribe to MoneyWeek
Subscribe to MoneyWeek today and get your first six magazine issues absolutely FREE
Get 6 issues free
Sign up to Money Morning
Don't miss the latest investment and personal finances news, market analysis, plus money-saving tips with our free twice-daily newsletter
Don't miss the latest investment and personal finances news, market analysis, plus money-saving tips with our free twice-daily newsletter
Calling these numbers dire is a massive understatement. But even this horrifying data is considered to be grossly understated because of a lack of reporting and testing facilities. Medical experts fear the actual toll of deaths and cases could be up to ten times higher than currently being reported.
Should investors be worried about India's ongoing crisis or is this just a humanitarian crisis that will not reverberate abroad?
The world's largest vaccine producer has run out of vaccines
The developments in India are likely to keep market watchers on their toes, simply because of the role the country plays as both a major vaccine producer and a top consumer of commodities.
India is the world's biggest vaccine producer who recently as a few months ago hailed itself as the "pharmacy of the world".
And yet despite the leading role the country plays in donating and selling vaccines to the globe, India is struggling to gain sufficient vaccines to inoculate its own population.
A dangerous Indian variant called B1.617– cases of which have even been detected in the UK and other countries – is spurring infections and deaths across India. That, combined with mass religious gatherings, election rallies and premature lifting of Covid restrictions, has overwhelmed India's healthcare. There is also a massive shortage of oxygen and other vital healthcare infrastructure.
The deadly second wave in India prompted the country to temporarily ban exports of the AstraZeneca vaccine – locally produced by the Serum Institute of India under the name Covishield. The second major vaccine in use is the country's Covaxin produced locally by India's Bharat Biotech.
Why does any of this matter?
India donates much of the Covishield vaccine through the international Covax Scheme of the World Health Organisation (WHO), which was created last year to improve the supply of vaccines to poorer countries who face difficulties accessing them. India provides 86% of supplies to Covax, reports the Economist, so India's vaccine woes could spell trouble for poorer countries, particularly in Africa where much of the continent was relying on supply from India.
At the time of writing, India has administered just over 160 million shots of any Covid vaccine, a drop in the ocean relative to its population of 1.3 billion people. The number of second doses is also low at 30 million.
"India is racing against the clock to vaccinate its population but simply does not have enough to meet the soaring demand, having delayed signing contracts, and appears sorely lacking in some of the infrastructure required to administer them," Susannah Streeter, senior investment and markets analyst at Hargreaves Lansdown, tells MoneyWeek.
But Paul Dales of Capital Economics points out India's vaccine shortage will not deter the UK's successful vaccination drive as vaccine supply from India represents a very small proportion of UKs' aggregate supply.
How India's crisis could affect global markets
India's concerns have prompted jitters about the international oil price. While the price of international benchmark Brent crude has risen by more than 30% since the start of the year, fuelled by recovery optimism, oil prices fell a little last week on the fears that India's crisis may lead to a prolonged slump in economic activity. Why?
India is the world's third largest importer of crude oil. So far Prime Minister Modi has resisted calls for a national lockdown and opted for local/regional ones instead. But failure to secure enough vaccines, or an uncontrollable spread of the Indian variant, may leave Modi little choice and cause a demand shock for the fuel.
Gold prices may also come under pressure due to India's violent outbreak, as India is a major buyer of gold. The precious metal holds much cultural significance in the country, particularly in weddings and religious settings, but with fewer celebrations now taking place, demand could take a hit.
Giles Coghlan, chief currency analyst at broker HYCM tells MoneyWeek although demand could technically pick up in August – India's typical wedding season – pressure from rising US interest rates may keep demand for bullion low.
The real risk comes from higher interest rates, not India's crisis
Currently, markets are still focusing on an economic recovery and resumption of normality, so the real risk to markets at the moment comes from the spectre of rising US interest rates.
"Copper prices just hitting $10,000 a ton undernight shows that the firm focus is on that global recovery and India is not going to be dragging or altering that broad perspective," Coghlan points out.
US Treasury secretary Janet Yellen surprised markets this week when she said interest rates may need to rise slowly to prevent overheating of the economy. While the former Fed chair does not have control over monetary policy, markets didn't take her comments lightly.
Yellen's latest comments contradict the long-term view of Fed chair Jay Powell and of her own administration, all of who have spent weeks trying to convince markets that inflation isn't going to be a problem for now, despite the signing a $1.9trn stimulus package in March and around $4trn further spending packages announced by Biden.
Yellen's comments triggered a sharp-sell off in technology stocks, which may be unsurprising given those stocks have benefited from a period of ultra-low interest rates and were looking overpriced. Although Yellen later said she doesn't see inflation as a problem, higher interest rates are now more of a reality than they were before.
While Indian assets have been hurt, it is to a much smaller extent than might be expected. "The benchmark Sensex index has dropped sharply compared to FTSE's All-World index since the second wave began, but in relative terms it is still far ahead of where it was last summer, when India appeared to be relatively lightly affected," says John Authers of Bloomberg.
So whether India's crisis hurts investors or not, one thing is clear that the environment is no longer hospitable for high flying growth stocks such as tech companies which would be most hurt by higher rates. Things are still looking favourable for cyclical stocks, that should benefit from a reopening.
"Within a few months the vaccine rollout programme is expected to have an impact in India, just like it has had in Israel, the US and the UK. So you'd expect India to eventually catch up and everything to potentially return back to normal as long as the Fed hasn't started raising interest rates too quickly," Coghlan says.
Saloni is a web writer for MoneyWeek focusing on personal finance and global financial markets. Her work has appeared in FTAdviser (part of the Financial Times), Business Insider and City A.M, among other publications. She holds a masters in international journalism from City, University of London.
Follow her on Twitter at @sardana_saloni