Can Hong Kong survive as a financial hub?
As Beijing tightens the screws on Hong Kong, many fear the death of the territory's autonomy – and of its status as a global financial hub.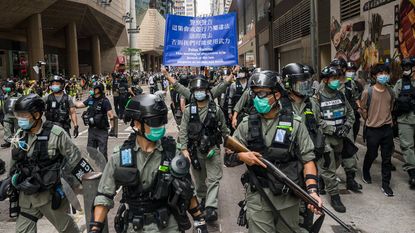 (Image credit: Riot police in Hong Kong © Billy H.C. Kwok/Getty Images)
With the world distracted by the virus, Beijing has been tightening the screws on Hong Kong, says Timothy McLaughlin in The Atlantic. The Chinese Communist Party says that it will impose a national security law on the semi-autonomous city, bypassing Hong Kong's own legislature. Opponents fear that this spells a "fundamental shift" in the "one country, two systems" framework under which the financial hub enjoys rights such as an independent judiciary and freedom of speech. US secretary of state Mike Pompeo has said that the "disastrous proposal" would sound the "death knell" for Hong Kong's autonomy.
Why British blue-chips are exposed
The local Hang Seng index plunged by 5.6% last Friday, its biggest one-day fall since 2015. The property sector was hit especially hard. Shares in local magnate Li Ka-shing's CK Asset Holdings fell by 8.4%. British blue chips are affected by events in Hong Kong, says Jim Armitage in the Evening Standard. Shares in HSBC, exposed to the local property market, closed down 5%, while Asia-focused Standard Chartered also took a hit. Most vulnerable of all is Prudential, which makes one-third of its sales in Hong Kong. Some observers hope that Beijing is just "grandstanding" for a domestic audience, but others warn that this could prove "the final straw" for expatriates and investors after a turbulent year of political unrest.
Hong Kong may survive as a financial hub, but it could look like a very different one, says Nathaniel Taplin in The Wall Street Journal. Foreign investors are gradually pulling back, but the city may enjoy a wave of secondary listings from mainland Chinese firms such as Alibaba, which are gradually being evicted from US exchanges. That would make Hong Kong and its markets more dependent on Beijing than ever. One thing is certain: "the city will never be the same".
Subscribe to MoneyWeek
Subscribe to MoneyWeek today and get your first six magazine issues absolutely FREE
Get 6 issues free
Sign up to Money Morning
Don't miss the latest investment and personal finances news, market analysis, plus money-saving tips with our free twice-daily newsletter
Don't miss the latest investment and personal finances news, market analysis, plus money-saving tips with our free twice-daily newsletter
A new cold war?
Hong Kong is becoming "ground zero" in the emerging US-China cold war, says Brian Fong for The Diplomat. The city offers Western businesses access to China's vast market buttressed by all the guarantees of British-style common law. Perhaps not for much longer. China has no rational interest in burning its "own bridge to the world": Hong Kong is its most important source of foreign capital. Yet with mounting challenges at home and abroad, the leadership has seemingly "decided to make Hong Kong its battlefield with the West".
The US-China contest is also being played out in the currency markets, says John Authers on Bloomberg. The People's Bank of China, the country's central bank, has been allowing the yuan to weaken against the dollar in order to boost a sluggish economy. Tuesday's exchange rate of 7.1293 is the lowest since February 2008. The yuan generated international headlines when it broke through the seven-to-the-dollar mark last summer, drawing the ire of the White House. A weaker yuan boosts Chinese exporters at the expense of US businesses. At such a tense time, this looks like a "very provocative gesture".