Is the worst of the market rout over?
Have we seen the worst of the stockmarket crash or do equities have further to fall?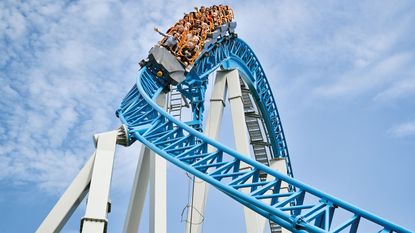 (Image credit: People on a rollercoaster © Getty Images)
Are we already over the worst of the market rout? JPMorgan analysts this week declared that "most risky markets have probably made their lows for this recession". The note coincided with a market rally that has gathered pace over recent days. The S&P 500 is up 17% and the FTSE 100 has gained 12% since bottoming on 23 March. By Monday, global assets had recouped roughly one-quarter of their losses since the market crash began in February. So was that it? Or do stocks have further to fall?
The essence of a bear rally
Stocks have taken off as though "recovery were at hand", says Randall Forysth in Barron's. Yet "anybody who has been around for a... cycle or more" will see the recent "pop" as the "very essence of a bear-market rally". During bear markets asset prices move downwards, but they are punctuated by brief rallies that tempt in the gullible before dissipating.
This year will be a washout for corporate earnings, says Morgan Stanley in a note. US earnings per share could well slump by 20% or more amid the global lockdown, but bulls are betting that we will see a strong rebound in 2021.
Subscribe to MoneyWeek
Subscribe to MoneyWeek today and get your first six magazine issues absolutely FREE
Get 6 issues free
Sign up to Money Morning
Don't miss the latest investment and personal finances news, market analysis, plus money-saving tips with our free twice-daily newsletter
Don't miss the latest investment and personal finances news, market analysis, plus money-saving tips with our free twice-daily newsletter
Stock valuations are based on expectations about future earnings, not the present situation. The recently approved $2trn American stimulus package, which is worth about 10% of US GDP, is another cause for optimism. The dramatic sell-offs of the past month are "the conditions from which great investment opportunities are born". The urge to jump back in is understandable, says Spencer Jakab for The Wall Street Journal. A surprisingly large chunk of returns are generated in the early days of a bull market, when most are still too fearful to invest. Yet US equities are hardly a bargain now.
On a cyclically adjusted price/earnings ratio of 23.8, US stocks are still far above the historical average of 16. What's more, as Michael Mackenzie points out in the Financial Times, a drumbeat of "shocking" data and earnings downgrades are likely to give sentiment a further "debilitating punch" over the coming weeks.
Tread carefully in the FTSE
Valuations on this side of the Atlantic are much more reasonable, but the history of the FTSE suggests that caution is still advised, says Russ Mould of AJ Bell. Seven of the ten biggest gains in the index's history came as false dawns during bear markets that later "cruelly" turned out to be "nothing more than bear traps for the unwary".
Optimists says this is not a traditional bear market at all, says Tom Stevenson in The Daily Telegraph. The unusual speed of the market slump could mean that we are living through a short, sharp shock, more akin to the 1987 crash. Such events are typically followed by rapid rallies and stocks regain their previous highs within about 15 months.
Yet the latest pick-up could just as well be a classic bear trap, particularly if governments fail to get a grip on the spread of Covid-19. Enjoy any rallies, but don't take them "too seriously".