Halifax: the top 10 locations where house prices are rising
The property market may be down nationally but Halifax research shows there are still local house price hotspots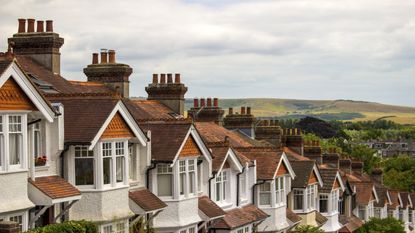 (Image credit: Getty Images)
Average house prices have dropped across the UK as buyer budgets are dented by higher interest rates and the cost of living crisis.
For much of this year, house price reports from Halifax, Nationwide and the Land Registry have all painted a picture of a slower housing market, with prices down annually.
The latest Halifax House Price Index showed average property values fell 3.2% annually as of October 2023.
Subscribe to MoneyWeek
Subscribe to MoneyWeek today and get your first six magazine issues absolutely FREE
Get 6 issues free
Sign up to Money Morning
Don't miss the latest investment and personal finances news, market analysis, plus money-saving tips with our free twice-daily newsletter
Don't miss the latest investment and personal finances news, market analysis, plus money-saving tips with our free twice-daily newsletter
But no-one really lives in an average house and there are some areas where prices are actually going up.
LOOKING BEYOND THE AVERAGE
Research from Halifax shows that while the wider market may be weaker, more than 70 local authority areas have seen average house prices rise over the last year, bucking the national trend.
The analysis – based on the lender's own house price index – looked at typical property prices in more than 300 local authority areas across Britian in the three months up to September this year, and compared them to the equivalent figures from 2022.
While average prices are down nationally and across each region over the period by 3.9%, this masks some big variations in house price performance at a local level across the country.
A number of local locations have actually posted strong double-digit growth in property prices during 2023.
HOUSE PRICE HOTSPOTS
The Halifax research shows that there are 'micro markets' where local authority areas rather than a whole region are still experiencing growth.
Top of the list is Powys in Wales, with annual house price growth of 17.4% in the 12 month period to £253,958 – a £37,651 increase.
Next is East Lindsey on the east coast of Lincolnshire, which saw average prices rise 13.3% to £220,421 – up £25,888.
Moray in Scotland makes up the top three with 10.7% growth and a £17,347 increase in prices to £179,606.
Swipe to scroll horizontally
| Local authority area | Nation/region | House price Q3 2022 | House price Q3 2023 | Annual % change | Annual £ change |
| --- | --- | --- | --- | --- | --- |
| Powys | Wales | £216,307 | £253,958 | +17.4% | £37,651 |
| East Lindsey | East Midlands | £194,533 | £220,421 | +13.3% | £25,888 |
| Moray | Scotland | £162,258 | £179,606 | +10.7% | £17,347 |
| Babergh | Eastern England | £317,383 | £349,965 | +10.3% | £32,583 |
| Sunderland | North East | £138,579 | £150,862 | +8.9% | £12,283 |
| Ealing | London | £494,100 | £531,127 | +7.5% | £37,027 |
| Westminster / City of London | London | £714,242 | £767,350 | +7.4% | £53,108 |
| Bolsover | East Midlands | £167,398 | £179,453 | +7.2% | £12,054 |
| Cumberland | North West | £165,346 | £176,470 | +6.7% | £11,124 |
| Rossendale | North West | £185,658 | £198,102 | +6.7% | £12,444 |
Kim Kinnaird, director of Halifax Mortgages, says there are "multiple factors" that can influence a local house price, ranging from supply to the quality of schools and jobs.
"What's clear is that the UK housing market is not a single-entity that performs in a uniform way across the country, there are differences," adds Kinnaird.
"While at a national level the current squeeze on mortgage affordability has seen property prices fall over the last year, in many regions there remain pockets of house price growth. While a limited supply of properties for sale could be a factor, this also suggests in some areas, local market activity – and demand among buyers – remains strong.
"Many of the places highlighted in our research also benefit from more remote or rural surroundings and incorporate areas of outstanding natural beauty. These are traits which continue to be desirable for prospective homeowners, bucking the trend of the wider performance of the housing market."
ARE HOUSE PRICES RISING OR FALLING?
House prices have been falling for much of the year but there is lots of debate about the extent of the slump.
Higher interest rates and high inflation have put pressure on buyer budgets, making it harder for homeowners to attract interest and prompting many to slash asking prices.
Recent house price reports have shown values continue to fall annually but have risen on a monthly basis.
This has been attributed to a lack of supply rather than more demand but there is hope that now that the Bank of England has held interest rates, mortgage pricing could drop and buyers could be tempted back into the market.
Estate agent Savills is predicting a 4% drop this year while Zoopla is anticipating a fall of between 2% and 3%.
Knight Frank is a bit more pessimistic and expects a 7% drop.
Savills expects the market to "bottom-out" by the middle of 2024 and expects prices to fall by the end of the year by 3% before recovering between 2025 and 2028 as mortgage affordability improves.
Halifax owner the Lloyds Banking Group is predicting a decline of 2.4% in 2024, while Nationwide says prices may drop further next year depending on what happens to interest rates and in the labour market.
Marc Shoffman is an award-winning freelance journalist specialising in business, personal finance and property. His work has appeared in print and online publications ranging from FT Business to The Times, Mail on Sunday and The i newspaper. He also co-presents the In For A Penny financial planning podcast.